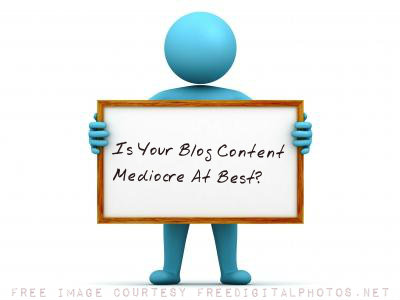 I read a lot of blog posts on a weekly basis. By the way, if you own a blog and you don't read other people's blogs, you need to start now.  As a blogger it would only be to your own benefit to learn about what your peers are doing, and you would learn a great deal from them as well.
Among the blog posts that I read many are very good, well written and full of absolutely great advice.  On the other hand, however, once in a while I still find some pretty bad quality ones, and the only reason that I've landed there and try my best to read the post is that I am trying to do what is required of me from my facebook group, which is read the post and help syndicate it by commenting and sharing.
However, if you have one of such low quality blog, let me tell you that your blog will never be successful.  It's tough enough to find regular followers with a good blog, because people have just so much choice out there, but how in the world are your going to do it with very low quality content?  As a matter of fact, if you keep going this way, not even people who belong in your content sharing facebook group will want to share your content, and eventually they'll stop coming all together.
So, what makes mediocre to down right bad content?
You are Writing for the Sole Purpose of Filling up Space
This is most definitely the worst reason to write.  If you are writing for the sole purpose of filling up space, what type of value do you think you are going to bring on the table? Not much, to be sure.
If you have nothing to say to your readers, it's most probably because blogging and online marketing is not for you.  But if you feel that it's because you just don't have enough ideas, then you definitely need to read other valuable blog posts to give you inspiration.  Reading is the fuel of the writer.  If you never read you will dry up like a plant will dry up without water.
Research your niche and get educated on a daily basis, and you will build a knowledge bank that will help you write interesting, and valuable content.  Get in the habit of taking notes, even if you feel that they may be irrelevant for the time being.  They may turn out to be just what you need later, and be the base for an excellent post.  Do not publish a post as long as you don't have some decent content to deliver, because people will judge you by such content.
You're Only Thinking about Keywords
If your only concern is your keywords, chances are that it will affect the quality of your article.  When I am writing for clients who seem to be a bit too obsessed by keywords, I warn them that if I have to think too much about the percentage of times I have to insert the phrase "great anti-wrinkle cream", it will affect not only the quality of my writing, but the value of the article as well.  So don't make this mistake. Once you are using your keywords in a reasonable manner, and which makes sense, it will be good enough for Google to find you, and just right for the reader as well.  That's all you need.
When you're trying to purposely insert keyword phrases in a post it kills the natural flow writing, and to the human eye it can look right up strange and artificial.  Don't' kill your human touch and use keywords moderately to help your article, not to destroy it.
Your Only Concern is to Sell
If you are writing with the sole intention of selling something, it will affect the quality of your posts.  When was the last time you've watch a commercial that was really beneficial to you?  When was the last time you've read an ad that taught you something? Yes, that's right; probably never.
It's the same thing for your blog posts.  If your posts are too commercialized they are going to sound like some smart commercials, but that's about as much as you can expect them to be.  You are not going to attract a flock of people to your blog wanting to share your posts, because your article will not be of much value at all.
Remember, people like to discover and learn things or at least get informed or entertained, but they do not like to be sold. Nobody likes to read or share a selling post.  When was the last time you were motivated to share such post yourself?
Bottom Line
In order to write good content, you need to care for the reader more than keywords and making sales, and most of all your should never, ever write just to fill out space.  Who needs this?
The internet is full of blogs with great, interesting and educational content; do you think that anyone in their right mind is going to lose their time to reading your less than mediocre blog?  It's my sincere hope that you don't think that way, because if you do, you will fell on your face faster than you can imagine.
If you are blogging and serious about your online business, get a grip, and start writing something people would like to read and benefit from.  That's the way to go in order to succeed.  That's the only way!
So, have you analyzed your blog content lately? Please, do tell us… and what did you find?