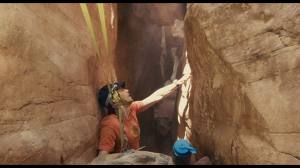 It makes a huge difference in our brain if we think that we should be doing something, or if we think that we must be doing something.
Let me explain what I mean by that, and why you might not be able to achieve your dreams and goals.
But most of all what mental switch you need to make in order to make changes in your life.
Are you a I Should Person or a I Must Person?
Have you ever heard someone a bit over weight saying; I should lose some weight! What are the chances of them actually losing the weight?  Well, let's put it this way; I wouldn't bet any money on it.
Now, if someone tells me; I am a bit overweight, and I MUST lose the extra weight.  I would be much more willing to bet my money that this person will.  If they're saying that they must lose the weight, chances are that they will take the appropriate actions to do so.
There are tons of "I should" type of people out there, and that's why they don't have what they want, and can't achieve their goals.
It's only once you decide that you MUST do something that things start happening. Let's illustrate that with a dramatic true story.
An Incredible True Story of Someone Who Said I MUST
I don't know if you've seen that true story movie titled 127 hours. It's about a hiker named Aron Ralston (correct spelling) who fell into a crevasse as he was dragged down by a boulder that got dislodged.
Back in 2003, while Aron was hiking in a Utah Canyon, he fell into a 65 feet crevasse, and got his hand stuck between the boulder he was climbing that dragged him down, and the wall of the crevasse.
His right hand was completely stuck between the boulder and the canyon wall for five days. Each day he was trying new tricks to try to free his hand by attempting to lift the boulder to no avail. The boulder weighted close to a ton.
Towards the end of the fifth day, he decided that he was going to die, so he started recording some good bye messages on his camera for his family. Then he wrote his name, birth date and "approximate date of his death" on the stone wall. He had no more food or water and his right hand was starting to rot as it was smashed stuck in stone.  He was not expecting to wake up on the sixth day.
However, on day six he did wake up to his own amazement.  And he actually woke up with the strong realization that in order to survive he had to get rid of the part of his body that kept him stuck at the bottom of this crevasse.  That body part was his right hand.
Once he decided that he MUST cut off his right hand to get free, it was actually a relief for him, and he did. Yes, guys. This amazing man cut off his right hand at mid-forearm with a pocket knife, and snapped-broke the bones. (Sorry for the sensitive souls, but life is tough at times).
After he got loose from his own hand, he actually felt an immense joy, but he still had to climb 65 feet one handed while dripping blood from his other arm.  Amazingly he did!
Now, once he was on top of the ravine he was then still 8 miles from his car.
Thankfully a family was passing by as he was running down a hill after he had freed himself from the crevasse, and they gave him food and water.  Since his family had already launched a rescue team being missing for days, an helicopter happened to fly above them soon after that.
He finally was lifted by helicopter to a hospital six hours after he had cut his hand off.
He had lost 40 pounds and 25% of his blood volume.  But he was alive and he was being rescued. He survived this horrific ordeal, and he thrived. He keeps hiking and climbing and he even got married.
What made the difference between life and death for Aron Ralston was when he decided that he HAD to get out of there.  When it became a MUST.  And God knows this had to be a strong MUST.
When you set your brain to a MUST default it gives you amazing powers and clear ideas to be able to do what you have to do.
What Can we Learn from this Amazing Story?
We can all feel so lucky that we will never have to make as tough a decision as Aron had, but we can all learn something valuable from this true story.
There are many people who are stuck just like Aron with his boulder.  They are stuck in their life with no way up, unless they'd be willing to take drastic actions that would free them from their figurative crevasse.
Many people do live under a figurative boulder that smash them down.  People are stuck in ditch-like situations, and they are staying there until they die.  We all know people like this. I know I do.
Sometimes the action needs to be drastic.  Sometimes you are going to have to cut a figurative right hand to get free. You may have to leave your partner, you parents, your country, your job, the place you live in, etc.
Sometimes you may have to make small sacrifices, sometimes big ones. In Aron's case he had no choice. It was his life against his right hand.  he chose life, and evidence tells us that he never regretted it.
It wasn't his time to die. It was time for him to show what type of guts he had.
There are times when you are going to have to make some sacrifices.  Sometimes this is the price to pay to get "unstuck" in your life.  But no matter what it is that you need to do, a woulda, or shoulda won't do it. It has to be your MUST.
Get Out of Your Own Ravine
If you are stuck into a figurative Ravine, unhappy, empty, frustrated, or even angry, it means that it's time to make some serious decisions and go for it.
Whatever action you need to take, you need to make it a MUST action.  If you think that maybe you should do it,  you probably won't.  However, if you feel that you MUST, then chances are that you will.
Remember, whatever you'll have to do to make your life better, won't be as hard as cutting your right hand with a pocket knife, and using the weight of a boulder to snap your bones.  Yet, for someone such as Aron Ralston it became a MUST, and he did it.
Listen to Aron Ralston himself…
So, after reading this story, how do you feel? Do you feel that you can change something you don't want or like in your life to make it better? Please, do tell!