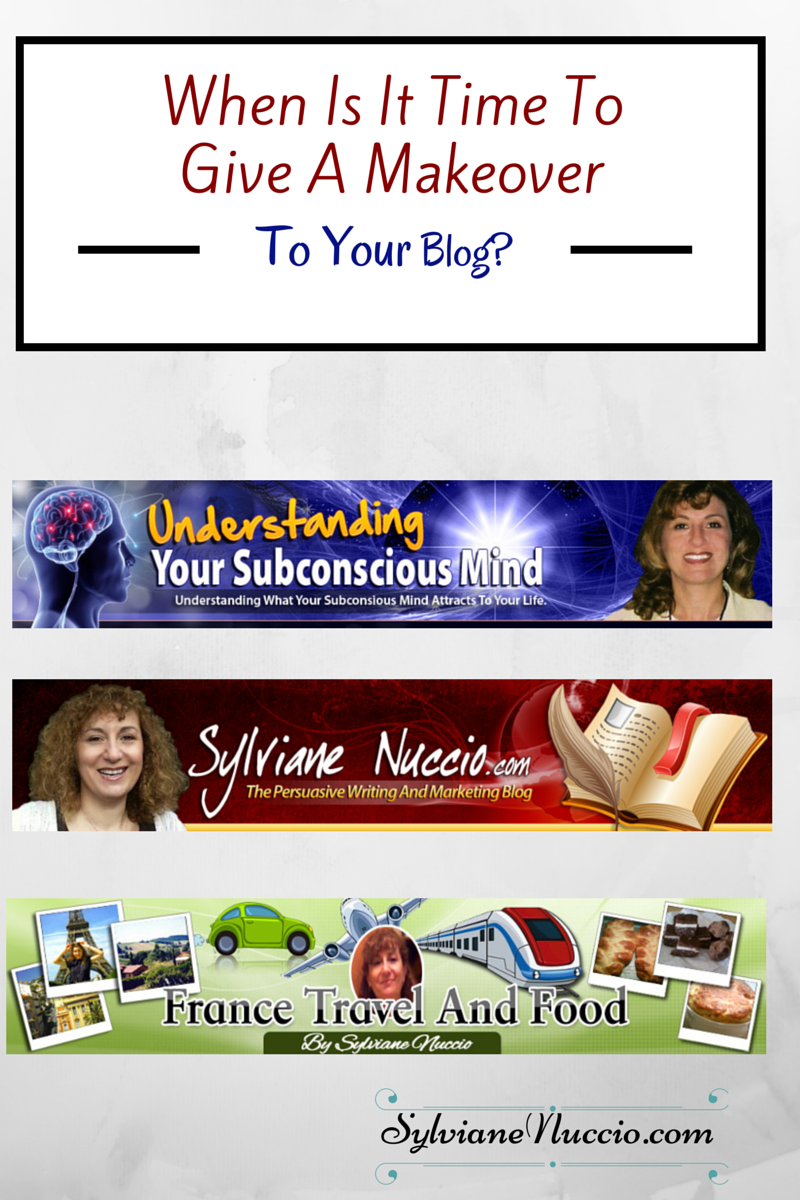 To answer this question in a few words, I would say, when you've become tired of your old theme or when it has become a real necessity for your business and online presence.
Yes, you've guessed it, time has come for me to give a serious makeover to my blog, but more than that, I'm thinking of merging l my three blogs in one.
In this post I'm going to not only tell you what I want to do and why I want to do it, but I feel that it could really help you learn how important it is to purchase products and services from someone you know and trust for the long run of your blogging career.
So, read away…
Why do I Want to Give a Makeover to my Blog?
1 – First of all I feel that my blogs are stuck in a rut. My time being limited as it is I don't have enough of it to truly take each blog to the next level, because everything I do is multiplied by three, and it's just too darn much.
Each blog has to be promoted on three different social media platforms as if I were three people, but it's really just me and it's tough to handle it all.
2 – I want to have a blog with a home page that is apart from the blog itself, and this is a good time if ever to do this.
My home page which would be found at SylvianeNuccio.com will be introducing my business/me/my brand, and my blogs which would be under three different categories.
3 – Promoting my blog posts will be much, much easier as they all will be under the same domain. Right now, my France/Travel blog is not even promoted on platforms such as Triberr (for example) because you can't even add a third blog there unless you pay for it, and that's only one example.
Bottom line, I'm struggling way too much with three blogs on three different domains.  Three themes, three sets of plugins, and three times the work each week. It's just way more than I can handle right now.
My Blog will Fully Represent who am and what I do
I understand that many people promote the fact that we should concentrate on one niche only, yet there are many successful bloggers that have a multiple niche blog.
While I was doing my research about the question, I found a post by Leo Babauta the creator of a very successful blog named Zen Habits, and here is what he's saying…
One of the most common pieces of advice for bloggers is to find a niche that you can dominate — the smaller the niche, the better, because all of the bigger niches are already dominated by bigger blogs.

This advice is fine if you're trying to sell a product to a specific group of potential customers, but if you're trying to grow a blog with as big a readership as possible, I think niche blogging is dead wrong.

Instead, go for as wide an audience as possible — but find something that will differentiate yourself from others. That's how you can tap into the biggest possible readership.

That's heresy in many blogging circles, but at the risk of not sounding humble, I've proven it true with my other blog, Zen Habits. I grew Zen Habits from nothing to more than 100,000 subscribers in two years, in part because I used this principle.

While there are many other blogs out there who started around the time I started, or before, I quickly surpassed their (impressive) subscriber numbers because I didn't limit my potential readership.

The other blogs grew quickly but soon hit a sort of plateau, because of one of two reasons:

They limited themselves to a smaller niche, and thus limited their potential readership. Once they had most of the potential readers in this niche, growth slowed; or
They didn't differentiate themselves from the crowd. They were one of many other blogs, writing about the same things with the same angles.

These are both fatal mistakes if you want as big a readership as possible.
I feel that as long as my blogs stay where they are right now, I cannot even compete with other folks that have more time and more money than I do to promote themselves far and wide.
Here is a concrete example…
Back in late 2008 I came up with the keyword domain name 'UnderstandingYourSubconsciousMind.com'. Back then I totally dominated Google (I was on first page all the way) with that keyword phrase.  All the results with that key phrase were mine. These were the good days.
But since then, not only I don't dominate at all anymore with my own domain name, which was the first, but Google ranks all kind of sites with that keyword, except for mine. The sad truth is that my blog simply doesn't rank whatsoever.  I've asked several knowledgeable people about what they think it's happening with that blog and why it doesn't rank, but I've never got an answer that could help me fix this.
So, in the case of that particular blog alone, I'm stuck, and it's a very important one.
I feel that with all my three blogs under the same roof, my blog is bound to get stronger, as the creator of Zen Habits describes it.
Instead of having a blog with only one update a week, I'll have a blog with three updates a week, and that alone is a dang outrageous benefit. Plus I will get rid of the domain that Google refuses to rank.
Two Different Types of Feedback
Last week, as I continued to research about my strategy, I got two different types of inputs on this topic from two people I admire.
One from my good friend, and successful blogger, Adrienne Smith who suggested that this would be a big mistake and that I will confuse people who need my services.
She also reminded me that Google doesn't favor multiple niche blogs.
The other person I approached is Kumar Gauraw who is also a blogger friend and a personal branding expert. He has a blog with different topics and writes from leadership, technology to WordPress and sometimes, also some inspirational posts.
Kumar suggests that it all depends on what my business goals are and that I should base my decision on my professional goals. He said that Google and readers will see what I show them and they will connect with me the way I want them to connect.
He gave me examples of some well-known blogs where multiple subject areas are covered and the blogs are really doing well.
As you can see both types feedback are totally opposite, and I value them both as they are coming from two people I trust.
I want to specify, by the way, that I do have a vision of what I want, and I really feel that it could work out great.
Other Lessons I've Learned
As I've discussed in another post about a year ago, I have plenty of regrets for having purchase the BlogSkin/Thesis theme that you see on this blog today, not because I don't like the theme, I do, but because the creator of this theme turned out to be the most non-customer service friendly person I've ever had to deal with, which left me pretty much with no technical help desk for anything related to the theme of my blog.
While I have talents in other areas, technical stuff is definitely NOT one of them. I don't like it, I'm not interested in it, and I don't want to learn about it either. I'm way busy enough as it is. We weren't put on the earth to do it all. We were put on this earth to do what we're good at, right?
So, not only I don't have any help for theme updates, but if I want to change anything on the theme, I simply can't do it either. A recent example is when I wanted to have an opt-in box in my header. It never happened, because of this very reason.
My Advice to You
My advice to you if you are in a market for a new theme for your blog (or anything else) is to hire someone you already know and trust.  You know that famous "know and trust thing?" Well, it's really true, because if you don't know and trust people you're hiring you have a 50/50 percent chance that it will work for you. In my case, it didn't.
When I purchased my BlogSkin/Thesis theme I didn't know the guy, and at first he seemed to be OK, but that changed over time. I guess he revealed his true colors, or he simply wasn't interested in my business anymore.  Either way, I think that could have been avoided if ONLY I had known the person I was purchasing a product from.
Hiring Someone I Know and Trust for the Job
About a year or so ago I've met Kumar Gauraw, through a Facebook group we both belong to, and since then I've come to know that he's the right person to hire for blog theme/settings and even hosting.
It's very important for me to know – especially after such a negative experience – that I'll be hiring someone who will stand behind his services and product, and that I can contact easily as opposed to what I've experienced with the BlogSkin guy.
Customer service is as important if not more important than getting you new product or service delivered, because it will determine how long you are going to stay with the product.
So, as soon as I'm ready for that new theme, I'll get Kumar's services for the job.
Do me a Favor
So, while I hope you've learned something for yourself with this post, I would love to hear your feedback about what you think of my blogs merging together, and whatever you might want to add.  You're expertise is valued.