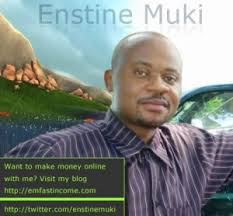 Today I have the pleasure to present you with an interview of successful online business man and blogger, Enstine Muki.
A couple of weeks ago, I asked him if he would give me the favor to do an interview with me and we had a long chat on Facebook.  Besides being very knowledgeable when it comes to blogging, traffic, SEO, social media and more, Enstine, is also a very nice persona that I'm so happy I've got to know better recently.
It's my hope that you will learn a lot through this interview as it's full of wonderful tips and nuggets. So here we go…
S. Hi Enstine first off I wanted to thank you so much for accepting this interview and answering few questions that I'm sure will be so helpful for my readers and yours as well I'm sure.
So, to start, please, let us know a little bit more about you. What do you do? And where do you live? Or any cool thing about you we might not know about you yet.
E. Thank you Sylviane for giving me this opportunity to interact with your wonderful community. I have been one of your readers shortly after I started blogging in 2012. I came to your blog through a comment you dropped on Adrienne's blog.
My name is Enstine Muki. I'm from Cameroon in Central Africa. I live in Douala, one of the most spoken about cities on Africa. I speak both English and French. I'm father of 2 and I have the most beautiful woman on earth as wife.
I have been a freelance php developer since 2007 here in my country. I co-own NjangiHost.com, a webhosting company here in Cameroon.
S.  What made you start blogging and when was that?
E. Before I got into blogging on August 21 2012, I was already working online, creating web sites and web applications. I'm creator of EasyRetweet.com (sold out), CashDonator.com, ViralBird.com and a couple of others. I have created over 200 websites for clients worldwide.
While maintaining EasyRetweet, I came across so many wonderful bloggers who inspired me big time. I'm talking of bloggers like Brian of  BlogEngage  Justin of Dragonblogger, Kiesha of Weblogbetter, Deborah of socialWebCafe, etc
My immediate push came from Brian when he proposed a partnership between EasyRetweet and BlogEngage and gave me the opportunity to publish my first ever guest post on his blog. That was even before I ever started my own blog. My first article as a beginner was published on EmFastIncome (also sold out).
Since then, I have been passionate about blogging. My writing skills have grown thanks to tips from unique blogging friends. As a matter of fact, Adrienne's posts and Sue of WriteClever have been of great help. When I later on made Harleena of aha-now, I got even more inspired.
I have so many wonderful friends that have helped me to where I am now. It's not really possible to list them here.
S. I read in one of your posts that you went from starting a blog to an Alexa ranking of 93K in just 34 days. How in the world did you manage to make that possible?  I think we all need to know that, some even more than others.
E. This is the blog post you are talking about right?
Well, a lot has been written on how to lower Alexa stats. Some black hat and some white hat. My experience of posting content daily for about 30 days proved to me that Alexa loves freshness. Well, some bloggers have mentioned that they did same with no good results. That makes me want to think Social media has a role to play. Let me continue with the next question as it relates to this
S. In a recent conversation over a Facebook chat you said that the more you put the link of your blog post on social media the better it seems to be for Alexa ranking. So, my question to you is how many times it's a good number to post each blog post on various social media platforms?
E. From my experience, I think social media signals influence Alexa stats. How many times you post on social media and the traffic from top social media sites like Facebook, Google+, LinkedIn, and Twitter could be having an impact on Alexa.
I specifically don't have exact figures but what I know is I post to over 10 Facebook groups, 10 Google+ communities, LinkedIn and of course Twitter. I recommend looking at the post I mentioned in question 3 above where I gave details on what I did in 34 days
S. How much time would you say you spend on promoting each of your post, and do you do it in one day or over several days?
E. As a matter of fact, I don't have any specific amount of time I assign to promoting my blog posts. Generally, I take 2 days to share new articles on social media and this I do manually. I have 2 Facebook Fan pages, about 10 groups, about 10 Google communities. I do also take time to share on blogging communities like Blogengage, klinkk, kingged, bizsugar, inbound, etc. You agree with me that manually posting to these communities takes a lot of time. The more these communities and groups, the more time it takes.
I'm aware there are programs to automatically post to some of these platforms with a simple click but I think that completely defeats the purpose of community membership. A community with no engagement and interaction is dead. If everyone does auto-posting, no one will be there to vote, comment, click the links, etc
S. What would you say is the MOST important thing you need to do to make sure your blog will climb up in traffic and popularity steadily over time? I'm still struggling with that.
E. There are 2 things I recommend here;
1 – SEO: If you want steady traffic in a long run, start by publishing SEO friendly content today. Some bloggers just go ahead and write content without thinking Search Engines.  Search engines are important source of traffic. I don't understand why we need traffic yet neglecting the very source of it.
Google has tossed most of us left and right but we shouldn't quit following search engines best practices. Others get huge traffic from Google! Why shouldn't you?
Yesterday, it was about keyword density. Today, that has changed.  It's more of keyword variation (LSI)
Neil Patel in this post said something so important about this. According to him "The sheer variety of words is also an important factor that can improve your SEO… The more variety you have, the better you'll perform in search queries. Remember, Google isn't just delivering results that have an exact match to the query. It delivers results that are semantically related"
Sometimes, as bloggers, we keep away for weeks due to circumstances we cannot handle. During this period, SEO is the only source of traffic that can keep you going.
2 – List Traffic: Building a list is the second thing I recommend here as a source of traffic. It is the surest source of traffic you can tap into at any time. Each time you publish a post and mail your list about it, there is surely going to be traffic rush to your blog. The bigger the size of your list, the more the traffic you get
Ok I know most of us hail social media for traffic. Yes, you need it (social media) for traffic and popularity. However, if you stop growing your social media base and sharing content on it regularly, the traffic too will almost instantly stop
S. I just read your post where you're talking about finding bad links on your site, and I feel that your post raises the question again. Should our blog be no-follow, or should we take care of this on an individual basis?  For example, I can control the links from people who comment on my blog, but it's not easy to control who's linking to your site. So, what's the best remedy for this?
E. You are referring to this post right?
Ok I want to suggest setting your blog to nofollow with a possibility to do individual adjustments. You don't want to be penalized by Google for leaking out page rank do you?
You can have full control over your blog's outbound links. However, it's absolutely difficult to control any link that points to your blog from outside.  The best you can do is ask Google to neglect such links by using the Disavow tool.
Secondly, be careful when you leave comments on other blogs and link back to yours.  Be very selective in the choice of blogs to comment on
Don't do the crazy things others do – buy some crappy seo backlink gigs on fiverr or SEOClerks. That will simply mean buying disaster for your blog
S. What type of site do you think Google call dangerous or suspicious? And how bad do you think it is to have sites like those pointing to our blog?
E. Here are the 6 cases Google may suspect any site;
A sudden and massive growth in backlinks
Linking from irrelevant content
Creating keyword rich backlinks
Creating massive do-follow outbound links. Google may think you are selling links
Creating keyword stuffed contents
Getting massive inbound links from sites that have been penalized by Google
Any site that does any other activity (usually black hat) to manipulate Google is suspicious. Note that Google is smarter and will always fish out such sites.
Of course linking to these sites is dangerous.  It's as dangerous as having a relationship with terrorists. When they are hunted down, you may not be able to escape.
S. What do you think is the best way to find targeted traffic for your blog?  For example, for someone like me who has limited time, and still trying to widen my audience, what are let's say the 3 FIRST STEPS you would tell me to take?
E. I don't think there is anything that replaces search engine traffic if we are looking for free targeted traffic. That's actually my first recommended step for targeted traffic. Of course, it starts with OnPage – Writing the kind of content that is loved by search engines and shared by readers. This generally will boost your OffPage SEO by attracting links from visitors (natural linking)
You may want to buy traffic through search and social PPC. That too can bring in a lot of targeted traffic. Of course, it's not free here.
Another option is to buy banner space on related blogs. In addition to this, you may pay bloggers to review your blog. That's something few bloggers do but I think it can be very productive. If your blog is reviewed on a highly targeted blog with high traffic, be sure to get some interesting exposure.
I know you are thinking what about social media? Well, how targeted this is depends on how you grow your social media base. If you have random fans and followers, you may not expect anything good.
For someone like you with limited time, an option could be to hire a Virtual Assistants whose responsibilities are to post quality comments on targeted blogs with links back to your blog, share your posts on blogging communities, (comment other blogs and vote your entries), share on social media, participate in forums, etc
S. Where do you find inspiration to always write about exciting topics?
E. As a matter of fact, I don't have specific places to mention here. However, being very active on the blogosphere (though, not full time), I get often inspired by reading blog posts and comments. I do also think my best posts have been inspired by my personal experiences. I try to create content from things that happen around me. I share new things I learn, discoveries, solutions, etc. At every given moment, I always have lots of ideas because there are new things I meet every day.
S. What advice do you have for people who want to make money from their blog?
E. The first advice I have for money making bloggers is to build an active blog first. If your blog is sleepy, with crappy content, making money will be difficult. No one will ever buy space on your blog or pay you for a sponsored post if your blog cannot meet his or her expectations. Advertisers want targeted exposure. That means No Targeted Traffic, No Money.
From my experience, no advertiser is ever willing to pay you for advertising service without being satisfied with your traffic stats – how many unique visitors, impressions, source of traffic, time on site, etc.
So you see, to make money from your blog, focus on building it up first. Of course, you have to be sure your blog's outfit is impressive. While that does not guarantee earnings, it can turn advertisers away if poorly built.
As soon as you think your blog is active enough to earn money through advertising or product reviews, don't just sit and wait for clients. Go get them. I love what you wrote in this post Sylviane. I highly recommend it as it's working for me. Bloggers who want to make money should step out and go to meet advertisers.
Secondly, if you want to generate some income from your blog, think of building a list. You may not understand how this works but the money making power of your list is huge. It's like a market of ready buyers – well, that's true for a list properly built.
There is no blog monetizing method that can really generate income without consistent traffic. If you want to go with Adsense or promote Affiliate marketing products to earn commissions or go by promoting your own products, having targeted traffic is a must
S. What is the number on tips you would want to give to any blogger who is still struggling with their blog?
E. One of the reasons some bloggers struggle with their blogs is lack of knowledge. There are things they want to do but they keep missing the point because they don't know how it's done. I encourage investing in studies. It is never too late to learn and no knowledge is useless. If there is some area in blogging you are struggling with, I advise taking a break and studying it properly.
If you have been around for years and think it's still not pulling, why not sign up to some great blogging course? There are a couple of them out there that can help get you results.
Another option is to get a mentor who will take your hand through the difficult steps in blogging.
Thanks for these wonderful questions Sylviane. I hope my answers will help your readers get one or two things. I'd love to welcome everyone over at my blog….. where we can discuss ways to make money online and much more. Feel free to contact me with any questions. We can discuss a lot of things together. What's the essence of blogging if bloggers don't communicate with each other?
S. Well thank you so much for accepting my invitation, Enstine and for sharing such wonderful insight that both my readers and yours can benefits form.
Now, if you've read this wonderful interview, please, add to it by commenting down below… Any question, welcome!