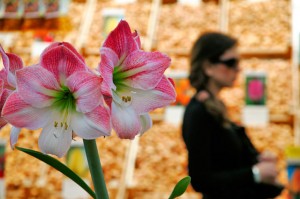 Have you ever noticed while watching a movie that when the camera focuses on a subject the background is blurry?  This is because the lens of a camera cannot focus on two subjects at the same time.  If it focuses on the foreground it cannot focus on the background and if it focuses on the background it cannot focus on the foreground.  The camera lens can only focus on one item at the time.  This actually serves the film maker.  He can use this quality of the lens to make you "look" at what he wants you to pay attention to.
Our brain works pretty much the same way the lens of a camera does.  The brain cannot really focus on two things at the same time. So, if you are focusing on one thing, just like the camera lens does, your brain won't be able to focus on something else at the same time.
That's what focus is all about – giving your attention to one thing at the time, so it can get all your attention at this given moment and leave everything else in the background.  Focus has a purpose – getting things done and going somewhere.
If you lack focus, you can't get anything done.  Everything you do will be half way done and the end result will not be good.  This includes achieving your goals.  Focus is very important in every areas of our life.  So, let's see how you can improve your focus and get things done.
Before I keep going on the subject, however, I wanted to mention that this idea to write about "focus" came to me last week when I was asked by Hulbert Lee to write a review about his new e-book Ultimate Focus Guide.  If you would like to know what the book is about or read my own review about it just check it out right here, right after  you've read this post.
Where Do Distractions Come From?
Distraction is the number one enemy of focus.  People who are easily distracted usually have a very hard time focusing.  A very known "focus inability syndrome"so to speak, is called ADD (attention deficit disorder).  Many people who have not been diagnosed which such disorder do, in fact, display such symptoms.  Personally, even though I was never diagnosed with such disorder, I firmly believe that I was affected by it.
There are two types of distractions that we need to fight against on a daily basis.  These two types of distractions are external and internal.  External distractions, also called environmental distractions could be your phone, the TV, your inbox, you kids, your house shores, so forth and so on.  You internal distractions on the other hand are "emotional" such as procrastination, depression, negative thinking, emotional breakdowns, self sabotage and other personal issues you may have.
All such issues, whether they are external or internal will prevent you from fully focusing on any constructive action.  Any camera which has a broken focus lens won't be able to shoot any images whether sill or moving that would be of quality.  To get quality, you need focus.
Where Does Focus Come From?
Focus comes from the brain.  Our brain, just like that camera in our example is built in such a way that we can activate it to focus when we need to.
In his e-book, Hulbert Lee explains how the part of our brain called the Reticular Activating System (RAS) is the part that helps us focus.  This part of our brain as small as our little finger contains about 70% of our brain's nerves cells.  It's the RAS of our brain that helps us screen out information and allows us to pay attention.
In order for our brain to be more efficient at focusing we can take physical steps such as eating better, sleeping better, exercising more, and so on.  And we also can eliminate distraction and improve our mind functions using meditation and other mind enhancing device.
Focus is also improved by strong desire, visualization, and self motivation.  You can make focus a habit, like any other habits you may have.
How to Make Focus a Habit
It takes no longer than 21 days to take on any habit.  This means that if you repeat an act for 21 days in a row it will become a habit.  Knowing this fact, you can make focus become a habit.
How we pick up a habit, good or bad is by practicing it. Doing something over and over; that's how people develop skills.  Athletes and artists, for example, develop their skills by practicing.  They are focusing 100% on refining their skills.
You can exercise on focusing just like you would exercise your body by doing pushups.  For example, you can concentrate on focusing on a task for 10 minutes every day.  When those 10 minutes of focus are become routine and easy, you can increase the length to 20 minutes.  You can increase the duration of your focusing exercise as time going on.  With desire and practice you can develop your focus ability.
The key is to focus on a specific thing for a specific amount of time.  If you follow this daily routine exercise faithfully, you are bound to improve your focus.
So, what's your story? Do you have a hard time focusing or is it easy for you? Please, tell us in the comment area below!