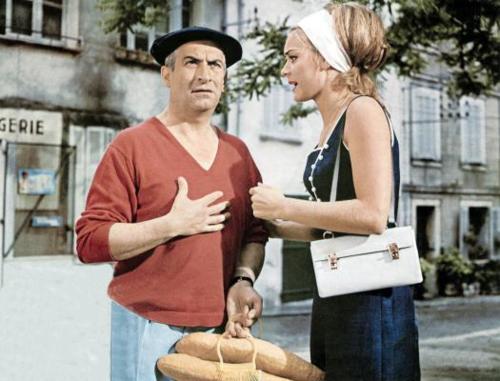 Sometimes I Google a crazy questions that come through my mind to find ideas for posts on this blog.
Since I am in the US and tend to Google my questions in English, I usually get results "created" by foreigners who like to think that they're experts about France.
What I find usually makes me laugh or in some cases can also make me mad.

When I Googled the phrase, "do French have a good sense of humor"? I found very irrelevant results that made no sense.  Therefore, I think that Google is in serious needs for more reliable answer to that question.
Such lack of valuable information was a good thing though; because it gave me the perfect opportunity to write a post that will make much more sense as far as the answer to the question Do French have a good sense of humor? And give you insider information versus false information.
Do French People have Sense of Humor?
Whoever would answer no to that question, obviously doesn't know what they're talking about. I know of more humorists in France that made a fortune with their humor than I do here in the US, and considering the size of the country that's not nothing.
France is a country where every politician, popular actor, singer, journalist and anyone famous has been "made fun of" at one point or another for the sake of humor.  How do they react to that? Usually, pretty well, as a matter of fact.
For one thing France has very talented impersonators that do a great job of stealing people's voice while professional make-up does the rest as far the physical appearance is concerned.  Then, it's up to them to make the person they are imitating "say" whatever they want them to say. The results of this is usually tremendously funny, but only if you have some sense of humor.
We had a top notch impersonator who used to imitate President François Mitterrand to perfection and had "him" say hilarious "political made up statements" that made fun of  politics and of the president. No way you could do this in a non-humorist country.
France also has many comics that are not trying to imitate anyone in particular but just make fun of society and all the stupid things that humans do sometimes. They just add a bit of salt and pepper and there you have it; a tremendously funny one man show.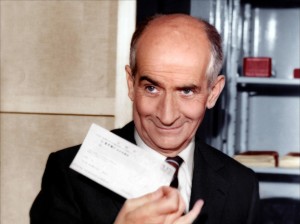 Do French Make Fun of Themselves?
While doing research for this article I read that French don't like to make fun of themselves.  This is absolutely FALSE.  French make fun of anyone, but first and foremost,  they make fun of themselves.
Just watch French movies, and you'll understand what I mean.  We have actors that are just natural comedians and make you laugh no matter what they do or say because they're just funny and good at making fun of French society.
The funniest of all time actors who made France laugh for decades until and (thanks to cinema), even after his death in 1983 was actor Louis de Funes.  I did cry when he died.
Louis de Funès made a career of creating a despicable character who usually represented the "French Corp Boss" with all his ugliness.  He took the truth and just pushed it a bit, and created the funniest character France had ever seen.
I introduced Louis de Funes (through YouTube) to an American friend of mine who can't understand a word of French, but yet got completely addicted.  Sometimes he tells me "show me some videos of de Funès".  The reason why this guy can amuse people even if they don't speak French is that there is much more than words to his comic.  See the video below.
Do French in General Have Some Sense of Humor?
I have to say that French in general, besides, stand up comics and actors have a lot of sense of humor. I remember my family gathering with my uncles, aunts and cousins who loved to tell jokes.  I still  have mental images of us folded in two laughing like crazy.
Some people also use some type of sarcastic jokes and comments on a regular basis, and if you don't understand humor, well you'll be in for a ride.  Now, if you don't understand French or humor, you'd be OK too.
By the way, French humor is just impossible to translate, but I guess that goes for all humor.
French Humor in Movies
Movies are full of humor all the time, even non comic movies.  French use a lot of common slang that is pretty much inherent of the language, and that really adds to such sense of humor.
Because of the huge immigration of North Africans (the Maghreb) and Africans in France the country has found another sense of humor which has become obvious in recent movies where Maghreb people and Africans are  taking over some of the once upon a time 100% French native government positions and jobs.
A recent hilarious movie from 2011 titled "Beur sur la Ville" which means (Maghreb people on the city) which was a humoristic reminder of another famous French movie from the mid 1970's titled "Peur sur la Ville" which means (fear on the city).
This movie shows how French police is taken over by non-educated immigrants who can barely speak correct French.  Nothing is too far from the truth in that movie, and if you'd ever thought that French don't have sense of humor than, go watch that movie.
Yes, French people have a very good sense of humor, as a matter of fact, and may be even worse than British humor.  When I say worse, I mean it in a good positive way.  French and British people are by far the most humoristic people in whole Europe and I think even the world over.
I love humor, I grew up in it. Well, I'm French after all!
Leave your comments and feedback below!