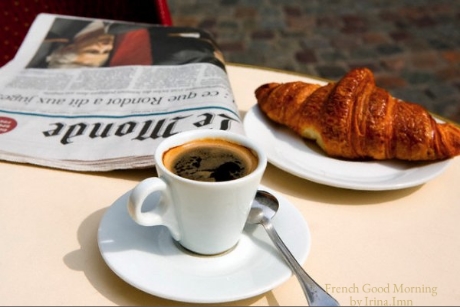 French sayings called (dit-on) in French are as often used as they are in English, and for this post I decided to dig a few of such French sayings that have their equivalent in English.
Some of them are basically word for word, and some have the same meaning while saying something different.  So, without further ado, let see what they are in French as well as their meaning. Down below in my video I pronounced them for you.

French Sayings 
A word once spoken is past recalling / Il faut tourner sa langue sept fois dans sa bouche avant de parler (we need to turn our tongue 7 times in our mouth before we speak)
Meaning: Better think before speaking
It's raining cats and dogs /Il tombe des trombes d'eau (it's falling hard water)
Meaning: Heavy rain.
Barking dogs seldom bite / Chien qui aboie ne mord pas (Dog that barks doesn't bite)
Meaning: People who may yell are not the meanest.
All cats are grey in the dark / La nuit, tous les chats sont gris (at night all cats are grey)
Meaning: All things look alike in darkness.
Bad news travel fast / Les nouvelles vont vite (news travel fast)
Meaning: People are gossipers.
Boys will be boys Il faut que jeunesse se passe (youth must come and go)
Meaning: Young people do things that they will eventually grow out of.
As you make your bed, so you must lie in it / Comme on fait son lit, on se couche (Same exact translation)
Meaning: As you do things so you will pay the consequences of it.
An eye for an eye, a tooth for a tooth / Œil pour œil, dent pour dent (same in French)
Meaning: What you take will be taken from you.
Love is blind / L'amour est aveugle (Same thing in French)
Meaning: Love prevents you to see defects.
Give credit where credit is due / Il faut rendre à César ce qui est à César et à Dieu ce qui est à Dieu (we need to give to Cesar what belongs to Cesar and God what belongs to God)
Meaning: To each one is due.
Better be safe than sorry / Prudence est mère de sûreté (caution is the mother of safety)
Meaning: It's always a good thing to be safe and secure.
A good deed is never lost / Une bonne action n'est jamais perdue (same in French)
Meaning: What good you do will be rewarded.
Clothes do not make the man / L'habit ne fait pas le moine (clothing does not make the monk)
Meaning: People aren't always what they seem to be.
A friend in need is a friend indeed / C'est dans le besoin qu'on reconnaît ses amis  Or Amitié dans la peine, amitié certaine  (It's in need that we recognize our friends) or (Friendship in hardship is true friendship)
Meaning: A true friend is here in bad times as well as good times.
He who laughs last laughs best / Rira bien qui rira le dernier (same in French)
Meaning: Never make fun or fun will be made of you.
A debt paid is a friend kept / Les bons comptes font les bons amis (Paid "goo" accounting makes good friends).
Meaning: Money owned can break friendships.
It is the last straw that breaks the camel's back / C'est la goutte d'eau qui fait déborder le vase (it's the last drop that makes the vase overflow).
Meaning: When someone has got as much as he or she can take, the last little thing will make them explode.
A rolling stone gathers no moss / Pierre qui roule n'amasse pas mousse (A rolling stone don't gather moss).
Meaning:  Nothing good comes from rushing things.
Lost time is never found again/Le temps perdu ne se rattrappe jamais (same in French)
This was speak for itself.
A bird in the hand is worth two in the bush / Un  tiens  vaut mieux que deux  tu l'auras  / Il vaut mieux tenir que courir (one have is better than two you'll have) or (it's better to stand than to run).
Meaning: One thing already own is better two maybe's.
Pronounce those French sayings with me on the video and have fun!!!