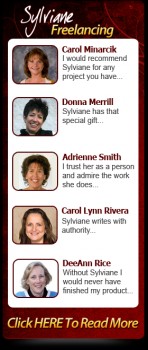 At first I was thinking of posting few of my best posts for this 100th post, today, but as I started putting this introduction of my brand new testimonial page together, I realized that it didn't make sense to do both.
So, this 100th post will be announcing my new testimonial page as well as the people who gave such testimoniasl for my writing skills.
I was very fortunate to have 5 charming ladies who were nice enough to give me their personal testimonial, and today I wanted to introduce them to you in case you didn't know them already.
Another reason that I wanted to write a post about this testimonial page is that if the post manages to rank well on search engines it will be a great advertising for my freelance writing as well.
So, without further ado, here is what those Entrepreneur women had to say about what I do.  If you are just a reader of this blog, it might even give you some ideas about what you could do for your own business or services, and if you are a potential client, it's my hope that those testimonials will make you want to hire me for your writing jobs.
Introducing Some Talented Women
First off, why did I chose these women to give me a testimonial for my writing skills?  Well, it was very easy – They were the ones who gave me testimonials way before I asked them, so it was no brainer.
Carol Minarcik
Carol is a very successful network marker who has extended her networking all the way to Africa.  My guess for her success is that she cares for the people she brings into her business and for people in general. This became very obvious to me as I started writing for some of her projects.
Carol Minarcik said…
"I would recommend Sylviane for any project you have… read more"
If you are looking for a network marketing business, you may want to check what Carol Minarcik is doing.
Donna Merrill
Donna Merrill is also a successful entrepreneur lady. She is a professional and talented psychic and an internet entrepreneur as well.  She and her husband are preparing a webinar and a product that should be coming out very soon.
Donna said…
"Sylviane has that special gift… read more"
You can find Donna at DonnaMerrillTribe.com
Adrienne Smith
Adrienne Smith has been called the social media queen for good reasons.  She knows exactly what to do when it comes to building meaningful relationships with other bloggers and online entrepreneurs.
But Adrienne is more than a social media queen, she knows her stuff, and will be coming up with a product soon.  But I won't say more on this.
Adrienne said…
"I trust her as a person and admire the work she does… read more"
You can find Adrienne at AdrienneSmith.net
Carol Lynn Rivera
Carol Lynn Rivera is a copywriter, editor and the co-founder/co-owner of Rahvalor a Web Design/Marketing consulting business she runs with her husband.  She is also responsible for project management, client liaison and business development.
Even though as you can tell she is a pretty busy lady, she was nice enough to give me a great testimonial.
Carol said…
"Sylviane writes with authority… read more"
You can find Carol Lynn Rivera at WebSearhSocial.com
DeeAnn Rice
DeeAnn Rice is an online entrepreneur who has just created a fantastic product that will allow bloggers to protect their blogs against hackers. DeeAnn is the pro at blog protection against hackers.
DeeAnn is a very busy mother who  manages to have a blog and found the time to put this product together, and she should really be commended for that.
DeeAnn Said…
"Without Sylviane I would never have finished my product… read more"
You can find DeeAnn at DeeAnnRice.com
So, there you have it.
With this post I want to give my thanks to all those fantastic women, and try to give back to them a little.
I  hope you enjoyed this, and got ideas for your own online business.  Tell me what you think in the  comment area.