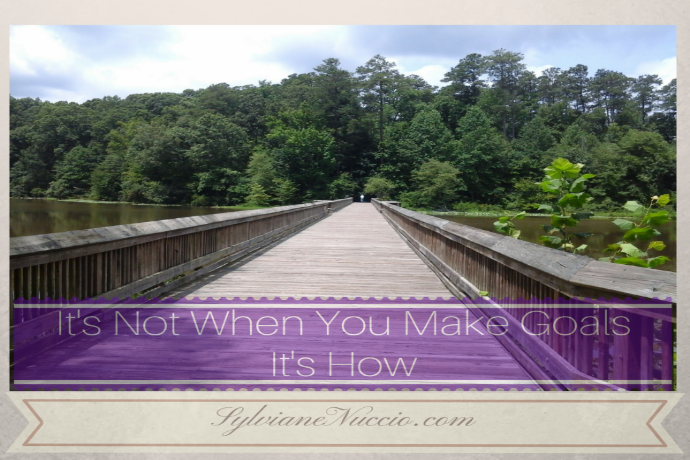 The problem is not with making goals for the New Year. You can make goals on the first of January or the first of July, it doesn't matter. The real problem is HOW you're making your goals.
Because what matters is to KEEP them.
But why is it so hard to keep goal?
It's because most people making goals are omitting two vital factors.
They don't make specific enough goals.
They don't do regularly check on their progress to make sure they're still on track.
My goal for this article is to give you tips and advice in order to help you avoid these two pitfalls, and guide you through your goal making plans.
Hopefully, you can bookmark this post, and get back to it regularly.
You can use this information to help you with the progress of goals.
Step One – Set Specific Goals
One thing as sure as 2+2 = 4 is that there is no results possible (no good ones that is) with vagueness.
That's the biggest problem that I see with goal making.
Taking the example of a commercial flight, for instance, they have their entire trip precisely tuned to a specific route.
To make sure that they keep on track, there have specific check points that the pilots needs to go through while flying in the air.
If they miss a check point, they know that they've gone off course, and in such case, they would need to readjust their course in order to get back on track.
Precise flight course is what makes your flight safe.
It's what assures you that you will get to your planned destination, and that you won't collide anywhere between point A and point B.
Now, tell me that being precise in your goal planning is not important!
So, do yourself a favor and do not make goals that are not as specific.
Do not plan on losing weight. Plan on how much "exactly" you want to lose, and by when.
Do not plan on going on some trip sometime. Plan exactly where and when you're going.
Do not plan on making lots of money. Plan exactly how much you want to make, by when and how.
Do not plan on meeting the man or woman of your dreams. Write down all the qualities you want them to have. You can write those down over time, as you think of them. Be very specific about what you want in a partner.
Do not plan on eating healthy. Make a list of what type of food you want to add to your diet, and a list of what food needs to go.
I could go on and on, but do you get my point here?
If not, I'm always an email away.
So, to recap, here. Do not just make goals, make specific goals.
Step Two – Prioritize
If you have several goals (and you should), I'm sure they are not all equally important or all equally easy to attain.
That's why you need to prioritize your goals.
The more specific your goals are, the easier it will be to prioritize them.
Which goal will be easier to accomplish first and why?
Write down the list of your goals, and decide what goal needs your attention now, and what goal you will focus on at a later time.
Start working on the smaller or most urgent goals now.
Step Three – Measure your Obstacles
If there is any obstacle between you and your goal, you should make a list of them too.
It's always better to have your enemies in from of you, so you can confront them, rather than letting them sneaking on your back.
So face your obstacles now, and think about ways you will handle them.
Will you need someone's help?
Does it require you to take a specific action?
Whatever it is that you will need to do to overcome your obstacles, needs to be identify as soon as possible and dealt with as much as possible as well.
Some might be easy and some might be pretty hard to deal with. Either way, get clear on that, and you will be able to move forward with your goal much better.
Writing down all obstacles will help you deal with them so much better, and you will feel empowered with ideas to overcome them.
Step Four – Make a list of your Resources
Make a list of the resources that are available for you to reach your goals.
It could be anything; people, technology, skills, contacts, friends, your own determination, etc.
Thing of every single details that could be a resource to you in order to attain your goals.
Compare your goals and the resources that you have to help you accomplish them.
Making a list of your resources you have to attain your goal is a very powerful step toward that goal, so don't skip it.
Step Four – Imagine you Have Accomplished your Goal
A very important step about making goals that people who fail do not do, is imagining themselves once they have accomplished their goal.
Do not ever underestimate the power of imagination.
Albert Einstein, Thomas Edison and Walt Disney, for example, all have created some of their most valuable work through imagination.
But what is imagination, really?
Imagination is visualization with feelings.
When I was a teenager, I started to imagine myself meeting the then number one movie star in France.
Did it work?
Yes, it most definitely did!
Not only I met him like 5 times including once in New York, but I ended up meeting quite a few more movie stars in my life time after that.
Not only during my few years of acting, but several times outside of that.
Have you ever found yourself in an elevator with Tom Cruise?
Well, I have.
Do I believe in coincidences?
What people call coincidence is actually only the result of what you're attracting in your life, led by what you think about and focus on most of the time (even unconsciously).
This recipe MAKES your coincidences.
So, take this seriously, guys.
Take some time to visualize each and every one of your goal as if you had achieved them.
See how you will be, how you will feel, what you will do, how you will act, etc…Once that goal is accomplished.
What's an easy way to do this?
If you can sit down or lay down 5 minutes in the morning and 5 minutes in the evening, meditating on your goals as if you had achieved them.
This exercise would be a tremendous boost towards accomplishing your goals.
My favorite attraction recipe is this:
Meditating + Visualizing + Daydreaming + Determination = Attracting.
It works for any goal you may have.
With that I've attracted…
Acting in theaters in Lyon, Paris and New York
Being in a commercial and appearing in two movies.
Crossing the path of movie stars.
Speaking 3 languages (soon to be 4).
Living in the US, and having dual citizenship.
I just want to make sure that you don't think I'm bragging here. These are things that many people reading this and many of my acquaintances do not even know about me, but they're PROOF that imagination, visualization, daydreaming and determination work to attract specific goals.
Did I always apply this wonderful recipe in my life?
No, and that's why I've also got what I don't want or like many times in my life as well.
Step Five – Check Points
Now, it's time to do a few check points to make sure that you are keeping your goals on track.
Your check points will also help you to see if you have to give up some of your goals for the time being, or if you have to push forward on others.
Use those check points to figure out what you need to do in order to make sure that you are still working towards your goal.
It's better to drop a goal completely for now and get back to it when you're finally ready, than letting such goal clouding your head, or making your feel stressed out because you're not doing what you should be doing at this point.
Just like the commercial flight will readjust its course if it goes astray from its check point, use this as an adjustment, or cleanup of your goals.
Recap
Make ONLY specific goals
Prioritize your goals
Figure out any obstacle you'll have to overcome to reach your goals
Figure out what type of resources you have at your disposition to reach your goals
Check out the progress of each goal, every so often, to make sure you're still on track
Anything you want to add? Please, leave your thoughts, comments and insight below!