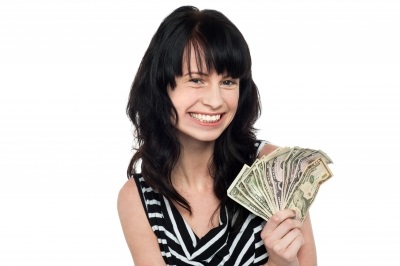 Interestingly, when I Googled my headline "how to find writing jobs that pay top dollar" to see if anyone had thought about title before, I found it to be totally unique. So, that's a good start.  Maybe not that many articles have been written on the subject.
Two weeks ago I wrote a post about the challenges that freelance writers are facing when looking for writing gigs that pays good money.
As a follow-up to that post – and I advise you to read it first if you haven't yet – I wanted to write about how you can find better writing jobs that pay well.
As I mentioned in that previous post, you won't find well paid writing jobs by going to those bidding sites, because they're just not designed for you (the writer). Those sites are designed for those who hire the writer.  So let me reinforce that again.  Stay away from those sites if you want to make good money as a freelance writer.
Here are five steps that you need to take as a freelance writer if you want to avoid low paying gigs forever, and if you want to become one of the rather few freelance writers who actually make very good living doing what they love.
Step #1 – Prepare your Mindset
Are you surprised that this is my number one step to find well-paying writing jobs? Well, you shouldn't, because without the right mindset nothing you'd accomplish would be truly successful.
Writers that are not paid well, usually have low self-esteem, and lack of confidence. Not the type of mind set you want to have to be a freelance writer, or any other type of entrepreneur for that matter.
If your low self-esteem is due to your lack of expertise, then do everything you need to do to improve your writing skill, before you even start selling your services.  Do not under value yourself and start accepting ridiculous pay due to your lack of expertise.
Once you start working for little it's harder to find high pay writing jobs.
I suggest that you read personal development and self-improvement materials in order to learn how to set your mind strong.  As an entrepreneur the work on YOURSELF is key to your success in your business.
Your mindset is your foundation. Without a good foundation everything can crumble at any time.  Potential clients can feel when they deal with someone that is insecure.
So, take this step very seriously, guys. You need to be ready mentally with a high self-esteem before you'll ever get good paying writing jobs.
Step #2# – Establish Yourself as an Expert
One thing is certain is that that no one will want to give you hundreds of dollars for your writing if they don't feel that you are an expert at what you do.
The easiest way to establish yourself as an expert is to have a blog, because your blog will do two very important things for your writing business.
1-     It will be your portfolio
You can have a portfolio page like I do to show some of your work, but you don't have to if you don't have samples of your writing yet. Your best portfolio showing your writing skills will be your blog.
But of course, it will be efficient ONLY if you create good content on a regular basis.  If the content that you write for your own blog is mediocre at best, you can't expect to receive top dollar writing offers.
2-     It will be your business platform
You can use you blog as your online store, where you set up a hiring page, and you will receive offers from potential clients directly from there (if you do things right).  That's where most of my clients reach out to me.
It's so essential to have a blog as a freelance writer. Don't count on social media or web 2.0 sites to do the job that your blog can do for you. Setting up your own blog is the first thing you need to do if you want to enter a career as a freelance writer.  Your blog can help to position yourself as an expert.
Step # 3 – Contact Fortune 500 and Fortune 1000 companies
Don't even start step 3 until you've covered step 1 and 2.
I can tell you that none of those big fortune companies are found on writing bid sites. Those are the people that will pay you top dollar for your writing if you can write well.
What you may need to learn though, is how to pitch them in such a way that you will be noticed, since they do receive a lot of offers.
Many of those large companies, however, often welcome a good creative writer that will help them get more business.  If you're able to show them that you can do the job, they might be willing to hire you for the long run and for top dollar.
Just by doing a simple search online you can find many of such companies. Once you do find out who does the hiring or person of contact, send a well written pitch letter.
In an upcoming post I'll be talking about writing a good pitch.
Step # 4 – Guest Blogging
I have to admit that this might not be the easiest thing you can do to find potential clients, but you need to target high level blogs and pitch them with the best guest posts you can come up with.
When I say it's not easy, it's because it's not. Those blogs do receive tons of requests on daily basis, so you need to be as original and as creative as you can be, and write a pitch that will caught their attention with a super duper guest post attached.
Before you do, I would advise you to study what type of content they do accept and use that knowledge to your advantage.
If you can show them that you know exactly what they like, and that you have a great original post that proves or emphasis a topic that they've already discussed, your chances of being accepted will greatly increase.
I'm not going to lie to you, this will take time and dedication, but it will be well worth it if you can pull one off. Once you do the second one will always be either.
Also, let me add that your mindset as discussed above will also increase your chances of success in being featured on top guest blogs.
Do not get discouraged if you get rejected. It doesn't mean that your post is bad, but maybe they already have an article discussing that topic.  Start all over again until you get a yes.
In another upcoming post I'll be giving you a list of blogs that you can target.
Step #5 – Internet Marketing Consultants
Internet marketing consultants are always in need for written content. I don't care how popular is the video or podcast, written content is still king and people still need it badly.  Some of those internet marketing consultants are willing to pay top dollar for well writing and well-targeted content.
Just like in the case of fortune 500 and fortune 1000 companies and big mammoth blogs, you are going to have to pitch those guys as well. the better your pitch the more chances you'll have to get an offer.
When you do pitch them, show them that you know what their site/business is about and how you could help them with your writing.
Bonus Tip
When you pitch anyone, a company, a blog owner or a local business, make sure that your pitch is not about you, but about them and how you can help them.
Frankly, they don't really care about your life story and all your accomplishments. What they want to know is how much you know about what they do and how well you can help them.
I hope that this post was helpful to you and that it will help you find writing jobs that pay top dollar. Please, let me know in your comment below.