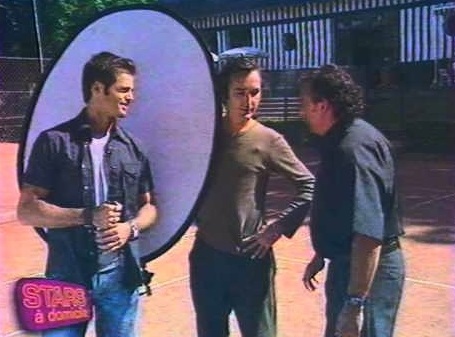 Today, in conclusion of my summer series of cool posts, I wanted to tell you about something that I found so very cool, indeed.  I'm talking about a French TV show that I found on YouTube.
The goal of that show is to surprise someone with the presence of they all time favorite idol (for the most part singers).

The TV show crew, the artist, and one or two insiders in the family of the person to by surprised is arranging everything so this meeting of a life time happens at the exact time and place as it's supposed to to be.
Can you Imagine your Favorite Singer Appearing in front of you?
How would you feel if you saw your  favorite singer come into your living room singing?  How would you feel if they were there JUST for YOU?  What would be your reaction? Do you want to see how some of those lucky ones reacted?
This TV show ran on French TV from 2001 to 2004.  The name of the show is "Star à  Domicile" (Star at home). Perfect name for it too.  The show eventually stopped due to lack of availability of the artists.
Everything was planned carefully to a "T" with of course an accomplice insider.  The fan who was going to receive the surprise of their life had NO clue.
Here are few of them.  If you have a moment, make sure you watch them to the end they are only 10 ish minutes each. You don't need to speak French to appreciate that.  I know you will!
By the way, a comment that those singers always made during the shooting of these shows is that they were very nervous.  Very emotional. I'm sure you'll love it!
Surprise #1
Here a mom and dad are surprising their daughter with her favorite singer David Charvet. She thinks that she is going for a drink with her family at the tennis club after school. At some point her dad is telling her that there is a TV crew doing a report about tennis and find an excuse to drag her to the court.
As she approached a "fake" journalist ask the girl questions about herself, until she come up with the fact that she knows who her favorite singer is … and that's when she gets the surprise of her life.  Look how she reacts.
Surprise #2
Here is a husband that is surprising his now pregnant wife with the visit of her favorite singer. She is just back from an errand and as she tells her husband that she was listening to her favorite singer Marc Lavoine in the car she felt that the baby stopped moving.
So her husband goes to the stereo and says, OK, let's see if it works now… as he pretend to put the song on the real thing is coming into her living room.  Look how she reacts…
Surprise # 3
Here is a mom and dad surprising their daughter with Faudel her favorite singer.
The parents pretend to go out of town, but they are actually going to meet with their daughter's surprise of a life time! She is having a pre-graduation party with her sister and friends when right after dessert comes her favorite singer of all time into the dinning room.
There are many more, but I had to come down to three, so the choice was tough. What I've done is choose the ones that someone "not speaking French" could enjoy the most.
So, what do you think? Did you like this? Please, let me know in the comments below.
If you found this entertaining and would like to share it, you should add the RSS feed of this blog to the social media sharing platform of your choice.
The feed is https://www.sylvianenuccio.com/feed/
Don't forget to add "via @NewFranceTravel" to tweet, so I can thank you.