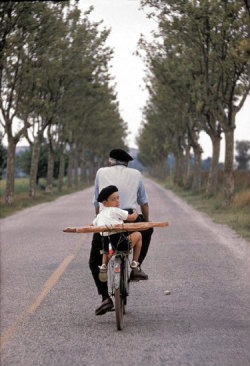 Since I have now lived almost half of my life in France and the other half in the United States (France still wins by a few years), I thought I would be a good judge of what rumors about French people are true or not according to what American people say.
You know, you hear these true or false rumors about French people all the time.  Unfortunately, some are completely made up, but really believed to be true and real. So let's see what rumors are true and what rumors are false according to my own experience and knowledge about them.
French People are Rude
Ah, that's a very famous one, isn't it? But is it even true?

Well, after having lived in the US for so long I understand why French people may seem rude, but really, deep down they are not any more or less bad then other people are. The reason why they seem to be rude is that in general they put much less of a façade than people do here, in the US.
Let me explained. I've worked with people who dealt with the public either over the phone or face to face here in the US.  I seen those people putting on their best selling faking faces while talking to a person that they totally insulted as soon as that person turned around or hang up if they were on the phone. In my world this is not being nice, it's just being down right hypocrite.  I've observed that many times too, let me add.
While a French person might not insult you to your face, they still won't put on such friendly act if you are getting on their nerves. But I have to say that Americans get the Academy award on this one.
This is why French people have a reputation of being rude, especially here, in the US. With French it's more what you see is what you get. They just won't put so much of a polite front if they don't feel like it. Thus, the reputation of being rude.
French Speak other Languages
That is a false rumor if there is any. Of course, there are going to be some people who speak two or more languages, like anywhere else in the whole wide world, but as for the general public (the majority of people), they don't.
Most French people that I've ever came across with in France while living there, and the few times I went back on visits do not speak any other language, not even English. I know that my friend Oliver Tausend from Germany would agree with me on that one. We were just talking about this over a Google Hangout this past week.
The thing is that French people tend to be very proud of their language (and that's not necessarily a good thing), and don't care too much about other languages. When they do learn English it's because they have to for their profession, but that's about the only reason why they would learned English. As far as other languages, they don't even bother. And it doesn't even matter that France is a direct neighbor of Italy, Spain and Germany.
Now at an individual level, that might not be true, it wasn't true for me, but that only because I've always had a passion for languages and I had a goal to speak several languages during my life time. But that's not everyone. Far from it.
French Men are Better Lovers and More Romantic
Ah, don't you love this one? Well, am sorry to say, but it's false.
My friend Annie Andre wrote a post on this subject a little while back, and she seems to agree with me.
Do you know that in France men don't even propose marriage like they do here? There is no bending on knees to propose marriage there, or if there is, I've never seen it or heard of it.  The first time I ever saw this, was here in the US.
So, to me, American men tend to be more romantic.
As for better lovers, well, that's an illusion as well, and that is true only at an individual level I guess, and could include anyone, anywhere in the world. There is absolutely nothing that makes a French men more or less of a good or bad lovers. As a matter of fact, history has shown that many French women chose men from neighboring countries such as especially Italy, Spain, Germany and Poland  as lovers or husbands.
French are More Liberate
Well, yes, this one is a given. French have been more liberated than Americans not just by a few years but by a few decades.
Back in the late 70's and early 80's a vast majority of beaches was basically 99 percent topless, and French movies have started to show nudity in regular non-erotic cinema since the early 60's, and it was in full bloom in the 70's and 80's and still going on till this day.
When I was in the 8th grade, one of my two gym teachers had no problem showing himself naked in the girl pool's dressing room. My mother was the only mother who went to the school to complain when I told her, and I didn't even told her right the first time it happened.
However, nothing ever happened to guy. This was in the late 70's. Any teacher doing this today here would go to jail I supposed, but not back then.
Now, not every single French person feels that much deliberated, however. I know plenty of people that don't and I don't at all myself either, but that is definitely common in France, and frankly I have no idea why this is the case, though.
I hope we clarify those four well know rumors about French people, here.  And I hope I could prove my point about them in this post.
If you know anyone who believe such rumors one way or another, please, share this information with them.  In the meantime, let me know what you think in the comment area.