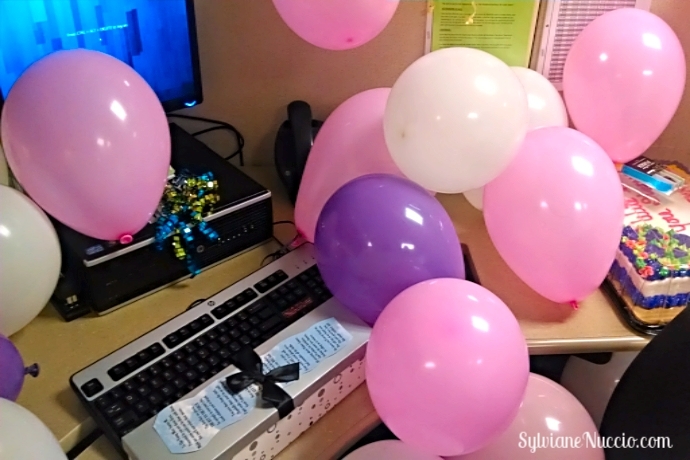 You have to go to a job you hate every day.
You know you don't belong there, and you want out.
The only problem is that you can't afford it financially, and for now you have to keep what you have.
You can't help feeling stuck and frustrated, but how can you get out of this vicious circle?
If this is your present situation I'm totally with you, because I've been there, before I finally managed to get out.
How did I do it?
I practiced what I'm going to teach you here.
I'm going to show you how to be content with your present job while you're planning your exit in the best possible way.
At the end of the post I'll have a free offer that will help you get there sooner.
Stick to your Dreams
The future belongs to those who believe in the future of their dreams –Eleanor Roosevelt
I don't know about you, but I wouldn't have been able to go on at that job I hated, if I didn't have dreams that kept me going.
No matter what situation you're in, if your job is not satisfying to you it means that you're meant to do better and bigger things.
What are you dreams? But most importantly what is the specific dream that's going to get you out of that job you hate?
Building on your dream is a very powerful way to be content in a job you don't want, because you know that sooner or later that dream is going to get you out.
Building on your dream will help you to be more patient and better able to continue on at that job while not becoming depressed.
Work on the Goals that are going to Get you Out
Setting goals is the first step in turning the invisible into the visible –Tony Robbins
I had a client who used to have the hardest time to keep a balance between working his job and working on his book. After asking him a few specific questions, I realized that after work he was watching movies, or getting busy with futile things, instead of working on his project.
He didn't keep his goal a priory.
If you want to quit your job to be able to do what you love, you must dedicate a few hours a day toward your goal, because if you're not, all your time and energy goes into that job that you do not want, and nothing is left for what you do want.
When that happens you only feel more frustrated with your job, because you feel like you're in a vicious circle that will never end.
On the other hand, if you dedicate only 2 to 3 hours a day 5 days a week to your goals, it will help you to stand that job much better for now, while knowing that you are getting closer to your goal.
See yourself as an Entrepreneur, not an Employee
When everything seems to be going against you, remember that the airplane takes off against the wind, not with it –Henry Ford
This might seem abstract to some of you, but if you don't want to be an employee anymore, start seeing yourself as an entrepreneur and not an employee, even though you're still one on paper.
Here is a practical example; unless you want to find more work in the field that you're working in right now, don't portrait yourself on social media as being an employee doing that job, but as what you're working on becoming, so you can leave that job.
I know some people who have dead end jobs with dreams, but keep on promoting themselves as employees of that job on Linkedin, for example.
That's a huge mistake.
Am I telling you to lie here?
No.
I am telling you that in order to do what you want to do,  you need to be able to visualize and feel it, so perhaps, having a LinkedIn profile that says that you are what you don't want to be is not the best way to go about it.
It's perfectly OK to include your present job somewhere down the line, but if you want to be a freelance writer, start writing and including freelance writing in your LinkedIn resume at the top.
This will help you to stay on that job you want to quit, while knowing that you are already on your way out.
Detach from your Job Emotionally
Nobody wants to get locked up, although 'locked up' is a matter of perspective. There can be people who are out who are in prison mentally and emotionally and worse off than those who are behind bars –Wesley Snipes
Personally I'm very good at detaching myself emotionally from something unwanted, but I'm aware that it's due to years of practice, and I do understand that it's not as easy for everyone.
So, how in the world can you detach emotionally from the job you have to go to everyday?
Easier than you think.
By focusing on something else.
Let me explain…
You see, unlike the common belief that we can concentrate on more than one thing at once, we really can't. And that's a good thing in my book.
So the more you'll be able to concentrate on your dreams and goals, the least you'll be emotionally attached to your present job.
The least you'll be emotionally attached to it, the more you'll be able to keep a healthy distance from it. Thus the easier it will be for you to be content with your job as long as you have to stay there, because you won't be emotionally attached to it.
When you are emotionally attached to a job you hate, it makes it very difficult for you to move forward, be creative and have the strength to work your way out.
You would be frustrated because of your work and at home as well. And nothing positive would come out of that.
Imagine yourself where you want to be
Logic will get you from A to B. Imagination will take you everywhere –Albert Einstein
I've become a master of imagination (visualization), and I can teach how you can too.
OK, I admit that I have that skill a bit naturally, because I've been visualizing since I was a child, plus my acting training must have added to that, but you've got to know that I'm not the only one and that you too can visualize and imagine just as well.
If you want to be content somewhere you're not, that imagination of you being where and how you want to be is going to help you tremendously.
My imagination (visualization) helped me to be content in a job I wanted to leave for the better part of the five and half years I spent there. So, that's how I know that it works.
Let's say you are stuck in bed because you are temporarily paralyzed, what's going to help get you back on your feet faster, seeing yourself lying on that bed or seeing yourself walking?
There's no doubt about that one, is there?
Well, it works for everything else just as well.
Imagine (visualize) yourself where you want to be, not where you are.
Again, its' always the same principle.
Focus on what you want.
Learn to Attract Money
To bring anything into your life, imagine that it's already there –Richard Bach
In the end, the reason you're stuck in that job of yours is because of money – or lack thereof, so why not learning to attract more of it?
I have created a course that will teach you how to attract more money into your life to help you be content at that job for now, while preparing your exit.
Remember that what you focus on expand, and if you want to attract more money to leave that job of yours, to do what you want in life, you might want to learn some spicy secrets about money.
If you're not happy doing what you do, you can learn to be content with it while building your dreams, or you can do nothing.
If you want to speed your progress, you can start by getting my free course, or you can do nothing. Your choice.