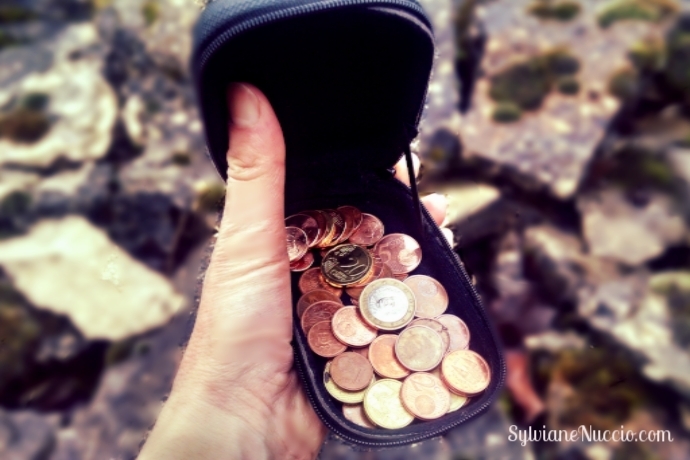 You were used to live comfortably, not having to think about your budget.
But your situation has changed lately, because you've lost your job, while you haven't lost the habit of big spending.
So you started spending too much on credit cards, and eventually found out that you were spending above your means.
You're not broke, but you know that you can't keep going this way, because more money is coming out than it's coming in.
What could you do to get out of this merry-go-round, and get back on your feet financially, while learning to be content with what you have, and build a solid future?
Going through Life Changing Situations
In life, situations do change.
I used to be financially comfortable, but came all the way down to being totally broke. It was a tough awakening, and a tough adjustment for me too.
What helped me to get back on my feet, and eventually surpass myself, was my own personal development training which taught me everything I needed to know in order to get back up emotionally and financially.
I'm not a financial adviser, I am a life coach who helps people with painful emotions to transform, and fulfill their potentials and dreams.
In this post I want to share with you what I know about your particular case, and how to come out of it alive and well.
At the end of this article, I have a gift for you as well.
Why Drastic Changes Happen in Life
When my financial life went down the drain, I didn't know anything about what I'm about to teach you here.
I only wish I did.
How and why do we go from having it all to losing it all, and finding ourselves at the other end of the rope, so to speak?
The main reason is because we are just reaping what we have been attracting subconsciously all this time, which eventually cached up with us.
Let me explain…
Let's say you grew up with a good dose of subtle, yet, negative beliefs when it comes to money.
Don't worry, most people have.
Those negative beliefs were never very obvious, but they were there. Maybe you heard your parents often say things like "rich people are never totally honest," or "money doesn't grow on trees," or anything of the kind.
Those common statements, became your common beliefs, and what is more is that they became your subconscious beliefs, thus part of what is called your subconscious programming.
The specific time frame where our subconscious mind is being programmed is between the ages of 0 and 7 years old, for the most part, but it is still actively created until age 16.
However, regardless of that subtle "lack mentality" programming, somehow, you've managed to get married to someone who was successful, or maybe you were smart enough to choose a field of expertise in which you did pretty good and made a comfortable living.
But I'm here to tell you that a negative programming tends to catch up with us, sooner or later. And by the way, it works the same way with a positive programming as well. Whatever your personal programming is, it will come back and back again, like a specific pattern.
I've seen it happen with family members, I've seen it happen with clients, I've seen it happen in my own case, and I've seen it happen while hearing about other people's stories.
Why?
Because it happens all the time.
Actually, when I write about such topics I usually get comments saying; yes that's exactly what happened to me!
Here is a comment I got not too long ago, in response to one of my articles:
"Have you ever heard of someone who seemed to have it all, yet they've fallen from grace big time?"
Hi Sylviane, that's a great question. And I am vividly reminded of my late wife. She was a superstar yet ended up in a hospital ward in excruciating pain from the effects of chronic substance abuse from the previous 10 years.
How could a person who was top student in her school, who went onto achieving success in the medical field, and then in the sales field – a person who was lauded by everyone who knew her – end up like that?
Unresolved issues. Issues that can be traced back to her childhood. Yet she tried therapy, she tried coaches, she tried self-help programs – but to no avail.
It's hard to say it, but coaching etc has virtually zero effect if the client has not made a solid commitment to the process of change.
That said, readers who want change and are prepared to do something about it should read your post carefully – and then take action
That comment illustrates perfectly what I'm talking about here.
In your case, even if you managed to have it all, but happened to have some type of negative programming deep down inside, whether you're aware of it or not, it's going to catch up with you, sooner or later, but it usually does.
Why?
Because it's our subconscious mind that runs the show.
That's its job. That's what the subconscious mind does.
The subconscious mind's purpose is not to reflect and analyze, it's do DO according to its programming. We could say that it works like a computer.
Have you ever driven to the wrong place by mistake?
You meant to drive another way, but your old habits took over and unintentionally you ended up to that old place, or taking that old road of yours which you didn't intended to take.
How in the world can something like that even happen?
Aren't you well awake when you drive?
Of course you are, or at least you'd better be, but the reason why you drove to a totally wrong place while being well awake and conscious, it's because we drive mostly subconsciously. Your subconscious programming is what took you to that old spot, even though you thought you were driving consciously.
It's the exact same thing happening with your life, whether it's financial or otherwise.
What you and I want consciously, and what we are subconsciously programmed with can be as different as day and night.
You may want to be a millionaire, but deep down inside you feel that rich people are not totally honest, or worst.
What could be the result of that?
Somehow you managed to get that money after all, but it was only a temporary situation, because your subconscious programming is going to catch up with you. It's going to protect you against money – against not being honest.
So, in the end you are going to lose that money, somehow.
If that's where you are right now, don't lose heart, it is possible to fix the problem.
First, you can find a temporary solution, and then with a permanent one.
Starting with a Temporary Solution for your Financial Problems
If right this second you are not able to live at the financial level that you've gotten used to, simply learn how to be content with less. At least for now.
I know it's easier said than done, but bear with me for a second here.
Analyze the root of your expensive tastes
Maybe you've got into the habits of expensive tastes because it was filling a void of some kind.
It's not uncommon that people will get expensive things to make themselves feel more important, to feel more valuable, etc.
They are looking to that external shinny object to fill an internal void.
Your value as a person, doesn't depend on the things you own or the things you wear. You need to find your true value of yourself.
Be honest and ask yourself questions like:
How does buying expensive things make me feel?
What am I trying to prove?
How do I feel if I don't get expensive things?
Just by being honest enough to ask yourself those questions, you are bound to find some powerful answers.
Practice Money Saving Habits
Why not trying to cook your own food, instead of going to eat out so often?
On top of it, unless you really hate cooking, it's a very therapeutic occupation that also helps you save money, and your health.
Make sure you have a regular day to go to the grocery store like twice a month, or once a week, but refrain from going grocery shopping in between, because we spend more money when going back and back again, rather than going on a regular day with a purpose.
Instead of going window shopping or to the mall, go take a walk in a park or the country side. You will find it refreshing and revitalizing. And it won't cost you a penny.
I could go on and on, but the ideas that you could come up with to save money until you get yourself back on your feet are endless.
Working on the Long Term Solution
How successful an athlete would be if he wasn't ready in his mind first?
What would his chances of winning be if he wasn't able to go through the race mentally first and seeing himself winning?
Very little, if not at all.
That's why athletes are known to do half of the work mentally, and the other half physically.
It's the same thing with your financial situation.
You are the athlete of  your financial life.
Right now you may need a temporary solution that you can implement right away, but eventually you'll need a long term solution that will allow you to live the life that you want.
If you want to keep living the high life, offering yourself everything you want, and not ending up broke in the end, you need to work from the inside out.
As a start, figure out why you ended up in the red financially.
What is the root of the problem?
Secondly, work on your mindset and learn how to attract all the money you want, before spending the money you don't have.
As I said above, I'm not a financial adviser, but I do help people like you with their long term financial solutions, because we work from the inside out.
Do you want to stay in a long-term, financially damaging state where not only you'll be out of money but you'll owe so much it will be extremely difficult if not impossible to get out of?
You don't have to be on the road to financial ruin. Many times it's a simple process of learning how to think differently about money and knowing how to overcome the challenges that are before you, right now and in the future.
Never again do you have to see yourself as without hope! You can fulfill your dreams and hopes.
But in order for that to happen you must take the first step.
Today that first step may be my FREE course titled 5 Concrete Steps To Attract More Money. In it, you will learn how to…
Understand what Money is All About
Understand EVERY Aspect of Money
Develop a Deep Money Consciousness to Help you Get More of it
Have a Recipe to Attract Money
Have More Confidence about Money…
And more…
Don't wait… fill out the form below, and get on the road to hope!"
To your success!