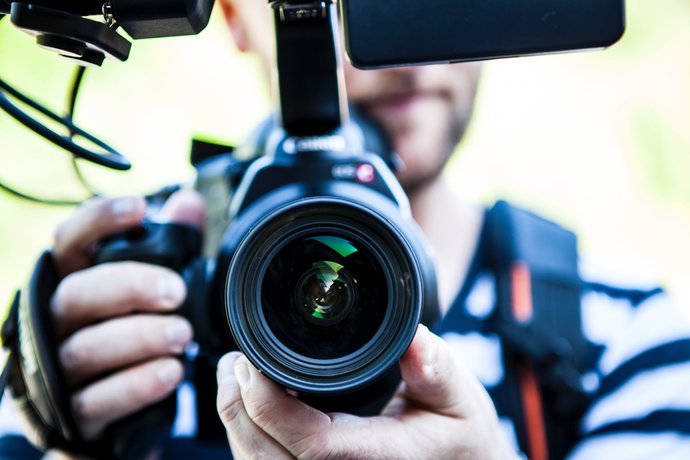 Did you know that that you could make all your video editing from your mobile device with some of the best video editor apps?
I'm a film student in college so, as you can probably imagine, I'm not exactly swimming in money. And, for those of you who aren't aware, video making is not cheap and editing software can be crazy expensive. After only one semester, I quickly discovered that I couldn't spend all of my time in one of the computer labs at school. I decided to look for a way to edit my videos at home or on-the-go without having to solely rely on all of the super expensive school equipment.
It was then that I started exploring what was available on the internet and came across mobile apps. I'd honestly never considered apps as a potential solution, but I thought I'd at least give it a try and I'm so glad I did. The apps that I've chosen to include below have been real lifesavers when it comes to getting all of my assignments turned in on time and still maintaining a social life.
I ended up liking them so much more than I ever thought possible, I knew I needed to share them with you as soon as possible.
Videoshop – Rating: 4.7, Downloads: 10M
Videoshop lets you quickly edit videos using a variety of tools that are intuitive and simple, so even if it's your first time, you won't have any problems. You can trim video, merge clips, and even add filters, special effects, and animated titles. Plus, you also have the ability to add your own voiceover (including special effects) that really makes any video your own. The top-tier video quality also makes it easy to share what you create with your friends.
Also I would like to mention that Just editing the videos is not the only thing, you can download videos by using some interesting applications like Vidmate, Vmate, Tubemate etc. Many people download the videos from diverse sources and then edit them in VivaVideo or Videoshop. Your favorite entertaining videos are just after some clicks and your video is ready to watch.  
Just note that, although the majority of the tools on Videoshop are available for free, you will have to purchase a subscription if you want to access some of the more advanced features. That's definitely something to keep in mind, especially if you were hoping not to pay any money.
Pros: Large library of editing tools, ability to add voiceover and special effects, high-quality
Cons: While many tools are free, some require a subscription
Overall: As long as you don't mind paying a little bit more for some of the more advanced tools, you'll have access to all the editing tools you could ever need
VivaVideo – Rating: 4.6, Downloads: 100M
Viva Video is another great resource because it has more than 1,000 video editing effects just like what you would find in professional software. There are professional-grade filters and lenses, plus Viva Video is renowned for making high-class YouTube videos that look like they were edited by a professional. Not to mention, all you can do to play around with themes at the tap of a button. Whether you want stickers, text animations, or a massive music library, everything you need is all in one place.
For beginners especially, there are so many video editing tools and effects that the app can feel a bit overwhelming at first. If you want something a little bit more straightforward and beginner-friendly, you may want to give Videoshop a try instead.
Pros: Thousands of editing tools, professional-grade, good for YouTube videos
Cons: Can be intimidating for beginners
Overall: Better for more experienced editors, you can make professional-grade videos in just a few taps
Conclusion
These two apps have made such a difference in the efficiency and quality of my edits. Even my professor has remarked on what a good find they seem to be and I've recommended them to my entire film class.
That being said, I totally understand if you want to do a bit more research and check these out for yourself before you hit "download," so I'll include the site where I found them below. It's actually a top 10 list of the best video editing apps, so you may even come across some other top finds that I missed.
You can read more about Best Apps for Video Editingfor more details.
If you or someone you know need to edit videos on a regular basis, and perhaps, like me, you don't have the money to invest in the top-shelf video editing software that are popular on the market today, I highly recommend that you give these a try. I'm certain you won't be disappointed.