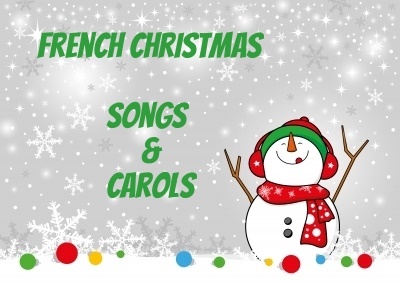 Last week I wrote about the the customs of Christmas in France, and today, since this is 4 days before Christmas eve, I think that it only make sense to keep with my Christmas theme.
Christmas songs and carols are very popular here, but they are very popular in France too.  So today I pick 10 of my favorite and most popular French Christmas songs and carols.  In some of them you'll recognize the tune, since you have their English version, and others are 100% French product.
According to Wikipedia the oldest Christmas carol dates from the XVI century, and it was called "Between the Ox and the Gray Donkey." You can listen to it down below as a bonus.
So here they are the  10 most beautiful French Christmas songs and carols with lyrics, starting with the most famous and loved one of all. You might not understand the words, but you will enjoy the tunes and beautiful images.
#1 Petit Papa Noël "Little Santa"
#2 Mon Beau Sapin "My beautiful Christmas Tree" (O Christmas Tree)
#3 Il Est Né Le Divin Enfant "The Devine Child"
#4 Vive Le Vent "Happy Winter Wind" (Jingle Bells)
#5 Noël Bland "White Christmas"
#6 Douce Nuit, Saint Nuit "Sweet Night, Holy Night"
#7 Joyeux Noël "Happy Christmas"
#8 Le traîneau du Père Noël "The Sled of Santa Clause"
#9 L'Enfant au Tambour "The Little Drummer Boy"
#10 Minuit Chrétien "Christian Night"
 Bonus – Entre le Boeuf et l'Ane Gris "Between the Ox and the Gray Donkey"
I hope you enjoyed those French Christmas songs, and that it put you in the spirit of the Holidays!
Let me know in the comments below.
Photo Credit : FreeDigitalPhotos.net