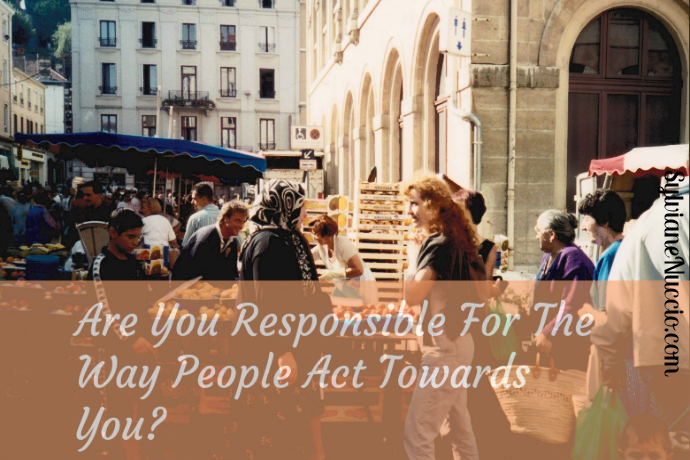 Have you ever trusted someone who turned out to be not so trustworthy after all?
Have you ever thought you knew someone so well, but yet they did something you'd never thought they would do?
Have you ever had a friend who turned out to be not so much of a friend at all?
Have you ever given at lot of yourself to someone, only to get kicks in the butt as pay back?
Have you ever felt unappreciated?
Have you ever fell in love with someone who didn't even notice you?
Have you ever experienced any of the above?
If you have, take heart, you're not alone.
I can say that I have experienced ALL of the above and some, at one time or another in my life.
But this is called life.
We all experience good things and bad things.
But we wouldn't be able to appreciate the good if we didn't know what bad is.
So, even amongst the bad experiences that we go through, there's always a good lesson at the end of the day.
But at times that lesson can be well hidden, or it may be years until you get it.
The reason why I wanted to write about this topic today, is that last week I was given an answer that was game changer to me.
All of a sudden, it was as if someone had taken a tick veil from in front of my eyes.
It was exciting. It was mind boggling. Yes, it was life changing.
But whatever the case may be, there are a few important facts that you need to keep in mind when it comes to how people act towards you, because when you get that, you will already feel so much better.
3 Most Important Things to Keep in Mind
The first most important thing you need to understand is that not everything is your fault.  Because what people think of us, and how they act toward us, is none of our business.
The second most important thing is that as long as you're trying to do your best out there, you don't have to worry about what other people think or do.
And the third most important thing is that as long as you do not fully understand what your subconscious mind projects onto other people's mind, it's only normal that you're not going to understand why people react the way they do towards you at times.
So, the quick answer to the question, are you responsible for the way people act towards you?
I would say, yes, and no. Let me explain…
Not Everything is your Fault
While I'm a strong advocate of taking responsibility for our results, as well as the law of attraction.  And let's not forget the fact that  I'm more than convinced that we attract (unconsciously) most of what comes to us, we are not responsible for EVERYTHING that happens to us.
I don't know if it's because we entered the month of March, but I've done a lot of deep thinking this week.
The month of March has been really tough on me.
How tough?
– My father died on March 26.
– My mother died on March 31 (this past year)
– My 4 legged child. My lovely cat, Sophie, was diagnosed with cancer this past year, on March 6, just as I was lying in bed for a whole week with some type of flu that lasted the first 9 days of March.
So, I guess it's only natural that this first week of March has been a bit difficult for me, emotionally.
But, you see, none of these were my fault.
I had no control over any of that.
If anything, each of these terrible events made me stronger, and even made me feel my strength through my grief.
But I can't BE or FEEL responsible for any of that.
Because not everything that happens to me is my fault.
How does this apply to you?
Don't feel that you are responsible for what happens to you all the time, consciously or subconsciously. 
Some things happen to you to make you stronger, and some things happen to others that you happen to be related to and love.  Thus it's bound to touch you.
But whatever happens, happens to be their story, their life, their death, their moving on…
Not yours.
So, you need to remember that not everything is about you, and not everything is your fault in any way, shape or form.
At times people are going to act a certain way towards you, and you will have nothing to do with it. It could just be them.
At times, they may have the problem, not you.
Don't Worry So Much
Don't worry so much about what other people think, do or do not do.
It took me quite a while to learn that, but you can only be hurt by someone as much as you let them.
And by the way, I'm not just saying that. I'm an expert at it.
How expert?
Because I've been in a couple of very difficult relationships. The kind of relationships that if you didn't dig your strength from the inside, you'd probably have to take drugs to ease the emotional pain. Or simply become totally nuts.
But I never did.
Because I believed in my inner strength.
Not only I have a strong personality, but I KNOW that I'm strong.
For one thing, as someone who believes in God, in a Higher Power, I just know that God wouldn't have let all the things that I went through happened to me, if I wasn't strong enough to take them.
Interestingly, my mom always used to say, "God doesn't give you more than you can take." I don't know how far back this saying goes, but it 's definitely a true one.
I feel that if God let those things happened to me, it's because I could take them. And not only that, but learn and grow from them too.
Now, today, I'm convinced that I attracted those type relationships because of some subconscious issues, but yet again, that doesn't make me responsible for the way those people acted. The way they acted towards me was their problem, not mine.
What does this mean to you?
If you have had or still have a tendency to attract Mr or Mrs wrong, it's not your fault.  No one is responsible for being treated poorly by their husband, wife or anyone else they may be living with.  You don't need to feel that you are being punished in any way.
You are Attracting Some Situations by Default
When it comes to how people act and react towards us, beside the fact that some people will just be jerks no matter what, we tend to attract the type reactions that we "subconsciously expect."
As I was saying earlier on this article, I have had two tremendous revelations about me lately from a clairvoyance session I went through (and make sure you don't misunderstand the word "clairvoyance here).
While I'm not going to talk about any details on this today, I found out that I have been giving some of  my power and energy to other people around me who actually used that power against me.
For those who may be puzzled at this point, I need to tell you that I'm going through a serious emotional, spiritual and even financial shift in my life right now, and that's why I'm getting some incredible information about me that are pure Aha moments for me.
I am going through some serious game changers. A total turn around.
And this revelation I'v got, was probably the MOST powerful piece of information I was given in my whole life.
I've meditated on it this whole week, and it simply changed my life. But I want to make sure you understand that I didn't get to that point overnight. It took some spiritual and emotional growth to get here.
Now you're wondering why I am so sure that God is on my side?
You bet he is. I have no doubt about that what-so-ever.
But the thing is that because of some subconscious programming that I've been carrying around my whole life, I caused (by default) some people to act a certain way towards me.
Even though it came from my own subconscious mind, my own energy and emotions, it wasn't my fault.
What does this mean to you?
If you don't get help, you may never find out why things and people seem to be the way they are around you.
If you are looking for someone to help you this way, I may just be that person.
In the meantime, you can leave your questions and comments below.