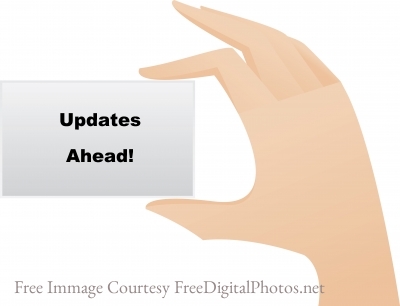 Are you ready for some updates on this blog?  What about a new free gift?
I'm sure you know that a blog is not something you just set up for good and forget about it.  Every once in a while it needs to be updated, tweaked and improved.
This' s what is about to happen to this blog, so I wanted to use this post to give you the heads up about the updates that are coming.
So here is what's  coming in order…
A New Testimonial Page
If you look at the number of posts I have on this blog under my name, you will see the number 99, so this means that next Monday I'll be posting my 100th post on this blog.  The blog itself has a little bit over 100 posts, because of the few guests post that I have, but it will be MY 100th post.
So, to celebrate that, I am going to introduce you to my brand new testimonial page.   The creation of this page was only possible because of a handful a great women who were nice enough to write terrific testimonials about my writing skills.
For each testimonial I will be including the picture and link of each of these ladies. Yes, ladies, because they happened to be all females (not in purpose, just a coincidence). Now, I'm going to make sure this page will be very obvious, and I am telling you how down below.  But before here is some more new things coming up for you.
A New Giveaway
As I was mentioning last week on my post, there seem to be something missing on this blog since it doesn't get as much traffic as I would like to.  So, I think that it's time for a new free offer.
I am working on a new writing tutorial eBook that will be available for free download on this blog in exchange for your name and email address.  If you know me, you know I won't promote stuff in your face at all except if it's very worthwhile, so don't be afraid of me. I don't bite.
This new free giveaway will be replacing the old one that's here now.  So, if you wanted to grab it before it's gone forever, please do so now!
I am working on making this eBook not too lengthy but as useful as possible.  I've learned about and practice writing quite a bit over the years and I wanted to share some of those things with my readers.
This tutorial will be talking about fundamental writing rules, writing styles and tones, synonym snares that always confuse people, basic punctuation rules, the use abbreviations, headlines and more.
I really feel that it's time for something new that would be much more attractive and useful for bloggers, especially newer bloggers who often say that they can't write. I promise it will be something easy to understand and a rather quick read.
A New Widget
Now as for the look of the blog and access to those new things to come, here is what's going to happen.
In order to make my testimonial page easier to find and more accessible I will have a custom-made widget that am hoping to make as attractive as possible.
I already know the design that I want, and my guy for the job will be the same one who created the headers of my blogs, Steve from GFX.  I trust that he will do a great job!
A New Opt-in form
Of course, new product means a new opt-in form.  The opt-in form on the right hand side will have the image of my new product, but I'm thinking of adding one on my header as well.
I became really motivated to do this after reading Adrienne's recent post about her header opt-in form.  I think that having an opt-in form at the very top of your blog, really works great as proofs of this are evident.
I've read in the past that a header opt-in box works well, but that was the first time that someone I know can really prove to me that this is really so.
So there you have it! A new testimonial page coming up next week on my 100th post with hopefully a new widget if ready by then.  But most of all, in just a few weeks, a new writing tutorial with a bunch of writing tips and nuggets to  help you improve your writing skills.
Hopefully, these new items will make this blog more attractive and more interesting to the readers. Also, if you or someone you know need my freelance writing services, you can refer to this new testimonial page that will sell for itself.
So, what do you think? Are you looking forward for the new updates ahead? Please, let me know in the comments below.