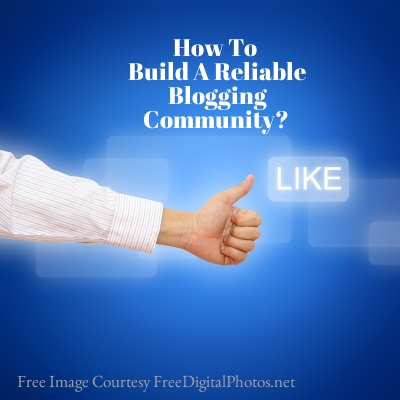 Have you ever wonder about what it takes to build a reliable blogging community?  I know I have.
As a matter of fact, the very reason why I'm writing this post today is because this past couple of weeks I've been wanting to take my three blogs and throw them out of the window!
Well, maybe not, but sometimes, you ask yourself some questions and your feelings take the best out of you.
Why am I saying this?
Well, read on to find out where I'm coming from.
What Happens to your Blog when You Neglect it for a Week?
Well, as most of you know, I moved three weeks ago and because of it and some other things that I had to do attend to, as well as the fact that I didn't have the internet at home for a few days, I wasn't able to post on any of my blogs or comment on other blogs either.  All together I was pretty much off the internet for 9 days.
The result of this is that my blogs' comments went way down, and really made me wonder, what does it take to build a reliable blogging community?
How fragile are our blogs if they go back to ghost towns again after leaving them for a week?  What happens to your blogging community if you can't visit other blogs and comment on them for a while?
What's interesting in my case is that some great bloggers had mentioned me and my blogs over the past recent weeks, but it didn't seem to make up for it either.  So, really, I'm asking you, what does it take to build a reliable blogging community?
Is the Fact that other Bloggers Talk about you Enough?
While having other bloggers talking about you is great and heartwarming, and makes you do your little dance in your living room, it's not enough to bring a huge crowd to your blog in order to build a reliable blogging community.
Why am I saying this?
In the past few weeks I've been mentioned and appear on some very successful blogs such as AdrienneSmith.net, WebSearchSocial.com, and this past week DeeAnnRice.com.  Then, recently I've also guest posted on SuejPrice.com and Aha-Now.com.
While this is something I'm so happy and grateful for (and may all these wonderful ladies by blessed) people were still not motivated to come to my blogs as much as I would have like it.  People are busy and go back to their old habits, and it's not because they visit you once that they will get back.  No, it takes more than that to make them stick.
Yet, I wanted to ask you the question; do you see an increase in traffic and comments when someone mentions you on their blog?  Please, be frank, and let us know.
After thinking this over and over this week, here are 3 ingredients that I think are vital in order to build a reliable blogging community.
I have to admit that because of my schedule, I haven't been able to do any of the following well so far.
# 1 – Being Constantly Involved in Social Media
I think that if you're not constantly involved in social media, you're cutting yourself short in being able to bring traffic to your blog and build a reliable blogging community.
But what does being involved in social media really means?
Well, it's a bit different in each social media platform, I guess, but let's talk about the two main ones as an example, Facebook and Twitter.
Facebook
For example, on Facebook you're supposed to post pictures, videos, questions, quotes, and other interesting things on a regular basis. Regular basis really means every day if you can.
Then, on top of that you're supposed to get to know people better, try to find out what they do, ask them questions, and communicate with them to build a relationship with them.
When you invite someone to be your friend, you're not supposed to just say "want to be friend"? But introduce yourself with a more personal message.
Then again, you can look for groups in your niche and try to insert yourself in them by developing more relationships.
And there's much more you could do.
I calculated that in order to do this, it would take at least an hour of my time on Facebook every day.  And I'm not only talking about putting a picture, here and a quote there. Don't forget that you must count the time that it will take you to look for and prepare such picture, quote, etc, before you could actually post it on Facebook as well.
All these take time.
Twitter
On twitter, you need to tweet at least a dozen times a day, but more is better. Then you need to thank all those who tweeted your stuff, and thank those who are following you.  Besides just tweeting links, you can also tweet questions, thoughts, quotations, and other things.
You can also retweet some interesting tweets and try to build relationships on the twitter community.
There you have it. You can actually add another 45 minutes to an hour a day for twitter after the hour you've spent that hour on Facebook.
Maybe some of you may say, no, I'm not spending that much time on Facebook and Twitter.  Well, after a while you might not, but when you start out you most probably will.  For me right now, that's what it takes.
The truth of the matter is that when you're as busy as I am it's darn tough to do!
However, I'm no dummy and I'm fully aware that this is probably the main reason that those blogs of mine are still not where I want them to be.
#2 – Being Constantly Involved On Other Blogs
Now, let's be honest, unless you've reached the status of "the almighty blogger", if you are not constant on other blogs, your own blog will suffer from it. In my case, it really didn't take much, did it?
At the same time, this is a bit of a double-edge sword, and I've got to ask myself the question. Is there actually a single person who is REALLY coming to my blogs because they truly like what's in there or is it more like a favor?
If this is the case, how can I fix this, and what's missing in my content?  I take 100% responsibility for this.
This is a truly honest question that I've been asking myself for a little while now.  Honestly, I've not come up with THE answer yet, so if you do have it, please, let me know. I'd love to hear it.  Any suggestion is valuable to me.
# 3 – Go Constantly out of your Way
Now after you've spent about 5 hours a week on social media and another hour a day visiting and commenting on blogs, you might feel that it's enough to assure a reliable blogging community, right? Well, not necessarily.
Once you've done this, you can, and really should go a step further, and try building more of a one on one relationship with your readers.
For me this is the most desirable step, because I'm more of a one on one type person than a social media geek. And I've gotten more rewards from people that I really know personally than anyone else.  I think that we can all say that, as a matter of fact.
It takes some solid connections in order to build a reliable blogging community that will be with you and your blog no matter what. Yet it does take time, I have to say that for me, it's not always easy.
Yes, it takes work and commitment to be able to build a reliable blogging community that will support your blog in a meaningful way.
But as I am taking this over to you, please, let me know what you think about all this, in the comments below.