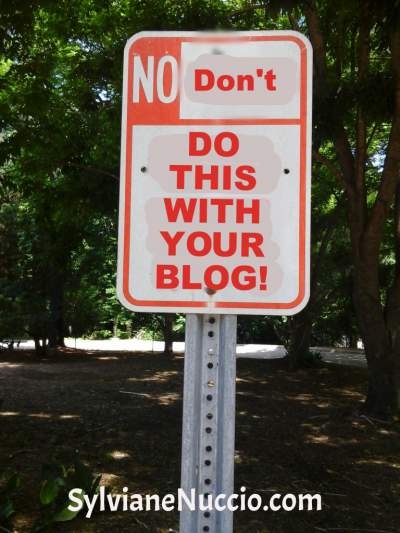 I have to admit that my blog browsing lately has gone down, because when life gets in the way and you need to add extra activities to your life, reading blog posts takes a bit of a second row of the important things that need to be done.
However, as I'm still crawling my way to fewer blogs, the other day I've decided to gather information on some of the things that I'm seeing bloggers do, or rather NOT do in this case, on their blog posts.
So, here is my list of some of the blog post blunders that you should be avoiding on your posts.  If you do you will be making your readers more welcome, and better helping them with your content.
1 – Misleading the Reader with the Headline
While it's very important to learn how to create catchy headlines that work, which by the way I discuss in my free eBook available here on this page, it's as important that you do not mislead the reader with them either.
If you know how to create catchy headlines, then your job is to deliver on the promises, or find another headline that defines your post better.
How many times do I read a terrific headline to be disappointed when I'm done reading the post! I tell you, some of those terrific headline posts have left me hanging. Not a good thing to do.
If I click on a post thinking, wow, I'm certainly going to learn something here, and by the time I'm done with the post I find out that I haven't learn anything, that's a sign that the headline was not delivering on its promises.
If you keep doing this, overtime, people won't trust you anymore. This is a big deal.
2- Irrelevant Introduction
It seems that some bloggers have not grasp the meaning of "introduction." Your introduction is your very first paragraph and it needs to introduce your topic, and make the reader want to read the second, third, and so on paragraph.
An irrelevant introduction could be as bad as a bad headline, so be mindful of this and think of the best way to introduce your post. I often rewrite my introduction once my post is complete to make sure I introduce my topic properly enough.
3- Not Linking to Older Posts
Another mistake I do run into more than I should is when the blogger mentions a specific point they're making, which at times I actually know they have discussed previously on their blog, but they do not even link to that post at all. At times, I've even seen them mentioning the post literally with no hyperlink whatsoever.
What does this mean?
I have to say that I scratch my head when I see this.  When you fail to link to older posts of yours you are not helping your blog, the reader or even Google (and other search engines) in anyway.
When you do, however, here is what happens.
You encourage your readers to stay longer on your blog
You're  helping emphasis your point with more proofs to it
You're linking to same type keywords which is good for ranking
You're helping Google spiders to serve your blog well
You actually increase traffic to your older blog posts of yours
I can't think of any good reason why you would mention another post or topic of yours without linking to it.  If you're doing this, stop now!
4 – Never Linking To Other Blogs
It's the same thing when you discuss other blog topics or other bloggers on your post. You can always add the "nofollow" attribute if you don't want to link to them (in some case it's actually recommended that you use the rel= "no follow" html link), but try to link to other blogs once in a while.
I've even seen bloggers thanking other bloggers without linking to them or their blogs in anyway.  Maybe they don't know how it's done, but by just Googling the term "how to create a link in blog post" would lead you to tons of useful articles and/or videos on how it's done. It' very easy to do.
Learn it and do it. It's very important that you understand how it done if you want to be called a blogger.
Note: Do not add the "nofollow" attribute when you link to your own blog.
5 – Not Enough or Too Much Space
While this seems to have improved a little bit, as more and more people seem to now understand that bulky paragraphs are a turn off for the reader, some bloggers that are less in touch with the "blogging world," still don't know the difference.
Few months ago I picked up a business card on the news board of my community and the person had a blog, so I checked her out.  Her paragraphs were so bulky that I thought I'd let her know, and I did contact her about it.
First, her response was a bit of someone who didn't want to be told of something she'd done wrong, but the next time I checked her blog she had shorten her paragraphs. Well, it seems she'd realized how much better it was, if you ask me.
On the other hand, I also find posts that seem to have too much space between paragraphs. It's seem that the blogger skipped a line from one paragraph to the next. While this is not as inconvenient as the bulky paragraphs, it makes the post look a bit weird and the reader may feel that you've done this by mistake.  You almost have to scroll down to get to the next paragraph which doesn't make it the best reader friendly platform.
If you can avoid the double space between paragraphs, please, do by all mean. Your blog post will be more reader friendly.
6 – No Subheadings
Recently I found myself screening a blog post for subheadings that weren't there.
As a blogger, you need to realize that subheadings are great for scanning your post.
I not talking about those who would read only the subheadings, here.  I'm talking about people who like to read the subheadings as an appetizer, as a mouthwatering tool, for what they're about to read.
Good subheading can actually greatly encourage the reader to read your whole post, and thus reduce your bounce rate, as readers will stay on your post longer.
No subheading can make a potential reader just leave right away, if they don't feel like guessing.
Help your blog post and add relevant and interesting subheadings.
7 – Totally Irrelevant Images
I can think of at least two very successful bloggers that don't give a bird's feather about their images. One doesn't bother to include an image – ever, and the other puts the most irrelevant very similar images on all their post.
While this may be working for them, because they are very successful bloggers, and frankly I think that at this point they don't really care if we like it or not this way, it doesn't mean that you and I should be doing the same thing.
Remember, that being a popular blogger doesn't mean that everything you do is right!
A relevant image can really increase your click through rate, and give a quick visual glance of your topic to the reader.  As they say, a picture is worth a thousand words.
You can also see this as a gift to your readers. No image or a whatever image is borderline rude to me. Only bloggers who have become borderline arrogant can get away with this, if you ask me.
8- Anonymous Blogger
This is one that annoys me to no end.  I can't tell you how many times I've contacted a blogger letting them know that they had neither a picture nor a name on their post to let me know who the heck wrote it.
This is very unprofessional and somehow shows little respect for the reader.  You mean you're giving some advice, but you don't want the reader know who you are? Doesn't make sense, does it?
Please, make sure that your name is very clear for all to see on each of your post. Do not post anonymously like a ghost blogger. People don't like to comment on blogs written by a ghost.
Conclusion
If you're still making any of those blog post blunders, I hope you can see why you shouldn't. After all, making sure you don't will only help you, your blog, your readers and even the search engines.
So beware and be fair to your readers who are coming to read your blog post.
Picture: ©SylvianeNuccio.com