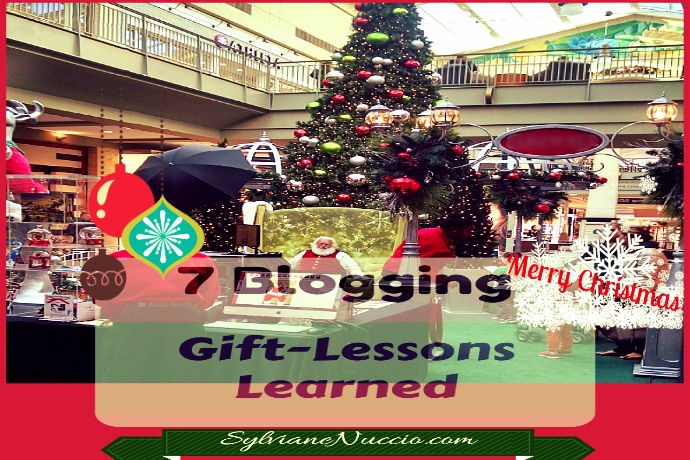 For this gift season, I thought I'll create a list of gift-lessons that I have learned over the course of my latest years of blogging.
Those lessons learned happened to have been vital for my blogging progress and improvement.  So I hope that you will give them some consideration, and apply them if you haven't already.
I know that some of you are away from blogging, so I'll be posting only once a week for the rest of the year. This is the beauty of having only one domain instead of three now. The pressure if off of me, not matter what I chose to do.
So, without further ado, lets talk about those gift-lessons that I've learned about blogging. They are in no particular order.
Blogging Gift-Lesson Learned #1 – Talk about other People
As up the moment that I'm writing these words, my last week's post has generated some 400+ shares and 114 comments. Now that's pretty cool, isn't it?
This post even generated some companies to contact me to do business with them. So, that goes to show you.
When you give, you get back.
This post wasn't about me at all, but about 42 other bloggers that I wanted to feature and introduce to other people, but I did get a lot back from this, indeed.
So, gift-lesson number one, is talk about other people on your posts, and you'll get more shares, more comments and be noticed more. Plus, you'll be building relationships with the ones you mention.
Blogging Gift-Lesson Learned #2 – Meet other Bloggers
Don't blog on your own little corner.
If you are a blogger and you want your blog to become more popular, get more traffic and be ranking better, you MUST connect with other bloggers.
We cannot do it alone.
And no one will help you make your blog more visible  better than other bloggers.  So, if you have blogged for a while in your little corner, stop that now.
Get out of your cocoon, and meet with other bloggers, get to know them, and help them get to know you.
Maybe you feel that most bloggers do that right?
Well, you'd be surprise, many bloggers out there, have yet to build relationships with other bloggers.  They are blogging in their own little corner and they are really missing out.
Blogging Gift-Lesson learned #3 – Give Genuine Comments
First off, let me tell you this.  Not all comments are equal.
A very good way to make yourself known is by leaving genuine comments on other bloggers' posts, but that could be for either a good or a bad reason.
For example, last week, my friend Adrienne, noticed a spammer comment on my post, and told me right away. That person had already made herself known as a spammer on other blogs. So I spammed her comment right away.
You don't want to be known for a negative reason, do you?
If you are commenting on other blogs, what type of commenter are you?
Are you leaving interesting and genuine comments, or just a few useless words?
I personally feel that if you're not able to write at least a couple of paragraphs that are worth everybody's time, you might as well not comment at all.
Actually it might be better if you didn't, because, over time, people are going to judge you by the quality of your comments.
So, be smart, and leave genuine and meaningful comments on other blogs. This can go a long way. Many people have landed on my blog just because they noticed my comment on someone else's.
Blogging Gift-Lesson Learned #4 – Be the Kind of Person People want to meet
This one probably goes hand in hand with the one above.  For you to be able to attract more and better comments on your blog, and even true friendships (yes, it does happen) you need to be approachable, and you need to respond when people are trying to get to know you.
Be sure that your kindness, your humor, your great personality (and I hope you have one) comes out through your blog, comments and other avenues of expressions online.
Most people that I've met in the physical world have told me that I have a strong personality, or that I tell it like it is.
These are statements that I hear a lot about me from people who know me.
Why?
Because, I'm not scared to be whom I am, and I'm too old to try to be anyone else by now.
I don't think that's a bad thing. I actually think that it's a good thing, and I hope that some of my personality comes out online as well.
What about you?
Are you letting the "human being in you" come out?
If not, try it. I promise, people love to connect with REAL people, who are alive and show a personality behind the blog.
So, don't be afraid, and let the human being that is YOU, come out.
Blogging Gift-Lessons Learned #5 – Be more Creative
You know the old statement "content is kind" right? Well, while this is true to a degree, I feel that in 2015, content alone won't be enough to make it to the top.
Why?
Because more and more bloggers I've gotten it.
They know that they have to write valuable content. They know that they have to pop up articles that are at least 1,000 words (and that 2,000 is even better), and they understand that the reader has become more educated, and now needs more unique and creative content.
That's why, besides creating your best ever quality content, you are going to need to be more and more creative to evoke interested in your blog posts.
This is probably the most difficult of all my blogging lessons learned.
I'm working on it myself.
Blogging Gift-Lesson Learned #6 – Be Organized
Realistically, it's not always easy to get it all the first time around, when you start blogging, and being organized can be difficult at first.
I know, believe me.
I've been blogging since 2008 in one way or another, and I'm still learning and cleaning my act.
So, I'm not going to tell you that's easy to get it right away, but at least I'll tell you this…
There's more help out there today to get organized in your blogging, than there was back in 2008-2009.
If you just click on my previous post, you'll find 42 bloggers from whom you could learn a great deal about blogging, writing, and other valuable blogging related tips.
When I started blogging, I was a lot like a blind person trying to walk around an unfamiliar area. I was a bit lost and basically made all the mistakes I could have made.
I was very disorganized and it really slowed my progress down.
So, don't make the same mistake. Get your education as soon as you can and start on the right foot. Or at least get your act together as soon as possible.
Blogging Gift-Lesson Learned #7 – Know your Audience
Now, as much as we would like our audience to be our fellow bloggers, they are not.
Your fellow bloggers are not your audience, in the sense that they are most likely not your potential buyer.
So, while keeping this in mind, make sure that most of your posts' topics are girded towards your audience, and not your buddies that help you with comments and sharing of your content.
I guess that the 80/20 rule would apply in this case.
Blog 80% for your audience and 20% for your blogging friends.
If your blog posts are interesting, educational or even entertaining, your fellow bloggers will enjoy them in one way or another anyway, but in the end, keep in mind that you are blogging for your audience. Those who will hire your services or buy your products based on what they read in your content.
Conclusion
I hope that you enjoyed these 7 Blogging gift lessons today, and that you will make sure to apply them all in 2015, if you have not already.
Have a Merry Christmas, and in the meantime, please, leave your knock out comment below!