"Planning your writing is thinking forward about what you are going to write about." (Quote mine)
Planning your writing is when you record your thoughts and ideas, organize them, and gather all the information that you need.
It has been said that writing is the action of thinking. If your thoughts are not in order, your writing won't be either. When you plan your writing, you are organizing your thoughts in many different ways (as we are going to see in this post) before giving birth to your article, post, or even book.
Why should you plan your writing?  Because as in everything else, planning makes perfect. The more you plan, the better the result of your written piece will be, especially if it's a large piece such as an eBook or a book, but this goes for blog posts as well.
Those really valuable and detailed blog posts with thoughtful links, charts and images are very much planned in advance. No doubt about that.  In turn, we know that posts like that are very popular and attract lots of traffic. Thus the need to plan for a blog post as well.
If you are not sure how to plan your writing, here are 6 ways that you can use to do so. Let's see what they are.
1- Apply the 3 W's
WHY are you writing?
WHAT are you writing about?
WHO are you writing for?
The very first question you need to ask yourself is WHY am I writing?  This is like the base of everything you write. If there is no "why" there might as well not be any writing either.  Your WHY is your strongest motivator when you write.
My WHY is what makes me write NO MATTER what happens to me that week.
Then of course, your very next question is WHAT am I writing about?  The what is your "plat de resistance." Without it your reader will go hungry. You've got to have a "WHAT" to create your article, letter, blog post, or book.  No matter what you write.
WHO am I writing for?  This is what will give the tone of your writing. You are not going to write the same way if you write to your lawyer than if you write to your mother.  Always write for your audience appropriately – that's one of the strongest ingredients of the recipe of writing.
2 – Have a Vision of your Story
Whether you tend to think of your topic long in advance, or are more of the type who writes on the burst of the moment, try to have a vision of what you want to tell.  What is it that you want to convey to the reader?
If you can't visualize what you want to tell the reader, most likely your writing will get stuck at one point or another, or worse even, you may deviate to a totally different direction without even noticing.  In the end the flow of your work might be completely broken.
As a helper for your vision, write down (in just a few sentences) what you want to tell.
For example, for this article I could have written: "I want to explain to the reader what are some of the best ways of planning their writing.  I want to make sure that it's something they can understand easily and apply the next time they need to write.  I want this post to be useful to any level of writing."
This would only be a guide for your vision.  From there you can start visualizing what your piece is going to be. It works with a blog post, a letter, a book, even a resume.  No matter what you write, it's always the same thing – you need to start with a vision.
3 – Create a Written Plan
This is good especially if you have a hard time with writing, or if you are going to write a long story such as an eBook or a Book. But again, you can use this method even for a simple blog post or article.
You could make one of the three following visual helpers to create your writing plan
A list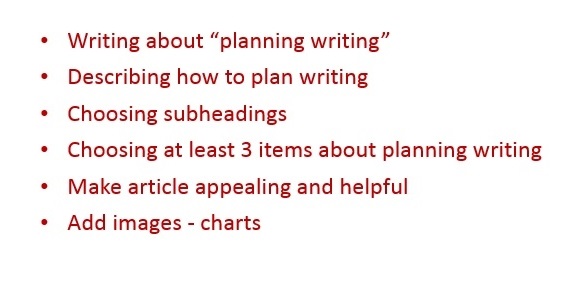 A mind map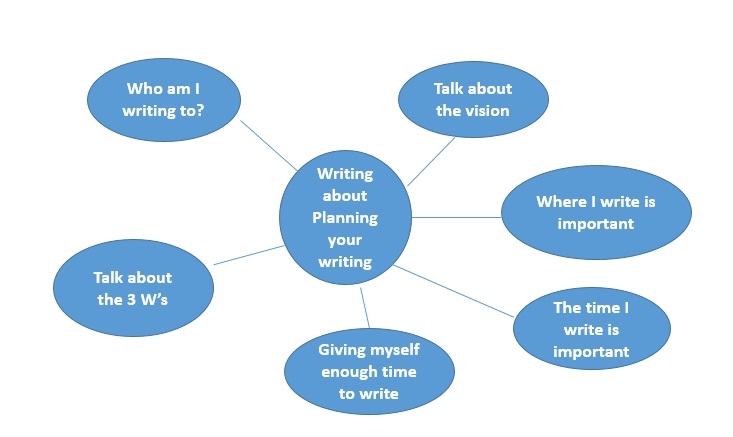 A chart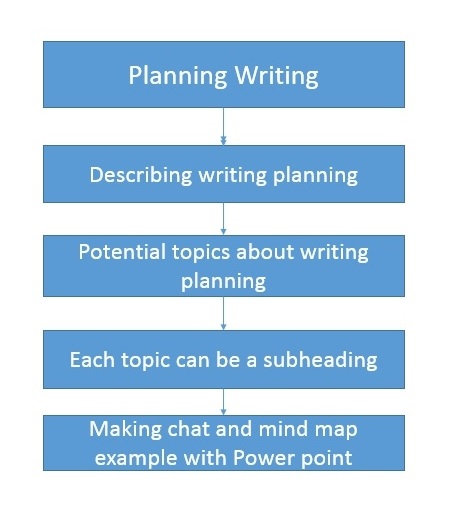 Of course, these are only simple examples that I just jotted down to show you. You can (and should) make much more elaborate ones.
4 – Plan your Writing when you are the Most Alert
If at all possible plan your writing when your mind is the most alert.  If writing doesn't necessarily come easy for you, do not plan on writing when you are the most tired or sleepy. If you are a morning person, make some time to write in the morning.  If you are a night person, make some time to write in the evening or at night time.
In my case, I don't trust my writing at night.  If I write at night I make a point to edit my work in the morning when my brain is the most alert because I'm a morning person.
Choosing the right time to write is also part of planning your writing well.
5 – Find the Right Place
Whether you write on a computer screen or on paper, you should have a special place to write that inspires you.  If the place where you write is a place that you don't feel good in, it won't be motivating to work there.
Find a place well lighted, organized, and appealing to you so you can find pleasure in being there and be more inspired to write.
Also, make sure you are comfortably seated, not hungry or thirsty. Any discomfort of the body will take your mind off your concentration.  The body has a strong way of demanding what it needs and that's how it does it.  The body says; "give me what I need, and I'll give you your mind back."
6 – Give Yourself Enough Time
Start writing long enough time before your work is due.  Even for someone who can write rather fast, I noticed that the longer time I give myself to write, the better the quality of my blog post or eBook will be.
Writing is not something that should be rushed, and I must add that it's the beauty of writing.
You can take all the time you want and edit your work a thousand times; nobody will have a problem with that.  On the contrary, the reader will actually be very thankful for the time and dedication you've put into your work in order to come up with a superb written piece, well thought out, well written and as error free as possible.
Of course, a very important part of  planning is editing.  There is no good writing without editing, and that's why it's so important that you give yourself enough time before publishing your writing.
I hope you enjoyed this post, and will start applying those tips now. Please, let me know what you think and add your thoughts down below in the comments.
If you found this information valuable and would like to share it, you should add the RSS feed of this blog to the social media sharing platform of your choice.
The feed is https://www.sylvianenuccio.com/feed/
Don't forget to add "via @SylvianeNuccio" to tweet, so I can thank you.
Top image attributed to: FreeDigitalPhotos.net
Charts belong to: SylvianeNuccio.com