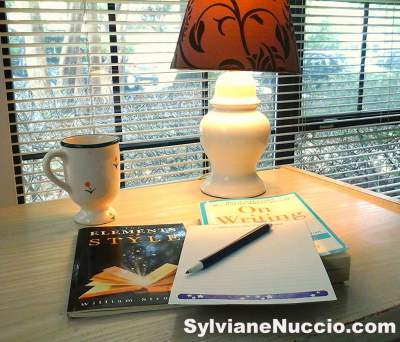 I read a lot of blogs written by non-native English speakers.  As a matter of fact, the web is full of blogs that belong to both foreign speakers who are still struggling to write in good English and those who have managed to master the language just as well as their own.
If you've ever heard of bloggers like Harleena Singh, Bamidele Onibalusi, Ana Hoffman and a few other well-known bloggers out there, you might know that their first language is NOT English, and that includes yours truly.
For those of you who are native English speakers you might not fully realize that writing in a language that's not your native language can be difficult. Or maybe you do, as you can't even imagine yourself having a blog in a language that you haven't learned as you were going up.
But the reader doesn't care about all that, do they? If you write in English in your blog, you must improve your writing skills so your credibility will improve with it as well.
Why is it Important to Improve your English Writing Skills?
Now, let me tell you this, not all native English speakers can write. Oh my Gosh do I know that! I see bad English writing on a daily basis from people who have been to school until 18 to 22+ years of age, so, please, do not think that you have to be born in an English speaking country to be able to be a good writer in English. That's far from being the case.
In the end, what will make you a good writer is the efforts that you're going to put into it, not where you were born.  Sure you might have a slight disadvantage, but trust me that shouldn't be anything big enough to stop you from improving your writing in the English language.
So, if like me and the other many non-English native bloggers out there, you are blogging in English as a second language, here are some tips for you to improve your writing.
Tip # 1 Immerse Yourself with the Language
Few years before I moved to the US I tried to immerse myself with the English language as much as possible. To me, if you want to improve on something considerably it needs to become borderline obsession.  That's how I was able to improve my English.  It became an obsession.
I rented and purchased English speaking movies (80% of the time)
I listen to world news in English (every day)
I read books and magazines in English (often)
These 3 things alone helped me to immerse myself in the English language a great deal.  At first, needless to say, my understanding wasn't 100%. As a matter of fact it was barely 50% even with the at home learning program that I had purchased like a thousand bucks, but it became better and better as time went on.
I've learned quite a bit of English with movies like Kramer vs. Kramer, Ran Man, Dances with Wolves, Bodyguard, Dirty Dancing, and a few others. They were my "text movies' so to speak. I watched each of those movies so many times that I know them by heart sill.
Movie are good because there are full of common expressions and correctly spoken English at the same time. They're excellent for a foreigner wanting to learn the language.
Believe it or not, by the time I moved to New York, my English was still not 100%, though, and I noticed that when I was hearing conversations that some of it still escaped me.
But I kept on trying and trying. I even stopped hanging around French student at some point, because I noticed that I spent too much time speaking French and that wasn't helping my English at all.
So I started hanging out with English speakers, read magazines, books and newspapers, and I watch lots of movies still.  This was before I started writing in English. I totally immersed myself in the English language.
Of course it was easier when I moved to New York than it was back in Paris, but that wasn't an excuse. I had started back when I used to live in Paris, so it was already a habit of mine by the time I moved to the US, even though there were a lot of French folks surrounding me still.
So what about you? Are you doing what it takes to immerse yourself with the English language? You can't expect to become a good writer in English if all you do is staying immersed in your own language most of the time.  It's not going to happen.
So, do what it takes to fill your brain with the English language. The more you do, the easier it will become for you to write in good English.
Tips # 2 Write in English Each Day
I found that the main reason why non-native English speakers don't improve their writing skills faster is because they simply don't practice enough.
The best practice is to do a little every day. Even if you make the effort of writing only 300 words each day it will pay off for you.  Practice writing 10 to 20 minutes each day and then edit what you've written until you feel that it sounds right.
Better yet, after you've done your own editing, ask someone who knows the language better to correct you and learn from that. If you pay attention to corrections, you will greatly improve.
I think that anyone who doesn't dominate the English language well enough should ask for help to edit their blog posts before they publish them.  But if you don't ask, you'll never know how much people might be willing to help you.
Tip # 3 Expend your Vocabulary
The best way to improve your vocabulary is by reading.  Actually when you read, not only you improve your vocabulary, but you learn about writing styles, punctuation and grammar as well. There is no substitute to reading.
The reason why some English native speakers are so poor at writing is because they simply don't read. reading will help anyone to improve their writing skills.
Schedule some reading time each day, and take note of what you're learning. This will help you improve every facet of your writing.
Tip # 4 Take Note of Typical English Expressions
English has many made up expressions that you can use in written and spoken forms.  Here are a few,
If you ask me…
As I was saying…
Speaking of…
So to speak…
Do you see what I mean?
If you learn how to use expressions as you write, it will help you improve your conversational style in your writing. Don't forget that writing well is one thing, but knowing how to write in a conversational tone will help you make your writing more interesting and attention grabbing.
Tip # 5 Study Punctuation
In my free e-Book available on this blog, I've spent some time writing about punctuation, because punctuation is crucial in good writing. If you write using little or wrong punctuation you won't be able to convey what you want to convey to the reader, because punctuation is to writing what rhythm is to music.
Punctuation is like music notes on a piece of paper, it gives the rhythm of your writing to the reader. It tells them where to slow down, where to stop, and so on.  The more you know who to use punctuation the better the reader will understand what you mean.
So there you have it. Immerse yourself in the language, write, read, learn and study the language. If you don't, it will be a while until you can improve your English writing.  The rule of thumb is that you will take out what you put in.
So, if you're not a native of the English language, what do you do to improve your writing? Please, do tell.