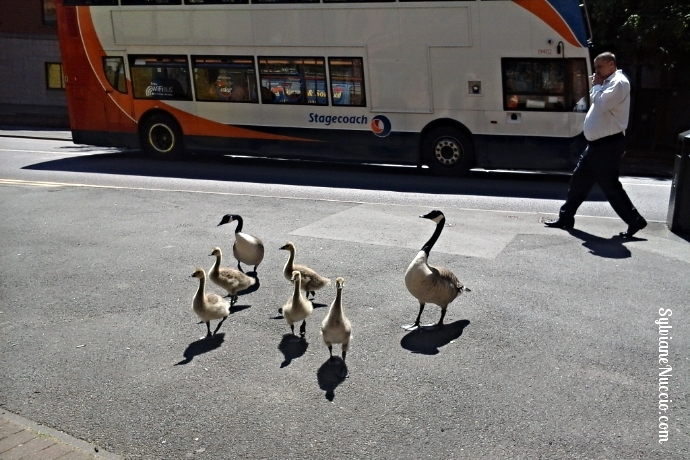 Leadership is practiced no so much in words as in attitude and in actions – Harold S. Geneen
Back in 2009 I wrote a short article about leadership, and to this day it's one of my most read articles with thousands of views, even though you would think it would be buried by now.
This goes to show that people are looking for information about leadership and tips on how to become better leaders.
So today, I thought that I'll write a brand new article (a much better one) on my own site, about what it takes to be a true leader.
Not everyone can be a leader, because it takes something that not every single human being possesses, or should I say not everyone will be willing to develop.
But at least, anyone can become a good follower and learn from good leaders, to improve no matter what.
But if you are an Entrepreneur, if you own any kind of business, however, it's a MUST that you strive to develop some solid leadership skills, because the success of your business depends on it.
Why Entrepreneurs Need to be Leaders
I guess asking why an entrepreneur needs to be a leader it's a bit like asking why it would be useful to you to speak Chinese if you were to live in China.
If you can't speak the language of the country you live in, your reach, your ability to do things (anything) would be quite limited, wouldn't it?
If you are an entrepreneur with no or little leadership skills, how can you expect your business to grow in any way?
Leadership skills are vital for business owners.
Leadership skills will…
Help you to be popular and respected in your niche/market/field
Help you be a better "boss" whether or not you have employees working for you
Help you be a better guide/helper/adviser to your clients or customers
Help you attract more business, thus more money in your pocket
What is a True Leader?
A true leader is one humble enough to admit their mistakes – Unknown Author
True leaders have a strong self-confidence and knowledge in their own field. They are not scared or shy to use the word "expert" because they know that they are expert at what they do.
But they are strong enough to be humble about it though. If you're starting to have the "big head" it's a strong sign that you're not a leader. True leaders don't have the "big head" but rather keep on learning from others, and are willing to follow good advice.
It's not because you have already succeeded that you know it all and don't have anything to learn from others.
As a matter of fact, even a successful leader could still learn from someone less successful then them. So open your eyes and don't be so full of yourself.
Being humble is the start of any great leadership (that could be tweeted)!
How I Learned from a Bird
A couple of weeks ago I learned something watching a magpie. I knew I was going to use this in one of my articles, but didn't know where yet.
A magpie is a Eurasian bird that lives in Europe, Asia and North Africa. It's about the size of pigeon but much slender and prettier. Its color is black, white and navy/greenish blue. It's a beautiful bird.  The magpie is also very famous to be a thief birds because it likes to grab shining things to decorate its nest.
I was so thrilled to see magpies again as I realized that I had completely forgotten about them after all these years in the US.
If you've never left the US, chances are you've never seen a magpie, but here in the UK as well as in France they are very common.
So, a couple weeks ago, as I was looking through the kitchen window, I saw this magpie with an enormous twig in her beck. That thing was about twice her length and rather thick.
So, even tough for us that twig would have been weightless, for that bird it was like you or me carrying a 25 pound piece of wood on your our shoulders.
However, that magpie was determined to carry that all the way up to her nest.
So she came up with a strategy.
She managed to fly one bit at the time making 3 stops, while each stop brought her higher and closer to her nest.
Guess what happened?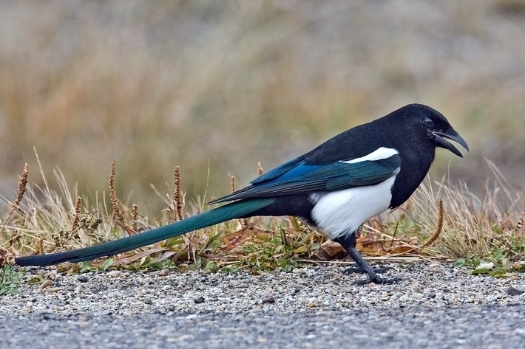 She made it!
She flew from the ground to a pile of wood logs. Then from there the roof of a garden shed, and from there to the top of the tree where she had laid her nest.
It's amazing how much you can learn by watching nature. It teaches you simple things, yet things that we often forget to follow.
You see, that magpie reminded me how a big and seemingly impossible task, becomes so much more manageable when taken one step at the time.
That bird would have never managed that trip successfully from the ground to her nest in one shot, because her balance was seriously challenged by the weight of that enormous twig. She would have been brought down or would have had to drop the twig and give up on it.
Instead,  by dividing up what would have been an impossible journey, flying closer and closer to her nest with a shorter bits of flights – difficult yet manageable flights – she made it to her destination.
I applauded her from the other side of my window for her bravery and for the lesson she had just taught me.
This is a lesson that any blogger, entrepreneur, business owner, boss or even employee can learn from and apply as they need to manage difficult tasks.
Always be on the lookout and learn.
How to Become a True Leader
Leaders become great, not because of their power, but because of their ability to empower others – John Maxwell
1 – Be a Follower
Before you're able to become a true leader, you have to be a good follower.
Just read the biography of any good leader or entrepreneur (past or present), and you'll see that before becoming who they are or were, they were first and foremost followers. Which means that they were humble enough to learn from someone else.
Tony Robin likes to tell how he started reading dozens of biographies from successful people to find out what was the secret to their success. That's how he started. Sitting in libraries and reading about successful people.
Most personal development coaches, if not all, have read the book "Think and Grow Rich" and other classics of the personal development field. Not to mention the ton of modern personal development books they've read as well.
What about you?
Bottom line, if you want to be a leader, you have to start somewhere. Learning from those who are where you want to be is an excellent start.
If you haven't done that yet, ask yourself why.
2 – Be Humble
There is nothing worse than people who are becoming a bit successful and are already what we call "having the big head."
Personally nothing turns me off more than people who I feel are thinking too much of themselves.
It really spoils it for me.
As I'm writing this, I can't help but thinking of a couple of bloggers I know who have shown signs of this happening to them, and that makes me sad.
Please, don't be one of those who get carried away by little or even big successes. Success is not something you OWN, it's something you earn, thus something you could lose as well. People who let arrogance get the best of them due to their success make very poor leaders.
3 – Develop Character
True leaders are the opposite of the ones who have the "big head." They are actually people who have developed some character.
They are humble, approachable, agreeable, and easy to talk to.
People are drawn to them, and want to learn from them. They are not showing off trying get attention to them, and they don't make you feel that you are lesser than them.
Develop the right kind of character and people will want to follow you as a leader.
4 – Never Stop Learning and Improving
Even when you have reached a position of leadership, your work doesn't end there.
As a leader you should always strive for more knowledge and for improvement. There's always room for more, no matter who you are and what you've achieved.
As a business owner, and online or offline entrepreneur, you need to keep learning in order to improve your skills and your business, because the day you start becoming idle is the day your business starts declining.
5 – Develop a Love for Helping others
No matter what business you're in, there is that one thing that will make you better than anyone else, and that's certainly not "having the big head," but rather a love for helping others.
Don't be that one person that people will know you by "not helping" when they need you or when they ask you for a simple favor.
Don't you know people like that?
You've never asked them any favor before, and the day you ask them for a simple referral, they turn you down.
Don't be that guy. Because if you are that guy, even if no one tells you anything to your face, they will have labeled you in their mind, and that my friends it's worst than anything.
People that have that impression about you will never refer you either, never mention you as an example to follow, and most of all they'll have a pretty negative feeling about you. A great recipe for bad business.
How much better it is when people want to tell the world about you and your business because you've helped them in one way or another!
It could be an article you've written, and email you sent them, a question you answered for them, a small favor you gave them when they asked… It doesn't have to be big, it's usually is the little things that will make or brake you.
So, don't fool yourself because you're not fooling anybody.
What you do when it comes to help other people defines your character.
What is yours?
OK, enough said. It's your turn now. Leave your insights on this subject in the comment area below!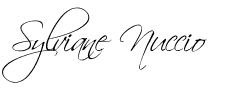 I write in such a way that your potential customers will fall in love with your business.
Need some advice about blogging for better business? Get it here!