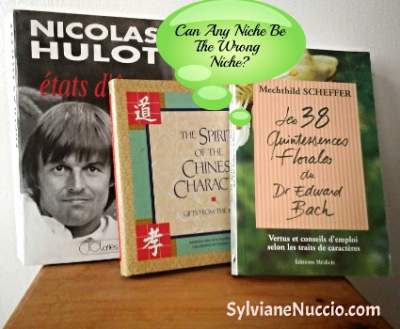 You don't have to blog about a topic that you like, you should blog about a topic that people are hungry for!
Have you ever heard statements like this? I know I have. Many times.
There are people out there teaching new bloggers that they should blog in niches that work even if they're not really into those niches.  You don't need to like it, as long as it works, they say.
As long as you blog in a niche that's popular, you can get a lot of traffic, and eventually make money with your  blog and/or product that you're selling
I remember few years ago, I read in an eBook about someone whom the writer knew. According to him, that girl had created that beautiful site in a niche that she was passionate about and the results weren't good. The author of the eBook emphasized that the mistake she made was trying to do what "she" loved, but forgot about what "people" loved.
At the time I had much less knowledge about everything I know today, so I even bought this.  Today, however, I know that statements like this are pure BS.  Not only they are untrue, but if you believe and listen to them you will be more likely to fail.
Why?
Because of the few reasons that I'm about to give you on this post. So fasten your seat belt and read this before you go anywhere else!
Here is why such advice is totally wrong…
Reason #1 – What you Love and Like is Loved and Liked by Millions
One huge important thing that the writer of this eBook didn't seem to grasp, it's that the reason why it CAN'T be wrong to blog in a niche that you like or better even, love, it's because million other people in this world will love and like, and need the exact same thing that you do. I don't care if it's golfing, cosmetics, gardening or collecting stamps – someone out there will be looking for this exactly.  That's what we call target marketing.
If you don't believe me, just search for groups or forums about any topic under the sun, and you will find not one but several of them.  So, the reason why this person failed with her site or blog wasn't due at all to the fact that she was in a niche that she loved, it was simply that she had not mastered the ability to drive traffic. Big difference.
Reason #2 – There is a Market for Every Niche out there
OK, I'm not talking about the famous phrase of the movie Fields of Dreams "build it and they will come," here.  If you're a blogger, you pretty much know that's untrue for us, because if you build it you are going to have to work it as well and do the steps necessary to attract traffic to your blog.
This said, however, if you learn how to target the market of your niche, you will find your traffic, because there is a market for every niche out there.
When was the last time you came in a store like Walmart, Target or any type of department store? Did you go on every single aisle?  Did you go to the fishing aisle? Did you go to the tools aisle? Did you go to baby aisle? Did you go to the toys aisle?
Most likely, if you're not a fisher, a handy man (or woman), don't have a baby and your kids are way past toys' age, you haven't gone to any of those aisles, did you?  Does it mean that those stores made a mistake by carrying such items?
Of course, not.
The reason why they do carry those items and have aisles and aisles of choices in those niches it's because there is a market for it.  They know that because they're selling those items every day.
It's the same thing with blogging.  Whatever niche you're in there is a market for it, you just have to find it.
Reason #3 – It's Tough to Write Week in and Week out about a Niche you don't Like
Have you tried to write about something that doesn't passionate you or event that you don't particularly like?  How did it go for you?
Whatever niche you are going to blog about will require that you write about it contently.  At least once a week. Especially when you start.
While those smart dudes tell you to create a niche that pleases others, rather then you, you're the one who's going to do the writing.  Don't you ever forget that!  Therefore, if you don't like that niche personally, eventually you will find it very burdensome to write about it.
As many new blogs that are created each day on the web, there are also a good percentage of them that are dropped within the first 3 months, because the owner of the blog, while not financially able to hire someone to write for them, doesn't have the juice necessary to stay motivated in order to keep up the writing. Simply because they're not in love with their niche.
One thing that you need to understand, if you are reading this while still looking for your niche, is that writing takes more than just putting words together well enough to make sense. Writing takes inspiration, motivation and enjoying it. There's no way that's going to happen if you're blogging only for the sake of blogging in a popular niche that you don't care for yourself.
You will have no motivation and no inspiration to write after a short while.  I've seen that happened so many times.
Reason #4 – A Real Life Example of what it Takes to be Motivated to Write that may Apply to you
I have a friend who wrote a book – actually he's written several books, but one has been published so far. Now you might be under the impression that someone who has written a handful of books likes to read and write himself, right? Well, you'd be wrong.
In the case of my friend, he really doesn't like either.  Yep! I'm not making that up. It's the truth!
What he does like, though, is passing on messages about great original ideas that he has, so he put them in the form of books.  That's  the reason why as much as I've tried to encourage him to start a blog to promote his book, he has not done it yet, and probably never will.
He fully understands the difference between putting your genius ideas once in a book and writing on that topic every week for years and years to come.  Because writing and building relationships isn't his strong suit, he knows that he wouldn't last a month blogging.
Don't be fooled. There isn't any doubt that blogging about any topic requires a strong commitment. If anything is going to hinder such commitment, it's just not going to work.
That's why some bloggers hire a freelance writer to take care of the writing part of their blog.  Now, I'm not going to lie to you, this can be costly if you don't have the budget for it, or if your blog/business doesn't pay for the content yet. In such case,  hiring a freelance writer is probably not for you.  But if you feel like you don't want to write for your niche/blog and do have a budget for it, you may want to investigate in having someone writing for you. I can certainly help you with that!
Reason #5 – You want to Own what you Write
Now, you see, if I write for your blog, I don't really care if I like or not the niche, as long as your topic doesn't bother my conscience. But if I'm going to put some content under my NAME, it better be something I truly am interested in. 
I want to own my content fully, and be proud of it. And that's not going to happen if I write about fishing and baby diapers even if it's popular. You see what I mean?
So, give yourself a favor, and don't listen to those people who say and write lies about blogging. The only reason they may be successful in a niche that they don't like it's because they don't write their own content.
If you do have to do the work, though, don't forget that it will take a huge part of you and our energy to keep your blog going.  Knowing this, I'm sure I don't have to convince you're going to have to like your own niche.
So, what do you think about that? Do you think that you don't have to like your own niche? After reading my 5 reasons why you should like your own niche, what's your comments on that? Let me know down below!