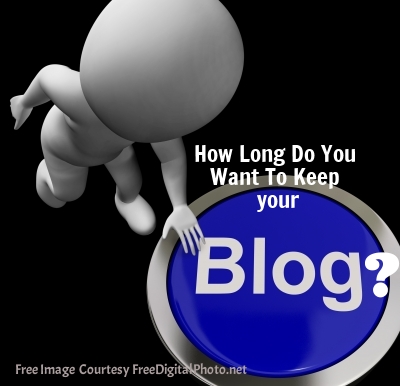 You've started a blog and were all excited in the beginning, but now as you see how much work it takes to keep it up, your enthusiasm is wearing off, and you find it harder and harder to keep your blog going and updated.
Yes, keeping a blog takes time. It's an investment of your time, and sometimes money.  You have to give it fresh content on a weekly basis and keep it secure and healthy.
Have you calculated the investment that it takes to keep up with your blog?
There is a common phenomenon
happening especially to new bloggers .  Even some people that I know personally have gotten to a point where they lost their enthusiasm about blogging when they realized that they had to put a constant effort into their blog.  Yes,  blogging takes work.
So, what can you do when your love for blogging is wearing off?
You need to be well prepared and understand what it really means to have a blog.  Let's see what you could do if you are still new at blogging an even not so new anymore but just trying to keep up with your blog.
# 1 Learn About Blogging Before you Start a Blog 
This may seem kind of obvious, but yet, again, maybe not.
What do I mean by learn about blogging?  I mean take the time necessary to find out the ins and outs of blogging, and how much of your time and dedication it's going to take to keep a blog alive and well.
Not long ago, I was trying to encourage a friend to start a blog, but I quickly realized that even if we were to start a blog he wouldn't go very far with it.  As a matter of fact, he purchased a domain name and that was about all he ever did.
Let's be realistic for a minute here.
Blogging is not for everyone. That's just not possible.  Nothing is for everyone.
But if you do your homework first, and try to learn as much as you can about the whole picture of blogging, and be honest with yourself, you'll be able to tell if this is for you or not.
# 2 Make Sure you're in the Right Niche for YOU
If you are trying to blog about a topic that is not YOU, you will find out that's going to be challenging to keep it up.  It's much more difficult to blog on a weekly basis about a topic that is remote from you than one that is close to your heart.
Believe me I know!
Even as a freelance writer who can write on many topics without much trouble, it's much easier to write about topics that are dear to me.  Don't forget that if you're not a writer by nature, it will be very difficult to write each week about a topic that is not something you really like.
Remember, your blog posts will reflect how much love you have for what you're writing about or lack thereof.
Choosing the wrong niche is not a smart move for a new blogger. Do yourself a favor and avoid that mistake.  If you were to make such mistake, your love for blogging would wear off very rapidly.
# 3 Learn How to Write
I know it's a common thing to say that you don't have to be a writer to blog. Yes, that's true, to a point. Some people who are not very good writers manage to keep a blog, but if you already know that you are not very good at writing, I'd suggest that you try to improve your writing skills.
There are blog posts, articles, as well as affordable books that can teach you quite a bit about the basic rules of writing to help you improve your writing skills.
When you know how to write well, writing becomes easier and much more pleasurable.  Remember, writing is going to be the bloodstream of your blog, and write well will  help keep your love of blogging going.
# 4 Be Likable
If you don't have one yet, you MUST develop a likable personality.  When you have a blog it's like your stores, and people visiting your blog are like customers entering your store. If you are not friendly and respectful of them they will leave your "store" and never come back again.
If nobody visits your blog you are not going to be motivated to keep up with your blog for long.
How can you be sure you're friendly to your visitors?
Always reply to their comments, and try to answer any question they may have.  Warmly welcome those who are coming to your blog for the first time, and do your best to go visit their blog.
Don't ever think that you're too big for those rules to apply to you.  I don't care who you are, I'm not going to visit your blog if you are not friendly.  My guess is that I'm not the only one either.
Maintaining good relationships with your reader will help you going with your blog.
#5 Always Keep in Touch with what's Going on in your Niche
Being up to date with what's happening in your niche is a huge motivator to keep a blog going.  For example, if you have a tech blog, that's very easy to keep blogging because technology is a never ending machine where something new comes out almost every day.
When it comes to other niche, however,  it might not be as easy to keep up with the news.  So what do you do?
A good thing to do to keep up with the updates of your niche is subscribe to a few relevant newsletters and watch for online news articles.  Not only this will bring you up to date, but it will give you ideas to blog about.
Keeping in touch with what's going on in your niche will help you to keep going with your blog.
So, there you have it 5 quick ways to prevent your love of blogging to wear off.  Was this helpful? Please, let me know in the comment area!