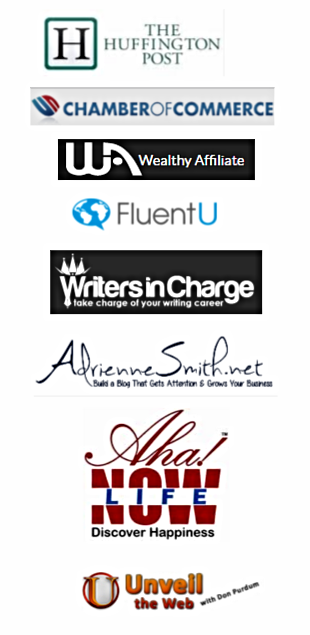 First off, I want to mention that my best portfolio is my own blog, right here at: http://sylvianeNuccio.com, but below you can find some of my best guest posts.
I have been writing for my own business and that of my clients, from simple blog posts to 20,000+ word eBooks for the past 10 years.
What I do as a writer
Freelance Writing
Blogging
Ghostwriting
Editing
Content Marketing
Content Strategies
Here is just a handful of the terrific feedback I'm getting on a regular basis:
The way you explain your ideas is unbeatable! The article is rich in content, and magnetic too.

————————-

This is my first visit to your blog, I'm very happy Google redirected me to this page. You are talented no doubt.

————————–

It's always a pleasure to read your posts. I love your writing style. Your posts are always so clear.
Here are some of my guest posts:
Huffington Post
Is Face to Face Networking Dead?
Chamber of Commerce
How Understanding Content Marketing Will Get You More Business
3 Employee Qualities That Could Jeopardize Your Your Business
FluentU
Polish Your Conversational French With 5 Golden Nuggets of Wisdom
Taking a Bite out of French verb Confusion: Tenses Explained
Writers in Charge
Five Mistakes That Make Your Article Marketing Campaigns Fail 
IAmMyImagination.com
Why You Are The Creator Of Your Own Experience
UnveilTheWeb
5 Crucial Reasons Why You Need To Blog For Your Business
EnstineMuki.com
Sylviane Nuccio Writes For You In A Way That Your Potential Customer Will Fall In Love With Your Product
AdrienneSmith.net
Taking Responsibility For Your Lack Of Success And Where You Need To Start
Aha-Now
How Do You Transmit More Than Genes To Your Children
DonnaMerrillTribe.com
The Three Fears That Will Prevent You From Succeeding
SueJPrice.com
3 Signs of Success And 3 Signs Of Failure
Mazzastick.com
Understanding Your Subconscious Mind For Better Results
TheNextGoal.com
3 Reasons You Have Been Using The Law Of Attraction The Wrong Way And How To Fix It
iTechCode
Making The Right Decision When It Comes To Blogging
Wealthy Affiliate Blog
The Three Fundamental Steps of the Affiliate Marketer
Press Release
How To Write An Eye Catching Press Release