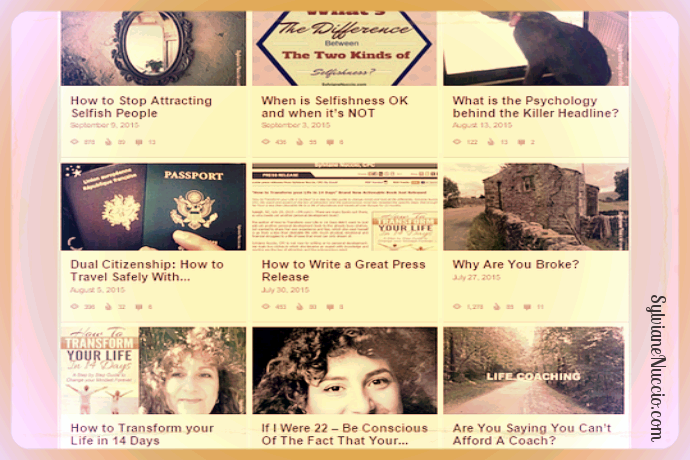 I wanted to write this blog post for both my potential clients, which are small to large businesses trying to promote themselves through content marketing, and my blogger friends who seem to be missing in action when it comes to using LinkedIn to promote their online business.
You may not know this, but back in 2012 when LinkedIn started their publishing feature, it was opened only to a very small privileged group.
Then in February 2014, they opened that opportunity to 25,000 users, and I was one of them.
Today, all members of LinkeIn are able to publish articles on their platform for everyone to see. Yet a fraction of those people are using this very valuable fearture.
So let see why you should use this LinkedIn publishing tool, and what this could do for you and your business.
Why I Use LinkedIn Publishing
Even though I've published a couple of articles right after I've received their invitation last year, I quickly left it to the side to concentrate more on my blog.
However, earlier this year, I faced the facts,  and came to the realization that even though I may be partial to my blog, it's not necessarily the place where my work has the best chance to be read.
Actually, when I look at the numbers of views that my latest posts have gotten, and the numbers of comments I'm getting by professionals and potential clients, I know that it wouldn't have happened if I had written those same articles on my blog.
This is my last post, 3 days after I published it… (comment counts on linkedIn don't include your own) by the way…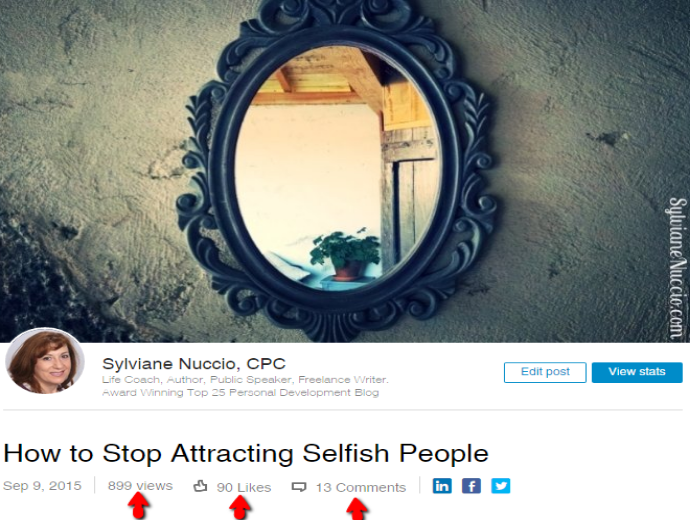 Here is another one I wrote back in July.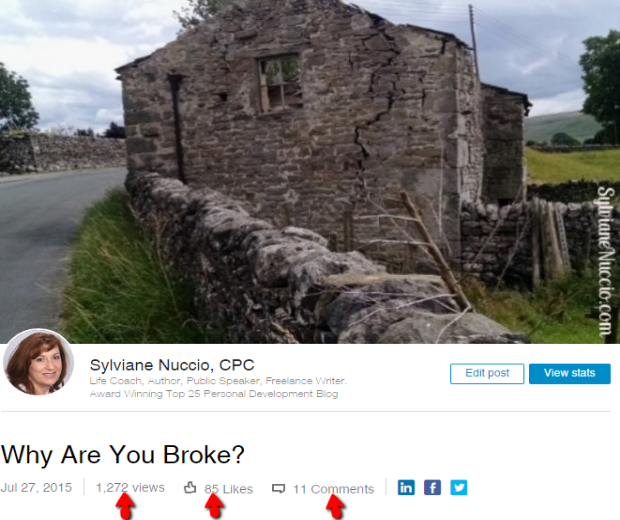 This is why I wanted to sound the alarm for all of you guys, whether you are one of my blogger friends whom I never see on LinkedIn, or a business owner who needs to have as many eyes on their content as possible.
That certainly doesn't mean that you shouldn't have a blog of course, because you most definitely should. But what it means is that you have to be smart enough to use both of those options the best way possible, so you can attract as much as business as possible.
Why you should Invest some Time Posting on Linkedin
Unless your blog is super popular, and unless most of the people who are making your blog popular are ALSO your target market, you should definitely invest some of your time to post once a week, or at least twice a month, on LinkedIn.
As a matter of fact, even if your blog is popular and most of your visitors are you market, if you want more business, there is no doubt that you should use Linkedin publishing feature.
Now, truth be told I have only 10 posts on Linkedin so far, but since June of this year, I've posted an average of twice a month.
My goal is to constantly post once a week.
The difference I noticed in my case, between my posts on my blog and my posts on LinkedIn, are the following items:
All my contacts on Linkedin are notified as soon as I hit the publish tab.
My posts get noticed by professional people, some of them being my potential clients.
I get comments from people who have no reason other than genuinely commenting about what they've read.
People tend to be more honest in their comments. If they disagree with what you're saying, they'll tell you to your face.
I usually get 200+ views during the first 24 hours of my post being published.
It's the same "me", and the same writing style, yet, I feel that people, really, truly appreciate my work there.
Now how does that contrast with my own blog?
Zero people in my Linkedin network would be notified of my post, unless I manually make sure that some of them know about it. But there is no way I can reach them all.
Most of my comments on my blog are made by my fellow bloggers, not so much my market and even less likely by my potential clients.
Many of the comments I get, are from fellow bloggers who comment on my blog because I comment on theirs, and because they are my friends.
Comments tend to always agree with what I say. Rarely people will comment to tell you they don't agree with what you're saying, even if they don't.
I certainly don't get that many views on my personal posts on my blog.
4 Great and Immediate Benefits of Posting on LinkedIn
1- Engagement on LinkedIn is High
People will read, like and comment on your post very quickly on LinkedIn.
Now if I compared the engagement I'm getting on my blog, and the engagement I'm getting on linkedin, there is no doubt that Linkedin works best for me as far as seeing motivated people reading my articles.
The other side of the coin is that if you are someone with less than a good doze of self-confidence, you might think twice about posting on Linkedin, because people there won't be as soft spoken at times, as they are on your little personal blog.
But the reason that I really feel the true value of this, is that when people don't agree with what you're saying they are not shy to let you know.
For example, when I wrote an article about traveling with a dual citizenship last month, I had a comment from a lawyer who said that what I was saying was wrong.
I didn't care about what he said, because what I was saying is what I've JUST DONE myself, while traveling to Europe. And because I made sure before I left not to mess up with my dual citizenship and two passports, which frankly, can be quite confusing, when you don't know what you're doing.
So if I wasn't sure about what I was talking about in my article, that comment from that corporate lawyer could  have intimidated me.
But it didn't, because for one thing, I used to work for an immigration lawyer myself few years ago, and I know for a FACT that what I wrote is correct information, because I've been there and done that.
So, just be prepared to have some people that may not agree with you when you write on Linkedin, but don't be alarmed as long as you know what you're talking about.
2- Posting on LinkedIn will Help Promote you as an Expert
Hopefully, your own blog is portraying you as an expert at what you do and promote to be.
But for the reasons that I've mentioned above, your LinkedIn posts will help you go beyond being an expert for your own community, and the occasional visitor.
It will show you as an expert among your peers and market.
Since I've been posting more regularly on LinkedIn, I've noticed that I'm receiving many more requests to connect from professionals, and some of those connections have proved to be very valuable to me.
Remember that your LinkedIn posts are viewed by many people that are not in your direct network. I am still a bit short of a thousand direct connections on Linkedin, but my posts can be viewed by many more than that. And my numbers prove that they are.
You will notice that you'll have more views per article than you have followers just about any time you publish, because people can just follow your posts, without being a connection. This is because the more your posts get likes and comments the more people outside of your network will be able to see your article and choose to follow you.
3- You'll learn more about your Readers' Demographic
Even if you go to the Google Analytics of your blog, there is no way that you will know as precisely as LinkedIn lets you know about who's visiting your posts.
Here it tells my exactly what occupation those people have and more…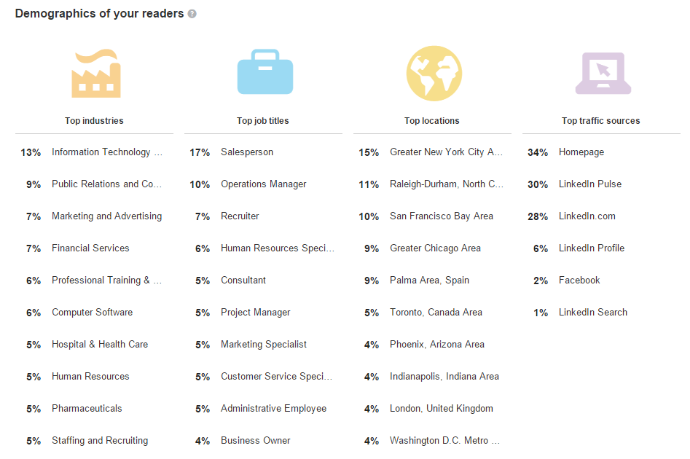 4- You'll be Spending more Time where the Money is
A 2012 survey said that about half (49% in 2012) of the average household of LinkedIn users have a $100,000 income per year, which means that the average person who sees your article is most likely to become your client if they are looking for someone just like you.
That is not the case of most people who visit my blog, so by posting on LinkedIn my chances of getting clients that way is greatly increased.
The reason I'm saying this is a proven one. More times than not, when a blogger who comments on my blog requires a quote for having articles written for them, they can't afford my fees.
So, when I publish a post on LinkedIn which is read by someone who would potentially be interested in my work, their average income puts them in better position to hire me.
The proof is in the pudding, since I've got two new clients from guess where?
That's right, my published articles on LinkedIn.
Since I am both  a writer and a coach, I can easily showcase both features there, and it works for me.
Very well, indeed.
Besides the blunt one that may give you negative comments at times, most of them will sound just like these…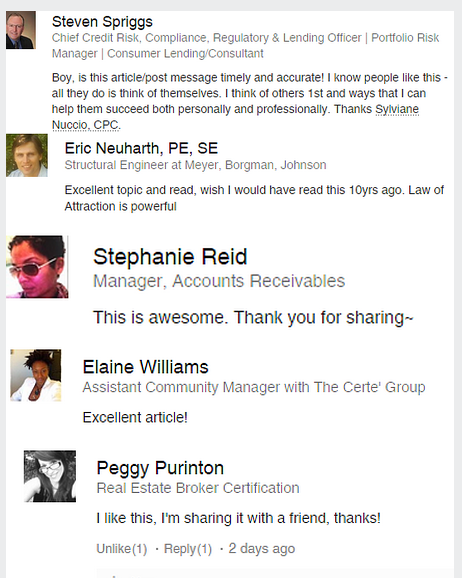 I hope you enjoyed. Your turn now. Let me know what your thoughts are…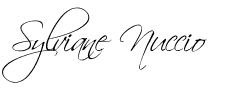 I write in such a way that your potential customers will fall in love with your business.
Would you like some advice about blogging for better business? Get it here!