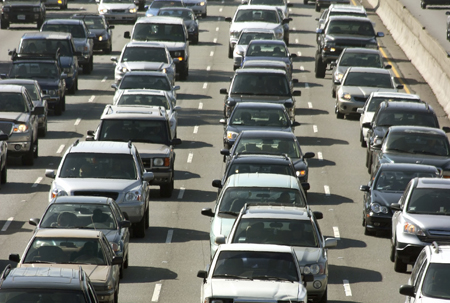 You've heard the phrase "content is king" before, right? As a matter of fact, you might even have used it a few times in your posts, I'm sure.  However, today, I am here to tell you that even valuable content is not enough in order to create huge traffic to your blog.  Let's see why.
Why is Valuable Content Not Enough?
Well, have you ever written a very good piece that you were very proud of, but yet, it didn't nearly get the kind of attention that you would have hoped for?  I know I have. Many, many times, and this has happened to many other bloggers as well.  This is the proof that valuable content is not enough in order to bring traffic to your blog.  So what more is needed?
Well, a lot of juicy little details would still be missing if you were to drive huge traffic to your content, especially if you want it to be on a regular basis.  Here are 7 steps that you need to incorporate along with your valuable content in order to attract what can become huge traffic to your blog.  However, even when you have it all in place, don't forget that it's a constant work in progress.
First Step: Attract Readers with your Leadership
My experience has taught me that in order to attract people to your blog in large number you need to show leadership.  Think of it just for a minute.  Who is going to follow your blog if you don't have the qualities of a leader?  Not very many people.  The main reason for this is that leaders tend to be successful people and when you are a successful person, people tend to seek your advice and your leadership.
So being a leader when you start blogging is really what is going to define the tone of your blog and the actions that you are going to take with it.
If you are not sure where to start, read books about leadership, and follow blogs of those who have shown leadership in their niche.
Second Step: Attract Readers with Food for Thoughts
As a leader and the writer of your blog, you need to give your readers food for thoughts.  People always interact better when you make them think and react.
One way you can do this is by challenging them in some way.  Don't be scared to write about topics that some people are afraid of writing about.  Don't be scared about not agreeing with everyone and don't be scared about giving your own opinion and being different.
We know that not everyone will agree with our own opinion, but that's what makes it interesting and that's what will engage people and make them want to see what you have while participating on your blog.  So, while you are not trying to pick a fight with your readers every time you post, do not try to please everyone every time either.
Third: Attract Reader with Catchy Headlines
While this post is not about headlines since I discussed this in another post, a catchy headline will always bring you more traffic than a non-catchy one.  So, while you don't want your headline to be better than the post itself, you still want to make sure that the headline is attractive for your potential reader.  If you have a great post with a very bad title, most likely you will lose opportunities of attracting huge traffic to it.
Fourth:  Attract Readers with your Blog Platform
When people do you the favor to come to YOUR blog and spend some of THEIR time reading your post, you might want to give them something back.  To me and many other bloggers, as I see it, the best way to give them back is by providing them with an easy to use comment platform which is built to give credit to the reader as well as the owner of the blog.
The best comment platform that will do that for you is CommentLuv (yes, an affiliate link).  I don't know about you, but sometimes, I have to spend more time trying to figure out how to post my comment than writing the comment itself.  Now, how many people would be willing to fight with your comment platform in order to leave a comment on your blog? My guess is not too many.
If you like comments, please, make it easy and attractive for your readers to leave a comment! It's a MUST!
Fifth: Attract Readers by Promoting Other People's Content
One of the best ways that is recognized by social media groups also called "tribes" is an exchange of content share.  It's like I scratch your back if you scratch mine kind of thing.  So many online entrepreneurs still underestimate the importance of sharing other people's content.
When you share other people's content they will share yours, unless your content is really not good, and in such case you'll have to work on that.  But for the purpose of this post, let say that you are providing valuable content and you are sharing other people's content.  If you do this regularly, they will share your as well.
When you share other people's content two things happen.  A) People start noticing you for sharing good content.  B) When others are sharing your content on their own social media platforms, their followers have now access to your content.  This can snowball in a very big way. And if done on a constant basis, it will bring you tons new traffic.
Sixth: Attract Readers by Interaction with other Bloggers
I was blogging for years before I started realizing that interactions with other bloggers and marketers was vital for the growth of my own blogs and ultimately my business.
When I stated blogging, I learned how to "niche blog" and build relationships with my potential customers, but I wasn't told how to build relationships with other bloggers.  So, for almost five years I was blogging the wrong way.  Because of this, I had very limited successes with my blogs.  Yes, I was making some sales, but that was it.
I was not creating any type of connections with anyone, therefore, I wasn't really building natural backlinks and my blogs looked like dead sites that nobody ever visited.  It's only when I started creating connections with other bloggers that my blogs started to become alive and thrive more than ever before.
Seventh: Attract Readers by Leaving Intelligent Comments that Get Attention
What's an intelligent comment?  An intelligent comment is the opposite of a dumb and dull comment.  We all know how those dull comments go, right? "Great post", "I think that you are making some good points here".  If you are going to waste your time writing comments like these, don't even bother.  As a matter of fact, it might even be better that you'd not leave a comment at all, and just come back when you  have something more intelligent to say.
What type of message are you really sending when you leave a dumb comment like this? You are telling the blog owner that there is a good chance that you've not read the post, that you don't have time to interact with them, and that you don't really care to bother.  But most importantly, that you are someone they don't need to try to get to know better.  Now, I am sure that you can see why it would be better for you if you didn't leave any comment than leaving this type of comments.  Don't you?
So there you have it. The seven steps that will help you generate tons of traffic besides the fact that you are creating valuable content.  Because, remember, valuable content is not enough to attract huge traffic to your blog.
Your turn now… What do you do to attract more traffic to your blog? Please, share with us!