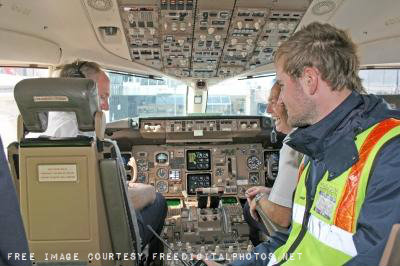 What would be your answer to the question above?  You would be surprise how many people are actually relying on autopilot marketing to get customers or clients.  Well, one thing that I've learned, especially this past couple of years, is that you can't be relying on autopilot marketing to get online customers or clients.  If you do, you might have to shut down business sooner or later. Autopilot may have its place on occasions (we will see that later in this article), but you can't rely on automation to build your customer data base.
Cars, trains and planes do have an autopilot device, and it certainly has its purpose and it's very useful to the driver or pilot when it's appropriate to use it; but, what about if the driver or pilot decided to use the autopilot device when it's not appropriate? Well, it's fair to say that huge crashes would occur.  Wouldn't you think so?
Well, it's the same things with your online marketing; if you use autopilot at all times you will not be able to succeed and in some cases you might even crash (fail with your online business).  So, let see when it's OK to promote your business on autopilot and when it's not.
Should Beginners use Autopilot Devices?
When you learn how to drive a car or pilot a plane, using the autopilot is not the first thing that you are going to learn, is it? No, of course not.
Before you worry about the autopilot you need to worry about learning how to drive or pilot yourself.  If you are learning how to drive, you need to practice driving, parking, and different maneuvers you need to know in order to do to be a good and safe driver. If you are learning how to drive with a manual car (stick shift) the learning process might even be a little longer.
If you are learning to pilot a plane you have to learn how to take off, how to stabilize your plane and how to land.  Then you are going to learn how to handle different types of emergency.
In both cases, learning how to drive and learning how to fly, auto pilot won't be your concern at all at this point.
The same goes for online marketing. I know you are getting those promotions and ads telling you that you can make things happen automatically at the push of a button (click of the mouse), but what they don't tell you is that unless you have already built and established a name for yourself it's not going to work.
It's because so many new online marketers believe this lie that the failing rate is so high.
Why Autopilot Marketing doesn't Work Unless you've Done your Work First?
Once you know how to drive a car or pilot a plane, you may find the autopilot useful at the appropriate time, however, when you are still learning how to drive and how to fly, the autopilot button could do you more harm than good.  First, you need to learn how to drive or fly without the help of the autopilot, and second if you didn't, the autopilot would actually prevent you from improving your skills.
In your online marketing business, first learn how to build relationships to build a list of followers of like-minded people who will in turn bring you more potential customers or clients your way.  Learn how to connect with people through social media platforms such as Facebook, Twitter, Google Plus, LinkedIn, Quora and more.  Don't' expect such social media platforms to grow your list of followers while you're doing nothing, or trying to use some type of automation.  It just doesn't work that way.  At that point if you are relying on automatic marketing it will greatly prevent your progress in your business and by the time you realize the extent of the damages you will have lost months and months of potential growth, and you will have to start from square one all over again.
What Autopilot Marketing can't do?
Autopilot marketing is unable to have any type of good judgment and can't tell between what works and what doesn't.  For example, you may have an autopilot tool that befriend people on Facebook or follow people on Twitter that are actually not really people, but some brainless, heartless, pulse-less companies that  are themselves there on autopilot, meaning not there at all. You are following on autopilot another autopilot that's following you back (or befriend you back).  There is no potential customer or client there. They will never be.  Now, multiply this by a hundred or by a thousand or more!  Do you see why you're not getting anywhere with your autopilot marketing?
Another thing that autopilot marketing tools can't do is chit chat with people and get to know them.  If you think that chit chatting with people is not helpful to your business, you're wrong.  That's called building relationships; and building relationships is a HUGE part of your business whether you are aware of it or not. I'm sure you've heard before that people buy from who they know and trust, well, that's why building relationships in order to build your business is a MUST.
When is Autopilot Marketing OK?
Autopilot marketing is OK only when you use it as a helper for tasks that you can put on autopilot once you've built your own list of followers and potential buyers live.  You could use some type of autopilot device as a helper in your marketing.
Just like a season driver or pilot will use the autopilot when there is a long stretch of distance to cover, and the autopilot is a helper that allows the pilot to relax and rest at bit to better cover the distance.
As an online entrepreneur you can use autopilot to send out your newsletters and promotional letters, your tweets, your Facebook messages and even your blog posts and more.  As long as you remember to use those just as helpers and not as a replacement of what you are supposed to be doing personally you will be fine.
As long as you remember that it's your personal touch that will actually bring you the type of customers and clients that you are looking for, then you should be on the right tract.  Relying on autopilot marketing to get customers or clients is wrong if you think that it's the best way to succeed… when it's only a helper.
So, your turn now! What do you think about autopilot marketing and when are you using it?