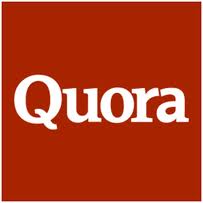 I have been introduced to Quora a few months ago as a way to find clients for my freelance writing business.  However, I never took the time to fully investigate Quora to learn more about all its potentials.  This is why I wanted to finally hop over there and not only check it out for myself, but tell my readers about it as well, so you could decide if you wanted to use this tool for your online business or not.
What is Quora?
Quora is an interactive and growing information network/social media site founded by Adam D'Angelo and Charlie Cheever who are both part of the team responsible for Facebook success.  They decided to use their talent to create a site where people could ask and answer questions in order to create the largest information online data base.
They realized that when you type a specific question in your Google browser it's very difficult to find a specific answer.  We've all done that, haven't we?  We ask a question, short and sweet, and Google is incapable to give us the exact answer we are looking because there is no such answer anywhere on the web, yet, or it's not obvious for Google to be able to find it.
Quora should end to this problem by becoming the largest data base of specific questions and answers.  Pretty soon, Google will direct you to Quora for specific answers to your specific questions.
Why the Name Quora?
Quora comes from the word "quorum" which means the minimum number of members required to present before an assembly can transact business, and "Flora" which means being healthy and alive. They put those to words together and came up with Quora.
Quora can Help you Connect with your Potential Clients and Customers
Quora is an information network that connects you with everything you want to know about.  If you feel that you have some good answers to some good questions, and as an internet marketer, blogger or network marketer, you should.  Then, Quora could be a great tool to help you build relationships with your potential clients or customers.
A lot of questions on Quora are internet marketing based, if you use your online marketing knowledge to answer such questions you can build a reputation as being and expert.  In turn you are bound to get more followers and subscribers to  your blog, service or products.
Linking your Blog or Website on Quora
On Quora you can also link your blog or website with a description of what your site is about, add a bio, your location, your occupation, and so on… See the video below for more details on that…
When you ask or answer a question you can share it on Facebook and Twitter by using the built-in tool for this on Quora.  You can rate the answer to a question either up or down, or you can add to the answer with your own words or more details.  When you ask a question you need to start your question with WHO, WHAT, WHEN WHERE WHY OR HOW, to avoid getting yes or no answers.
All in all, Quora is a great tool to expand your presence online and to increase your blog or site traffic.  If you are not on Quora yet, check it out. It's really worth it.  Before you go, take a look at the video. It's not perfect before I am still new at Quora myself, and you are going to hear some huh… But let's learned together.
Also, don't forget to leave me a comment or question down below on this blog.