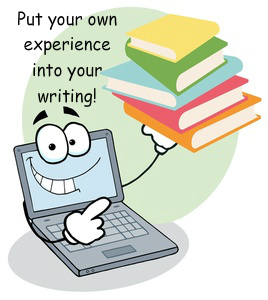 I didn't want to start this blog post crying about my personal problems, and I won't but I think that, as a matter of fact, it doesn't hurt that the readers of our blog or blogs really understand that there is a human being behind the blog.
I just lost one of my two beloved cats of 11 years to cancer this past Thursday.  He fell sick exactly 3 weeks ago today and was diagnosed with lymphoma.  This terrible disease didn't take any time to take my kitty away.
11 years of love is a long time; a good chunk of someone's life and it doesn't get erased just like that.  So, this week, in honor of Tony, my beloved cat, I thought I would write an article inspired by my own experience and useful for my readers at the same time.
Why Should You Write Articles That Are Inspired By Your Own Experiences?
Have you ever read an article or blog post speaking in a robotic manner with no juice in it?  I know I have.  When you read this kind of articles you can be sure that it is due to 3 things.
1-      It might be an article written by a brand new writer who has not yet mastered the writing skill to convey an interesting and grabbing story even if all they are writing about is a bar of soap.
2-      It might simply be an article that is just meant to fill out some space on a blog to bring it up to date.
3-      It's  an article that was solely written to bring more clicks, more back-links or more sales.
Regardless of which one of these three reasons, such articles are not attractive to readers and are now not even attractive to robots such as search engines either.  I am sure you would agree that such lifeless articles have become pretty much useless.
The truth is that such articles don't work for the readers because they are empty of any emotion which is the strongest factor that makes people want to read and even buy.  The only way you can bring some life to your articles is by putting a little bit of your experience in your writing.
Why Do People Like To Read About Your Own Experience?
People like to read about true experiences from true people.  In other words, people like to read about feelings that they are going through themselves or that they can relate too.  This goes for whatever you may be writing about.  It could be an article about a health product, an article about pet training or an article about blogging.  The more you bring about your own experience into it the better it will be.
This is why it's always better if you can write about something you really know; but, what about if you have to write about something you don't know?  What do you do then?
How To Bring Your Experience Writing About Something You Don't Know
Let's say I want to write an article about cats.  Well, that's right I have cats and I know quite a bit about them, so I could write about cat behaviors, cat care and cat do and don'ts quite easily, right?  But, what about if I still had to write about cats but, never owned one, what would be the next best thing I could do?
Well, if I knew nothing about cats and had to write an article about them, I would go to the library and grab a couple of books about cats.  I would read those books thoroughly to get familiar with cats.  Then, I would go online and look for blogs or sites written by cat lovers.  For example, Squidoo and Hubpages are two good places to go to for that because true people with real experiences tend to write pages there.
Then, I would look for forums on the subject of cats and look at what kind of questions people have and what kind of answers they are getting.  This might also be a good practice for you to try to give some answers based on the knowledge you've accumulated so far by reading materials about cats.
Remember, practice makes perfect.  The more you put your new knowledge into practice by participating in forums the more you will make this new topic your own.
Yes, indeed!  In time this topic you didn't know anything about will become your own.  You will develop some knowledge about cats by reading and exposing yourself to the knowledge and experience of others. Even if you have never lived with cats, you will be able to know quite a bit about them.
Do you get the idea?
Of course, the cat example, is just that, an example.  You can do the same thing with any subject or topic you may have to write about.  This is what freelance writers do all the time.
As a freelance writer I do not know everything I write about – far from it – however, I need to be able to write as if I was an expert in the matter.
Do you know that if you read enough about any subject, you will actually become an expert at it? As a matter of fact it takes only 21 days of learning to become an expert in any subject.  Not so bad, is it?  Now this said,  I know what the next question coming to your mind might be.
How Do I Input My Own Experience About A topic I Have Learned In Books?
Well, how does an actor who makes 10 million dollars a movie is able to play a homeless guy?  By trying to put himself in the shoes of the character he is playing.  Even in some cases by spending some time with the people which character they will be portraying.
By listening to the experiences of homeless people and trying to understand what they are going through on a daily basis, the millionaire actor will be able to "feel" what it might be like to be homeless and, therefore, able to play the part as if he had done that all his life.
You can do the same with your new topic.  By trying to get deep inside it and feed your brain with the experience of others which you could talk about in your articles.
Beside, you are also going to develop your own ideas on the matter and, you could write about those as well.  In time, you will totally be able to "play" the part and you will be able to write articles which bring emotions and experiences that attract readers.

If this article was helpful to you, or if you have any thoughts about it, don't forget to leave a comment and link you own blog or post to it!