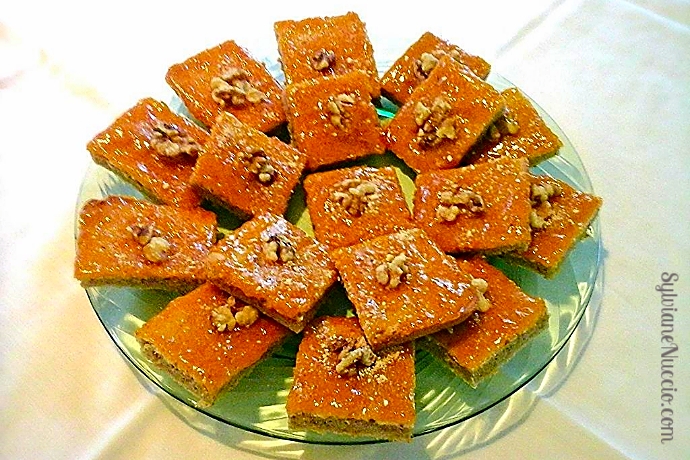 Walnut Squares (Carrés aux Noix) is the perfect Christmas dessert, and today I want to share with you my mother's own recipe of this delicious Christmas treat. Why is it called Carrés aux Noix? Well because this is a French dessert Christmas time recipe.
Why is it called Carrés aux Noix? Well because this is a French dessert Christmas time recipe.
My Walnut Squares (Carrés aux Noix) recipe is easy to make with a 15-minute preparation and 20 minute baking time depending on your oven. To be safe always watch your walnut squares as they bake very often.
This pastry is not only delicious the same day you bake it, but sometimes even better the next day as long as you store the squares in a plastic container so they don't get dry.  You can keep them fresh 3 to 4 days easily if you store them this way.
So, without further ado, here is the recipe for those delicious walnut squares.
Ingredients for the Walnut Squares (Carrés aux Noix)
150 g of walnuts
125 g of flour
125 g of sugar
125 g of butter
4 eggs
One coffee spoon of natural vanilla extract
The juice of a lemon
Two table spoons of rum
A small jar of apricot jam
The Preparation of Walnut Squares (Carrés Aux Noix)
Leave the butter at room temperature for about an hour before you start to make sure it's very soft, or overnight at room temperature.
Save a dozen half walnut pieces for decoration.
Preheat  your oven at around 300 degrees (medium heat).
Mix the walnuts into a rough powder in a food processor. Remove the walnut powder from the processor.  Leave just a bit of the walnut power at the bottom of your processor ball and mix 3 to 4 tablespoons of apricot  jam. Then save this mixture for the icing of your squares at the end.
Mix the butter, the whole eggs and the sugar with an electric mixer until you obtain a very pale yellow mixture.
Then add the walnuts, the vanilla extract, the lemon juice and the rum, and mix it all well with an electric mixer/whisk. Then add the flour little by little as you continue to whisk until you get a nice and smooth mixture.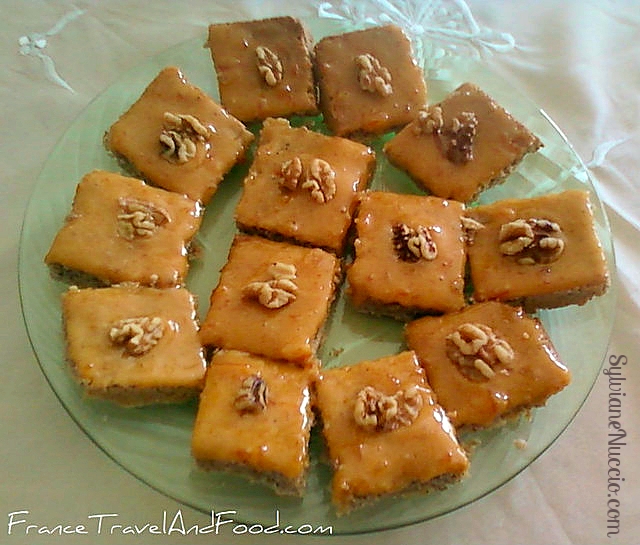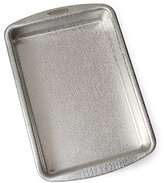 Spread the mixture into a flat buttered mold 9 x 13 inches or even a bit smaller, and make sure you flatten and spread it flat and equally.
Bake for about 20 minutes. Do not over bake. Your cake should slightly be golden in color.
Take out of the oven and let the cake cool down for 20-30 minutes. Then spread the mix jam all over the cake with a flat spatula, and cut into squares (wipe your knife after each cut). Place half of a walnut in the middle of each square.
Serve when cold, but not refrigerated.
Enjoy!
Sylviane Nuccio