Want to spend your summer vacations in Cannes, France?
For the duration of the summer, I will write a city-type-review post every Friday, about some of the cities of France that I know best to give you a little bit of insights and maybe help you make your choice in case you decided to go to France in vacation this summer or even some other time down the road.

Going in Vacation in France?
So maybe you are thinking about going to France for your summer vacations, and still wondering where you should stay.  There are many cities and towns in France where you would have a great time during your stay.  However, when we think summer in France, the number one place one can think of is probably "la Côte d'Azur" (The French Riviera) in English.
Personally, I know the French Rivera very well, since I've been there many times to spend my summer vacations.  I know that if you choose to head up that way for your summer vacations you won't be disappointed.
Cannes, Popular City of the French Riviera
Why do people love the French Riviera? Well, because it has everything you would ever want to enjoy your stay. It has the sun, the warmth, the sea, the beaches, the best restaurants and hotels, the most beautiful views and much more.
If you'd talk to most people who have been to "La Côte d'Azur" I am sure everybody would have his or her favorite city, and I'm no different.  I have been to all the towns and cities of the French Riviera from Cannes to Menton and my favorite one is without a doubt, Cannes.
I do think that the main reason why I am partial to Cannes is because I used to go there in July  with my family.  We used to stay in a charming little hotel called L'Hotel Le Cheval Blanc (see picture below).  Even though hotel prices in Cannes in the summer can get pretty pricy, this hotel found at 3 rue de Maupassant in the back streets of the city was reasonable enough will only a 10 minute walk to the beach.
Below is the hotel and the view from the window of my room the last time I was there!
Those photos reminded me the delicious French breakfasts which included toasts, brioches, and croissants with butter, honey and various flavor jams.  Of course you'll get your choice of coffee, tea, or even cereals if you preferred, but I love those brioches and croissants with butter with my coffee in the morning.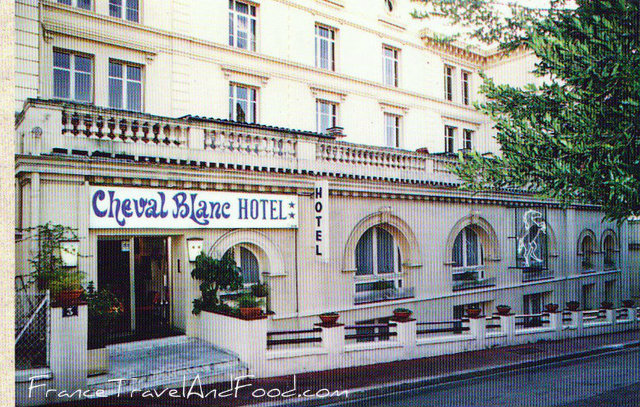 The View from our hotel window on the back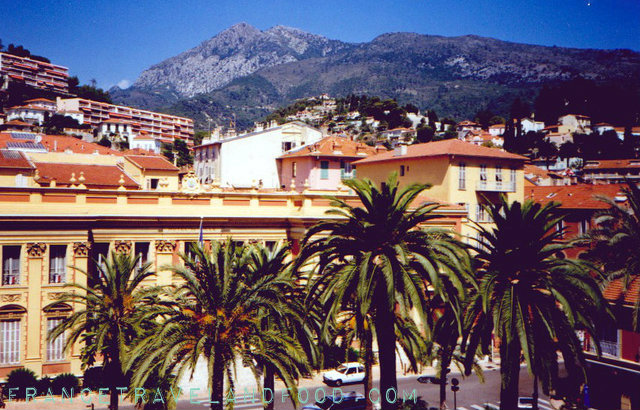 About Cannes and its Islands
Long before the popularity of summer vacations and film festivals, Cannes was a simple fishing village and a small port.
Linked to Cannes are two small islands which are called the les Îles de Lérins (Lérins Islands). These two islands right off the shores of Cannes, and part of Cannes are the island "Sainte-Marguerite" where the famous Iron Mask Man was at some point imprisoned back the 15th century. As you probably know, this story has been portrayed in several movies because it was said that this man had noble blood, but historians have never been able to prove this to be true or not. Nonetheless, the legende was created and stuck.
The other island is called island "Saint-Honorat" which has been inhabited by monks since the year 410.  Monks still live there to this day in a monastery built in the fourteen century.  Ile Saint- Honorat is four times smaller than Ile Sainte-Marguerite.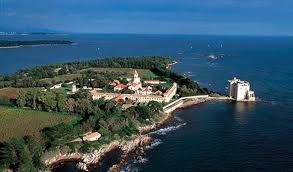 La Croisette
The most famous area of Cannes is probably was is called "La Croisette", the seashore street lined with palm trees and the beach on one side and famous and luxurious cafes, restaurants and hotels on the other.  During the summer, La Croissette is busy 24/7.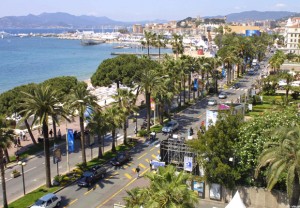 Another very busy time of Cannes is in May during the two week film festival better known as the Festival de Cannes (Cannes Festival).  The Palais des Festivals is on the Croisette as well.  During those two weeks you can brush shoulder with international movie stars. Around the Palais many of such stars palm prints can be seen on the ground.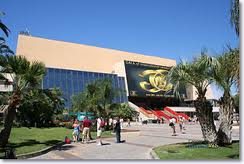 OK, you deserve it, take a trip to Cannes now!
OK, now let me know, did you enjoyed the trip?