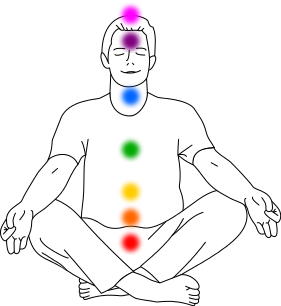 I don't know about you, but never did I even heard the term chakra until I got involved in personal development. No one in my family or acquaintances ever knew about the chakras.  Yet again, I guess that it's pretty common for someone who was born in our old good western world.
However Hindus and Buddhists have known of the Chakras for centuries, and it's based on their knowledge that the western world has come to know and understand the chakras.
In this post I wanted to share with you what I have come to learn about the chakras, which I'm sure will helping you to open your chakras and improve your well-being.  Because I've been going through a lot of stress recently, I've increased my study of energy and energy healing, which has helped me tremendously so far.
The chakras are a very important part of our energy and we should all want to learn more about those energy points in our body. At least, those of us who are inclined toward the betterment of our lives via personal development.
What are the Chakras
The chakras or what we call the 7 main chakras are energy points in our bodies.  There are four in our upper body and three in our lower body.  The chakras govern our psychological, instinctual and spiritual properties.
If left on their own our chakras could be either closed or over-active which create an unbalance responsible for anything from unhappiness to even diseases, so saying that it's vital to know about the chakras is an understatement.  Your better life depends on it.
In order for us to be balanced human beings we need to have our chakras open and in harmony with one another. For example, if one of your chakras is over active while three of your chakras are closed, you will most likely not be balanced and some issues such as (but not limited to) depression, fatigue or diseases can surface. Thus the importance of not only knowing about the chakras, but learning how to open them and keeping them healthy and balanced.
Most people I found to be expert in chakras in the western world are people who were suffering from either depression or diseases that no conventional doctors had any cure for.  Learning about the chakras and applying what they learned literally saved and changed their lives.
Below I will give you a short description of the chakra and leave it to Carol Tuttle, master chakra teacher that will help you open your chakras one by one.
The 7 Chakras
The Maladhara better known as the root chakra which is represented by a red lotus is located at the base of the spine.  This chakra as to do with your belonging, self-assurance, well balanced being, and feeling stable and secure. Her is how you can open and work on your root chakra…
The Svadhisthana
better known as the
sacral
chakra represented by an
orange
lotus. It's located in the
sacrum
and correspond to the reproductive organs.
This chakra has to do with you overall feelings and sexuality. If this chakra is open you will have balanced feelings and healthier sexuality. If closed your may feel overwhelmed with your feelings a lot and sexually unbalanced.
Here is how to maintain your sacral chakra in shape and open it if yours is closed.
The Manipura
which is the
solar plexus
chakra located at you
navel
. It is represented by a
yellow
follower with 10 petals and an upside down triangle in the center.
This chakra is related to the metabolic and digestive systems but it also controls you self importance, confidence and feelings of dignity. If this chakra is close you may feel very insecure and indecisive, even apprehensive. If over active you could tend to be aggressive. It's very important to have your solar plexus chakra in check. Here is how you do it…
The Anahata
which is the
heart
chakra. It is represented by a
green
12 petal flower.  This chakra is about love and care for yourself and others.
When this chakra is open you feel love and compassion. You are loving and friendly towards others, and you  have a healthy love of yourself. You love people and people love you.  When close you are cold, unfriendly, selfish and unloving.
Here is how you can develop your heart chakra…
The Visuddhi
or
throat
chakra is represented by a 16 petal
turquoise blue
flower. This chakra represents expression and communication.
When the throat chakra is open you can express yourself very easily and have great communication with others. When closed you tend to be someone who doesn't want to speak much, and  maybe even lie when you do speak. If it's over active you may tend to speak too much and be a bad listener.
Here is how to work on your throat chakra…
The Ajna
known as the
third eye
chakra is represented by a two petal inigo/deep blue lotus. This chakra symbolize insight and your psyche.
If it's open you will have excellent intuition and clairvoyance; you psychic abilities are alive. If it's close, you will tend to under use your thinking abilities looking for someone else to think for you. Not trusting your own intuition at all.
Here is how to open this very imporrtant third eye chakra…
The Sahasrara
 which is known as the
crown
chakra is represented by what sahasrara (meaning 1000 petal lotus) the color of this chakra is deep or royal purple.
This is the chakra representing your spirituality and wisdom as well as wellbeing with the Universe. When this chakra is closed you are not spiritual and very narrow minded. Even prejudice. When it is open you are NOT prejudice and become more AWARE. You are in total connection with your spirituality. This is the chakra that you should not work on UNLESS you've worked on all the others above first.
There you have it. Make sure you go through each video one by one in the order that they are posted here, and notice this amazing changes in your life.
Please, leave your comments, thoughts, experiences, and knowledge about the chakras down blow.
Photo Credits: Wikimedia