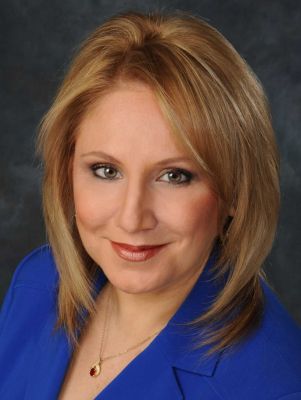 Some times in life, strange coincidences happen.  But yet again, I don't really believe in coincidences.  Because what we like to call coincidences, often do happen for a reason, even if we don't ever find out what that reason is.
Let's not forget that there is a force much higher and stronger than us out there!
Last week, as I was writing my blog post on Tuesday afternoon in order to published it on Wednesday morning, little did I know that it would have been the last thing that Judy Martin may have read.
This is why…
My post today is going to be a little different, because I decided to give tribute to someone I didn't even know, and now I wish I did. Her name was Judy Martin and she was a journalist news anchor as well as an author, blogger and speaker.
Why would I want to give tribute to someone I didn't know? Well, because her last tweet before she died was my previous blog post on this blog.
Here is a screen shot of the tweet. As you can see it's dated January 31 which is also the day that she was found dead at 7:30 PM on Friday January 31 in her apartment by a coworker.  As I'm writing this, it's not yet known what was the cause of her death, but apparently she was a healthy 49 year old woman.
Judy Martin Last Tweet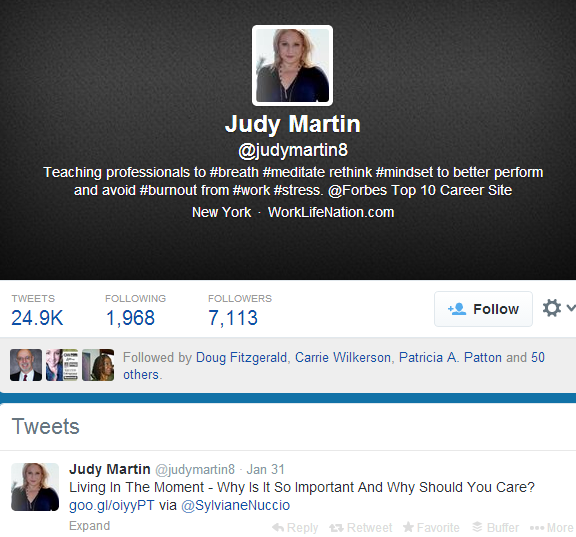 I would have never known about any of this if it wasn't for two of her followers who kindly came to my post telling me that it was Judy Martin's last post before she died. Needless to say that I was beside myself when I read those comments on my blog.
Here are the screen shots of those comments.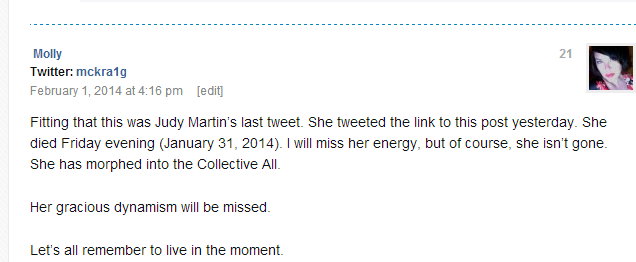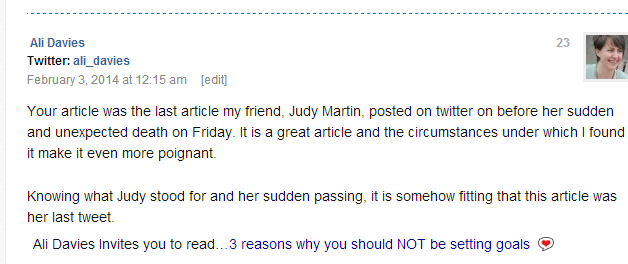 The irony of it all is that the post that she last tweeted was about living in the moment, and that's when this topic takes a whole deeper meaning.  Let's live in the moment, because it's all we have.
More About Judy Martin
As soon as I read the first comment I did a quick Google search and found out that she was an Award-winning local news anchor in Long Island at News 12, and was a journalist for almost 25 years.  She was also a blogger and into personal development. Her blog was called Work Life Nation, and there I learned that she was a work stress management coach as well.
Learning more about this smart lady just after she passed away, made me fully understand why she would be interested in my blog and share my post, and I am so honored by that.
It's amazing how some souls can be joined in this universe. For me, in this case, it's getting to know someone who has shared my spiritual writing to the world the very day she passed away.  As someone told me, her last thoughts might have been the content of my post, and that made me feel  pretty emotional.
So here is for you Ms. Judy Martin. Take it away with this video as a thank you for sharing my work. I wish we had met in different circumstances, but we'll meet again some day.
I know this one was a different kind of post for this blog, but at the same time it's also really on topic.
Thank you for coming by and leave your comments and thoughts below, as they are always appreciated.