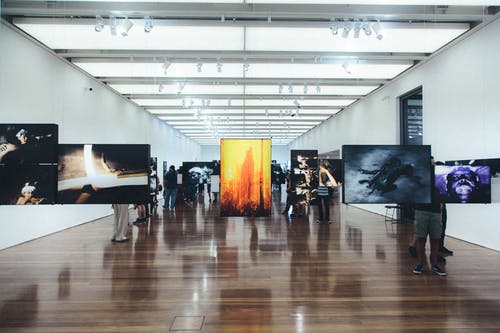 A trade show is a great medium of promotion for companies that are fit for such type of advertisement.
If your company could benefit from a trade show, here are few simple tips that could help you analyze the pros and cons and see if you should consider creating a trade show to expand your network and outreach to your target market.
A trade show could help you to get to know your potential clients and customers face to face, and build a network in just a day or two that could take you weeks, months, or even years using other methods.
Here are a few things to consider to create a useful trade show that will pay its dividend.

Create a Strategy for your Trade Show
Creating a good strategy for your trade show will help you achieve your objectives much more easily.
The three most important things to consider for your trade show are budget, people, and information.
You should have a marketing budget in place, a good team that will represent your business in the best light possible, and all the information that you want to be sharing well prepared and professionally presented for your trade show display.
Calculate the cost that will include the stand space, the build and design of the stand, travel, and accommodation of staff, designed and printed material and whatever extra items you may have.
Once you have these three important items in place, you are already ahead of many of your competitors.
Now, while competition shouldn't be your main focus, think about what you could do to stand out and attract more eyes to your space than theirs.

Communication in Mind
Communication is important if you are to convert potential clients and stakeholders to actual clients and investors. Therefore, season your communication tactics to aid in making proper conversions.
Good communication involves both face to face and the media. Media entails the material used to relay the information. IT could include the use of pamphlets, the use of computer displays and other technology-based media of communication.
Another great way of communication is to have activities such as a question and answer session for the participants and rewarding those who are making the best efforts to participate.
Face to face tactics are also important as they provide you with an opportunity to participate in the process. Create a question and answer session taking participant queries and answer their questions to the best of your abilities. Try to gain their confidence and trust. You should also ensure that you use a simple language that anyone can understand when it's your turn to speak. If your business uses a lot of company jargon that only insiders understand don't use it in your trade show.
Take Advantage of Electronic Media to Promote your Tade Show
With 3.5 billion people using the internet today, you must make use of this tool to target your market as you advertise your trade show.
Email marketing, social media, and any other online methods that you may be using should be fully taken advantage of to promote and advertise your trade show.
If done well you will increase the number of people visiting your stand, and the more popular your stand will appear the more people will want to check what you have.
You could also use social media to announce a prize draw or a contest during the trade show to motivate your target market to show up and participate at your stand. This type of things always brings attention and crowd that will make your stand more noticeable.
Remember something important, make it about networking, not selling. Engage in conversations with your visitors/potential buyers. Make it more about them than about you. This doesn't mean that you shouldn't be collecting email addresses and phone numbers so you could get back to people who have shown an interest at a future time.
Understand the Risks Involved in a Trade Show
Just like anything else, trade shows have their pros and cons and there could be some risks involved.
Some of the risks involve the money spent on organizing the exhibition such as traveling and display set up as well as low turnouts. But by calculating the potential risks in advance any downside of the trade show shouldn't too much of a big deal because the benefits would most likely win in the end.