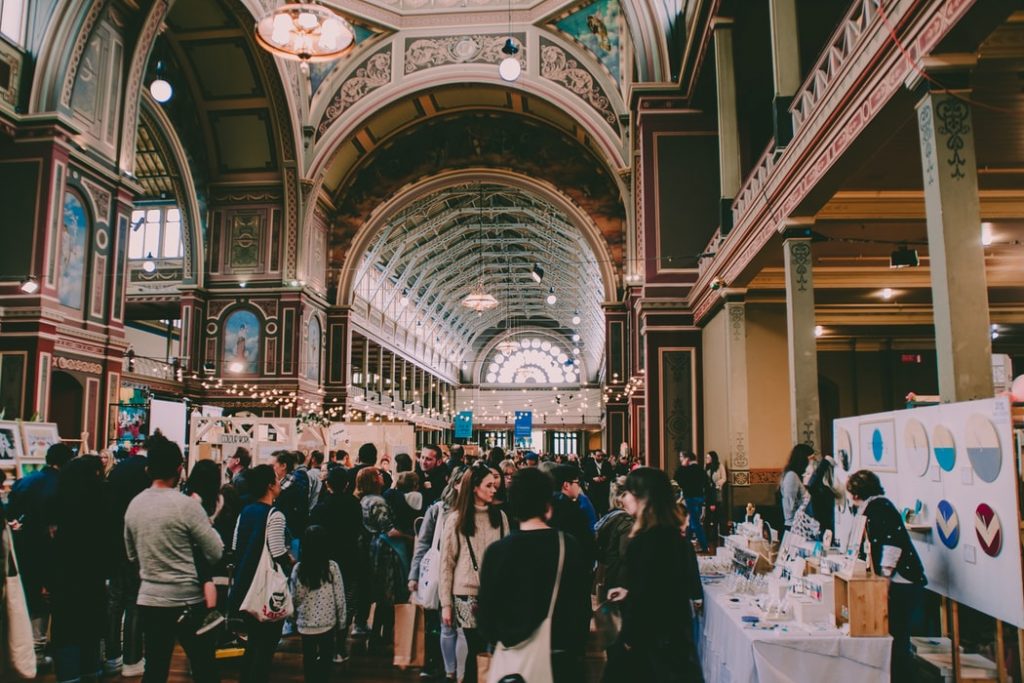 You shouldn't miss out on trade show giveaways on your booth. This article is going to show you how your business can benefit from this smart tactic.
Trade shows or fairs offer many opportunities for businesses to attract prospects and promote their brand. With so many other exhibitors and industry players in one venue, it can be a challenge to make your brand stand out. However, there's one proven way to attract visitors to your booth and imprint your brand in people's minds: promotional giveaways.
The Importance of Giveaways
People love free things, and fair attendees are no exception. In fact, surveys have shown that people are happier or have a more favorable impression of advertisers after getting giveaways from them. And there are more benefits to handing out giveaways during trade shows or fairs.
Attract Booth Visitors
Professional marketers and advertisers often use gifts and giveaways to attract an audience and lure potential customers and buyers. You can use the same strategy to attract more visitors to your exhibit.
Promotional gifts provide an excellent opportunity to drive traffic to your booth. Attractive and creative giveaways draw attention and entice attendees to check out your exhibit. You can present your giveaways through contests or games to attract visitors and encourage participation.
Encourage Engagement
Holding giveaway contests can elicit people's curiosity and encourage them to ask about the mechanics of the game. Of course, you or your staff will answer visitors' questions, and this can get the conversation going on.
There are many ways to engage attendees. Attracting them through giveaway contests is just the first step. The next step is to make them interested in checking out your exhibition. A welcoming booth staff is essential to interest people to engage with you. Then you or your staff can employ different strategies to move the discussion.
Improve Brand Perception
The purpose of joining a trade show is to promote your business and products. Giveaways are essential features to create a good impression of your brand. This has been proven by research by Georgia Southern University, which found that show attendees' attitudes toward a company or brand improve when they receive gifts or promotional products.
But there's a catch. Giving out old promotional products or obsolete items won't improve your brand's image but will damage it instead. When choosing giveaways, exhibitors should select high-quality products that are useful and thoughtful.
Tips for Effective and Standout Giveaways
It's not enough to give free stuff during trade shows. Many people attending these sorts of shows are industry players, which means they have knowledge of and ideas about the products showcased during the fair. Your giveaways should be something the audience will like for them to be interested in visiting your booth and engaging in a conversation.
Here are some tips for choosing giveaways that attendees will stop attendees in their tracks.
Understand Your Audience
Who is your audience? What are their tastes and preferences? What do they find useful? What are their motivations for attending the fair? What are they looking for?
When choosing items to use as giveaways, you must always keep your audience in mind. Do your research beforehand to know and understand your audience. Go to the fair website to see who will participate in the fair.
If you're participating in a book fair, there will likely be plenty of librarians, authors, publishers, and literary agents who will attend. Think. Which kinds of items will draw these people, and how can you present your giveaways to engage them?
Choose Relevant and High-Quality Gifts
The purpose of promotional gifts is not just to attract visitors but also to let them know about your brand. That said, choose giveaways products that are related to your company or brand. If possible, use your own products as giveaways too.
Avoid using generic items that all the other booths are giving out. Get creative and practical with your giveaways, and make sure all items and products are fresh and high quality. If you must use generic products, make them stand out from all the others. One way to do that is by following the next tip.
Customize Your Packaging
Visually pleasing displays draw people's eyes, so it makes sense to make your giveaway packaging standout to entice more people to visit your booth. Invest in customizing the packaging of your promotional gifts, using a design that not only attracts the eye but also showcases your brand.
With so many competitors attending the trade show, you need to take every opportunity to stand out. Between neutral and beautiful presentation, people will almost always choose the latter. And that is why you should use eye-catching packaging for your promotional products.
Checking Up after the Show
It's not enough that attendees visit your booth and engage in a conversation with you. There should be results after the show too. So how can you determine the success of your giveaways and develop your relationship with the network you gained through the show? Here's how.
Social Media
Following up after the event, keep the conversation going by providing visitors with channels to connect with you after the trade show giveaways. Encourage them to follow your brand's social media accounts. Engage them with excellent content, news, and updates about your brand. Solicit their opinions and ideas on relevant topics and start discussions and debates.
Website
Find out whether your site's organic searches have increased after the event. Compare traffic from before and after the event. To deepen the relationship with visitors, convince them to create a profile on your website (if that's possible), check out your blog, and sign up for your newsletter.
Trade Show Giveaways Final Word
Promotional gifts or giveaways present an excellent opportunity for brands to increase booth traffic, engage visitors, and be unforgettable. In a trade show where so many competitors and industry players gather, giveaways can make you stand out, imprint your brand in people's minds, and open avenues for your business.
Kayla Bennet works as a Content Relationship Manager for Packlane. She specializes in digital marketing, branding, and general marketing tips. She works closely with B2B and B2C companies providing useful and engaging content.