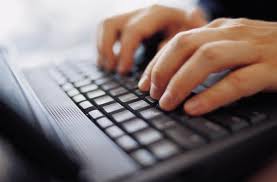 ell, I missed my post yesterday, but I am catching up today with a bit of a different post, since things went a bit crazy again with my computer gone for more than 72 hours.
However, I am so very happy to announce that I am posting this post from a brand new computer.  I finally decided that it was time for that old machine to go.
I had my old computer since 2007 and it did a great job, I can't complain about that.  But I guess you could say that a computer is just like a car, when you find out that it will cost you almost as much to fix it as getting a new one, it's time to get a new one.
So, for the fun of it, to celebrate my new computer and saying good bye to the old one I wanted to ask and answer the question, how can you tell when it's time to dish your computer and get a new one?  It's also a question that people ask online, so they may find this post for the answer.
Tell Tale Signs
When your computer is getting too old you will definitely start seeing tell tale signs, and as time goes on such signs will become more and more frequent.  That's what happened with my machine.
About two years ago I was told by Geek Squad people that it appeared that my "Windows was broken".  I had no idea what that meant, but the price to fix this thing was more than I was wanting to pay of an older computer.
So, I had a computer geek acquaintance of mine take look at it, and whatever he did, it made my computer much more efficient.  He cleaned the computer in and out and I could feel a difference in speed and other things.
However, over time, things started to fall apart again.  As time went on it got worse and worse.
Older Computers Won't Get New Windows Updates
No matter how long you'd like to keep your computer, after a while, when the machine is too old, you won't get Windows updates anymore.  On top of it all, my computer was really running with Vista originally, but I had a virus once and they changed the system to XP.
The problem is that XP stopped updating windows for about 2 years.   No updates means more risk of getting your machine infected with viruses and malwares.  Because of this issue I started to notice that my computer was getting downhill.
Here are the main issues I had…
Free and even paid software couldn't download a lot of times
The computer was overall rather slow
The computer froze a lot
I couldn't be on a Google hangout while navigating to other sites without the computer to crash
Recently I couldn't even login in to a Google hangout anymore at all
My computer was crashing about ever couple of weeks
I couldn't run any DVD in it either anymore
Now when all the above and some happen to your computer, you know it's time for a new one.  Since I don't have a laptop because I  never really had a need for it, it was the only computer in the house, so it was time to go get a new machine before things get even worse.
How to Shop for a Computer
Now, I have to say that I knew what brand computer I wanted for at least the past 3 years because I had heard only good things about that brand and I knew it was a good computer.  However, I didn't know if I should go with a laptop or desktop nowadays.
For one thing I don't like laptop keyboards, so I would have had to  hook it up to a regular keyboard, and since I'm not a fan of laptop screens either I knew I would have had to hook it up to my monitor as well.  But to my surprise when I approach a computer specialist with the question and after I told him that I use my computer exclusively at home he told me to go with a desktop.  That was the only answer that I needed to make a decision.
I had the brand, the type of processor I wanted and it was going to be a desk top.  But then, as many of you know, I moved and the computer purchase had to wait just a big longer, until this past Thursday when I had enough and purchase what I wanted.
Data Transfer
Now, I know that a lot of people do their own data transfer, but if you know me even just a little, you know that I wasn't about to do that.  Gosh am I glad I didn't.
It took those geek guys 3 days to do so.  When I called and asked why it was taking so long, I was told that for one thing they had to scan the computer to make sure it didn't have any type of virus that they of course didn't want to transfer to the new one.  Secondly, they told me that Windows 8 doesn't seem to like older computers and always gives them some challenges when they transfer data from an older computer to Windows 8.
Needless to say that if it took 72 hours to those guys to complete that data transfer, it would have simply be impossible for little me.  That extra $100 was all worth it to me.
So, there you have it. Now I have to learn how to maneuver with Windows 8. I already read somewhere that it can be a little challenging at first, but I'm sure I'll get the hang of it.
Now that all the problems that my old computer was causing me are gone, I am ready to roll.
Welcome Window 8
Now, how do I like Windows 8?
I love it so far, but yes, there's lot of things that are totally different and I'm still learning how to use this machine in the most efficient way.
Everything is faster, the sound is better, downloads are a breeze.  Wow, after having dealt with a slow and kind of broken computer for a while now, this is heaven.
So, if you are wondering about this new processing, Windows 8 is pretty cool, and I love my new computer.
I know this post was a bit different, but it was actually very a-propos.  So, let me know what you think about this topic.  Are you wondering if you should get a new computer at this time?  Are you able to tell if it's time to dish your old computer and get a new one?