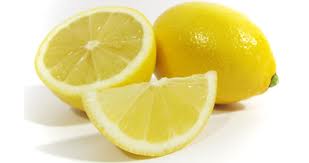 I have to admit that I have a few connections in France and Morocco who, once in a while, are sending me delightful articles; which articles have been the inspiration for some of my blog posts on this blog.
A few weeks ago, I was forwarded a very interesting article about the incredible healing qualities of the lemon for cancerous cells.  This information came right out of the "institut des sciences de la Santé" (Institute of Health Science).

The lemon, from the citrus family, is a fruit that has the property to kill cancerous cells.  Yes, that's right!  You might be even more surprised if I told you that the lemon is 10, 000 times stronger than chemotherapy according to a research from  the Institute of Health Science.
Now, why is such valuable information not a known fact since so many people are diagnosed with cancer every day?  Well, the article goes on to say that it's because some very powerful laboratories are only interested in manufacturing synthetic versions of cure that bring them huge monetary benefits.   If people start curing their cancers, lumps and tumors with lemon, no one is making big money anymore; except, maybe your corner grocery store or the lemon tree merchant.
However, we shouldn't be too surprise by this, for centuries Chinese have treated all kind of diseases, even found natural medicine for longevity all within the resources of our wonderful planet.
The Healing Power of the Lemon
The lemon is credited with many virtues, but the most interesting ones are the effect it produces on cysts, tumors and against all types of cancer.  The lemon is also considered an antimicrobial agent with broad spectrum against bacterial and fungal.  The lemon is also effective against internal parasites and worms, and it regulates blood pressure.  The lemon is also an anti-depressant and a natural medicine against stress and nervous disorders.
The article goes on to say that a major drug manufacturer has done over 20 laboratory tests since 1970 which revealed that the lemon can destroy malignant cells in 12 types of cancers, including colon, breast, prostate, lung and pancreas.  Interestingly colon, pancreas, lung and prostate cancer are known to be deadly.
Many Ways to Consume Lemons
Probably the easiest way to eat lemon is to make lemon juice and drink it mixed with water or other juices.  You can also add lemon in many dishes escpecially fish.  Make sure you consume the pulp of the lemon as well.
During strawberry season I like to make my strawberry salad, which includes, for two persons: 10 to 12 large strawberries, 2 bananas, the juice of a lemon and two full tables spoons of non processed sugar.
Eat that every day during strawberry season and you will feel great!
Did you know about the miraculous healing of the lemon? What else do you know about the lemon? Do tell…