Few Facts You Need to Know About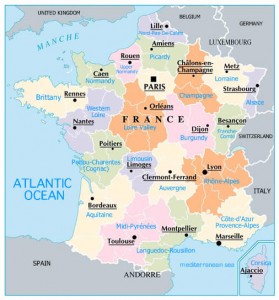 I am not what you could call a patriotic person, because I am aware of the fact that countries and boarders are created by humans, but, I do understand that one can be home sick when he or she lives away, out of the country.  Each country has its culture, its sent, its customs and of course its language.  Without being a hard patriotic, one's country is still home and as we say there is nothing like home.
The country of France is my country and I like to talk about it and let you know of few facts you may be interested in.

Few facts about France history
Today, France is the wealthiest European country and the fourth wealthiest nation of the world.  It is also one of the highest life expectancies place on earth.  The country of France is the most visited country in the world with 82 million of foreign tourists every year.  All in all, France is an iconic country, famous for its fashion, food, wine, landscape and of course, its language.
France is a very old country too; the earliest sign of human life goes back to almost two million years and there are still some historic buildings standing whole or in part which are 2,000 to 3,000 years old.
Few facts about France geography
You can find a wide variety of landscapes in France; from plains, sea shores to hills and mountains.  Lyon, which is located at the lowest level of the "Monts du Lyonnais", is surrounded by towns and villages located in the famous hill-regions (Monts du Lyonnais) of this area.
France is also known for its array of major rivers which most of France departments bare the name such as Seine, Rhône, Garonne, Loire or Drôme just to name a few.
Few facts about the climate
France is also a country of many climates.  The south benefits of a warm to hot Mediterranean climate while the north is much colder in the winter and cooler in the summer with more rainfalls.  For example, if you were to travel the same day in mid-summer, from Lille (in the north) to Marseille (in the south) you would see a 15-20 degree difference, and you would warm up gradually as you travel down south.  The same is true in the winter, but always more noticeable during the summer months.  The mountainous regions around the Alps can see temperatures below zero (Celsius) in the winter. Thus the ski famous ski stations such as Chamonix.
The country of France is orderly divided
France is divided in 95 "departments" counted in alphabetic order from A to V depending on the first letter of their name.  Within those departments there are 341 "arrondissements" which code is showing in the form of 2 numbers in the zip code.  The arrondissement code is the first 2 numbers of France zip codes and it is also showing on car's plates.
For example, the arrondissement for Paris is 75, Lyon is 69 and Marseille1 is 13.  In turn those 341 arrondissements are divided into 4,032 cantons which are indicated by the 3 last numbers of the zip code.  For example the department of Lyon being 69, and one of its cantons, Mornant, which code is 440, makes the zip code of that region 69 440, with a space between the code of the department and the code of the canton. Lyon has 43 cantons, Paris 20 and Marseille 30.  Each main arrondissement has a dozen or so of different cantons.
Next time you are planning a trip to France, keep those facts in mind and show off you knowledge.