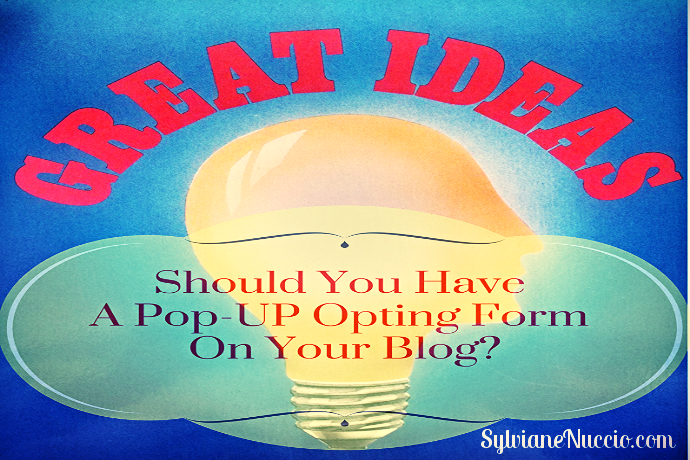 What's your opinion about pop-up opting forms?
Do you have one?
It seems that many people do, that's why I wanted to discuss pop-up opting forms today, as you may have noticed, I have inserted one on my blog after doing some research on the subject.
It's very interesting that when I did my research about whether or not I should have a pop-up on my site, the first two articles that I read were completely opposite.
But what's even more interesting is that both were from successful marketers.
One was saying that it was the worst mistake you could ever make, while the other was saying that you would be making a huge mistake if you didn't have a pop-up.
Who can we Believe?
The article  I read that against pop-ups was from a guest on Copybloggers, her name Beth Hayden. Even though I do not know here, I understand that she's a rather successful online marketer. But what's really interesting is that when I click on her link at the bottom of her article all I got was an opting page.
Hum, I had to scratch my head here a little.
The other article that I read pro pop-ups was from Dereck Halpern from Social Triggers.
It's interesting that both of those guys have been featured on magazines such as Forbes and Entrepreneurs and both are very successful entrepreneurs, while having an opposite view about pop-ups.
So, let's analyze what each one is saying about pop-ups and later I will give my two cent on that as well.
#1 Negative Opinion about Pop-Ups
In her article, Beth Hayden says that pop-ups do work, because they are hard not to notice, and whomever insert a pop-up on their site will see their list grow automatically.
But then, she goes on to say that pop-ups really push people's buttons, because it's so annoying, and can actually drive people away from your site.
She also says that besides annoying, some pop-ups that don't work properly can even actually get in the way of the site working properly.
Then again, she adds that while her list grew while having a pop-up, she actually started receiving emails from people complaining about her ad, and even hate mails.
OK, before we get back on those points, let see another opinion.
#2 Positive Opinion about Pop-Ups
On the other end, Derek Halpern is very direct, and in his video he says this: "If you don't use pop-ups you're an idiot".
Then he goes on to say that people who just leave your site because of a pop-up don't deserve to be on your site.
Why?
Because, he says that's a very bad attitude to have anyway, and you wouldn't want people like that on your list, with or without a pop-up.
He also says that if you have good and valuable information, people won't be deterred by a simple pop-up between them and the valuable information they know they'll be getting on your site.
He also explains how people are totally blind to side bar and bottom opting forms and some of them would simply never sign up to your giveaway because of this.
He knows that all too well because he says that some people keep asking him how they can get into his email list, while he has several forms on his blog where they can do just that.
The problem is that they can't seem to be able to see them.
When you don't have a pop up, most people won't pay attention to you opt-in form, because they are too focus on your content to notice anything else.
It's called focus blindness.
Who's Right and who's Wrong?
How do you define who's right and who's wrong here?
Well, in order to make my own decision, I had to choose.
Now it doesn't mean that I'm right, but here is what I think…
Opting Form Blindness
Now, is there such thing as opt-in form blindness as Dereck mentions?
You bet there is.
That I can tell you from my own experience, because I've got the same type emails as Dreck has.
Do you see my opt-in form on the side bar?
Well, some people haven't and told me things like "you should have an opt-in form!"
Oh, really?
Last time I checked, I did!
So, let's say you have 100 people coming to your blog, but only 20 do actually see that you have an opting form, while maybe 50 would love to be on your mailing list…
Well, you've just lost 30 potential subscribers.
Now, I may just be throwing numbers here, but this is pretty much what happens with focus blindness.
It's just a fact.  Some people, even some of those who would love to sign up, won't see your opt-in form.
Are Pop-ups Annoying?
Sure, pop-ups may be annoying to some extent, but all you have to do, if you don't want to sign up, is check that that x on the top right hand corner, and it will go away.
Just make sure your pop-up is set wisely.
Make sure you allow visitors to close the pop-up. Because if they can't close it, then it may really annoy the heck out of them.
Consider how many times you want them to see the pop up.
I know of sites that will show me their pop-ups every few minutes or everything time I click on another page.
Now that may be a bit too much, but if you set up your pop up like once a day for each individual that will visit you blog I think that's fine.
The reasons why you do want your pop-up reappear for the same person is that they (like myself) may want to opt-in later. So you need to give them that choice.
Just keep in mind that pop-ups, like many other things in life, are best in moderation, and could become bad if you don't use your common sense.
Will a Pop-up Keep your Visitors Away?
As Dereck Halpern says, if your content is onlyt second rate and you do have a pop-up, people may close that pop-up and just move on to someone who offers the same value and doesn't have a pop-up.
However, if your content is valuable they will simply close the pop-up and won't care.
I can tell you that many of the blogs that I visit regularly do have pop-ups.
Do I care?
No.
So, based on my own experience with pop-up as a reader, I have to agree with Dereck. If I'm interested in reading their information, I just close the pop-up and proceed to read.
And if I am interested in what they have, it's a perfect way to remind me about what they offer.
Now, I had to ask question;  should "I" have a pop-up?
Is my blog good enough?
Well, I certainly hope so, but just this past week I caught those two tweets…

This person her I don't even know…

OK, a great blogger to follow, and someone people should check out. Maybe I don't suck to much.
I'll take that. Thanks guys.
Enough Drama Already!
I have read blog posts on the subject of pop-ups with some dramatic comments.
One such comment was comparing a simple pop-up that you can actually shut off at a click of mouse to someone trying to sale you soap in the aisles of a Walmart store.
Really, are you going to compare a simple pop-up on a site to someone forcing you some soap in the aisles of a store?
As for me,  I'll take the pop ups, even over the scout girls asking me if I want to buy them cookies when I exit the Walmart store, because I don't like cookies (yes, I know it's weird), but that's why I really don't need to buy any cookies.
Yet, again, even though I feel bad saying no all the time, does that make me not ever want go back to that store?
No it doesn't.
Heck, I could give them the money and tell them to keep the cookies. Or, yet again I could just give the cookies to someone.
But seriously here, would I rather deal with a pop up on a site that I enjoy visiting than any of that?
You bet I would.
Then, someone else took the lame excuse (in their comment) that at a time where people access our sites on mobile devices, pop-ups are a bad idea.
Really? If you're using quality pop-ups, my guess is that you'll be fine.
My pop-up works perfectly on both my tablet and on my phone.
What about those Hate Mails?
Now, truly, do you want to have any kind of relationship, what-so-ever, with anyone sending anything hateful?
I didn't think so.
Well, me neither.
Anyone sick enough to send hateful emails doesn't deserve to be on your list.
And as Dreck says it, anyone complaining doesn't deserve to be on your blog. Let them get away from you as much and as far as possible.
As for Beth Hayden, does she get less hate mails by linking to an opting form page rather than a blog with an opting pop-up?
That's a question I've got to ask myself!
Focus on the Positive
Now the coach in me, can't help it, when I read those dramatic theories, this is what I want to tell those people.
If you get hate mail. Don't be so bugged down by it. Nobody worthwhile would send you hate mails. Period. Ignore them. Or give them a good psychiatric clinic address.
If pop-ups were that bad for so many people, there wouldn't be many more people like Dereck Halpern collecting hundreds of thousands of subscribers, and growing their list every single day with pop-ups.
There are things that annoy me way more than a pop-ups on blog, such as my comments being ignored, or colored backgrounds or even long paragraphs, and ads all over the place. To me these are way more annoying than pop-ups because I can't fix them with a click of the mouth,.
Bottom line, yes pop-ups that are not well managed can be annoying, and if the site is not worth the annoyance of the pop-up then move on to something else.
However, if your pop-up is respectful of your visitors, like I think mine is, I don't' think it will prevent people from coming to your site and benefit from the valuable content that you're spending time to create and deliver.
So, what do you think about all that?
What's your idea about pop-up?
Do tell…
Thanks you so much to Lorraine Reguly for mentioning me as on of her inspiring blogger on her list.
Thank you to LoneMind for including in their list of experts about the subconscious mind.