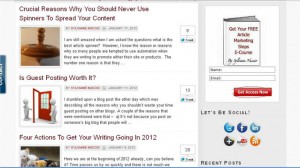 I know this blog is reserved for writing related topics, but for the occasion I wanted to use my own writing skills to tell you how proud I am of my new  look and mentioned a couple of people without whom I couldn't have done it.
Yes, my Persuasive Article Marketing blog has got a new look, as you can see.  It was a long week trying to make everything look good, especially for someone like me with very limited HTML, CSS and other uploading skills.
New Thesis Theme
For those who are interested in knowing this, my new theme is one of Thesis themes which is called BlogSkin.
Before I made my purchase my main question to the merchant was if I was going to get some help once I purchased the theme, because I could already feel that I was going to encounter some issues beyond my understanding of theme installation.  I was right. I did encounter hurdles, right from the get go, because as I said above, I am just not good at this stuff.
Thankfully, however, I receive big help from Hesham Zebida the creator of Famous Bloggers who was my contact before I even clicked on the purchase button. When he told me that he could install the blog for free it really was a relief for me, and he sure did.
I have to say that I really bugged the heck out of him until I was happy with everything.  From now on I will use the Thesis forum for other questions that I may have.  Since I have another 3 blogs to set up with this theme I know I will need that help and support.
My Savior, Adrienne
A great lady who has been answering a lot of my questions for me is someone that a lot of you already know;  Adrienne Smith the owner of the very popular blog AdrienneSmith.net.  Adrienne was nice enough to create a whole HTML table for me and included all my links and icon pictures for my social media buttons. You can now see that beautiful widget on your right.
After that was done, I knew I was going to change the look of my opt-in form so it could blend in with the rest of the theme much better.  Again, I asked Adrienne what type of opt-in form she was using, but when she told me that all she was using is an Aweber customized form, I decide to use a different picture and create my own customized Aweber opt-in form the way I knew how.  This opt-in form will eventually evolve, but for now it's good enough.
Then, what I did is use Adrienne's nice HTML table to create a four-banner widget. I had seen these around all over the places, but was never able to figure out how to do this.  Well, thanks to Adrienne, now I know. I've done this one (on the right margin) all by myself, just by doing some logical guessing using Adrienne icon HTML and incorporating the small banners HTML instead. What a great feeling it was! I had to email Adrienne right away to let her know what I had done.
I wanted to add that Adrienne Smith is really one of those nice people that you don't find every day.  This is why she is so popular.  She told me that she was proud of me, but I couldn't have found anyone willing to help me as much as she did.  Thank you Adrienne!
Other People I Want to Thank
Another great person I met last year online is Barry Wells the owner of Barry-Wells.com. It's through Barry that I have first heard of Adrienne.  Barry has been very patient with me as we are going to do the same interview for the third time tomorrow, because we ran into technical issues twice in raw.  He's been so nice and so patient.  You need to stay tune to read and hear the whole interview which I am sure will be ready very soon.
Since this post is dedicated to my thanks, I wanted to thank Holly Jahangiri, owner of It's All a Matter of Perspective.  Even though the year is still very young I have already posted two guest posts on her blogs.  Holly invited me to guest post on her blogs after she read on my new year post that one of my goals for 2012 was to guest post more.
I had the privilege of writing a post about online connections, very appropriate,  for her personal blog, It's All a Matter of Perspective, and a post about the law of attraction for her Next Goal Blog; which she won at the end of the Surviving the blog contest.
Another nice lady who has been offering me to write for her blog is Sonia Winland, owner of Logallot.com.  She has also mentioned my persuasive article marketing blog as one of the blogs to read in one of her recent posts, and that was a very nice surprise.
For Sonia I wrote an article about my home country, France in her travel section and my next post at Sonia's should be coming up very soon.
So, there you have it! I really wanted to thank all the people who made this blog look the way it does now,  as well as the ones who are helping me spreading my wings as a writer and blogger.  Oh, by the way, within a few weeks I will have a custom header made, so it will really finish up the product.  Make sure you come back to check it out!
Please, scroll down to the comment area, and let me know what you think about my new look!