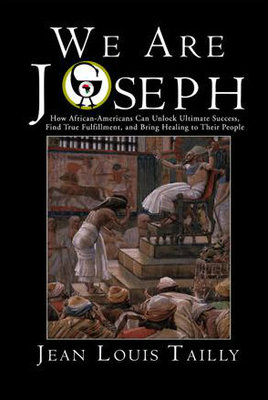 I had promised you Annie Andre's interview for today's post, but since she was out of town that post has been delayed until next week.  Sorry about that, but life happens.
Instead this week I am proud to present a book review that is not your typical book review. Why is that? Well, to start with I am not linking to any affiliate link whatsoever – I'm not making any money with this.  and secondly, I happen to know the author of the book personally because he's a friend of mine.
I wanted to introduce you to my dear friend and writer Jean-Louis Tailly and his new book which he has just published in soft and hard cover titled "We Are Joseph".  But before I tell you about the book, let me tell you…

About the Author
Jean-Louis Tailly, Joseph, for friends and family was born in Abidjan, Côte d'Ivoire.  He moved to France in his early teens and completed his education there.  During his stay in France, he enjoyed all the fun and the good food a teenage boy can enjoy there.  He lived in and around Paris for eight year before moving to the United States in 1991 where he has lived ever since.
However, as they say "you can take the man out of the country, but you can't take the country out of the man".  After so many years away from home his love of Africa never left Joseph, and his book was born from the love of his roots.  Mixed to this, his social activism and his Christian beliefs inspired him to write We Are Joseph.  Because of this he also became the Founder and President of Radiant F.A.C.E.S Foundation which is an organization for the education African children.
How I Met Joseph (Jean-Louis)
I met Joseph two years ago on a job, and because we both spoke French we also discovered that we had a lot in common and became fast friends.  When I met Joseph his book  We Are Joseph (Nothing to do with his own name) was already well advanced, but need still needed some editing.  In 2011 he left North Carolina where he lived for Pennsylvania for a year and came back with a finished book.
About the Book
We Are Joseph is describing the striking similarity of the African slavery experience with the slavery of Joseph in the Bible.  Therefore, the story of Joseph forms the backdrop of the book highlighting Joseph's painful separation from his family, his life as a slave in a foreign land, and his rise to power.  The author is making a striking comparison with the African people who were sold into slavery and shipped to a foreign land, and forcefully separated from their families.
Like Joseph in the Bible reconciled with his brothers, the author is now looking at African American who will reconcile with their African brothers and bring them peace, stability and prosperity.
The author is looking at slavery not from the human perspective but from a godly perspective.  We Are Joseph is a powerful book about the history, identity and destiny of African Americans.  It answers the question of why African Americans were brought to America and gives compelling reasons why they are God's chosen instrument to redeem the African people.
We Are Joseph is both a human history and a spiritual book which many study groups already have selected as their study book as soon as it came out of the press.  We Are Joseph is also a dream come true for Joseph, the author, to have been able to write about his vision and his fellow country men, as well as being able to publish the book.
So, what about you? Are you contemplating the idea of writing a book? Do you have one written somewhere? Do tell us…  You can also ask any question you may have, Joseph will be answering you in the comment area.