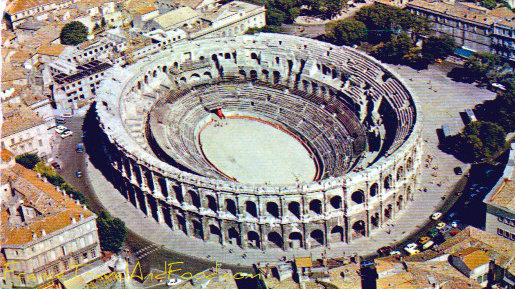 Nîmes is located in the south of France at the border of Provence and Languedoc regions.  Nîmes pronounced (neem) in French is the capital of the Gard Department in the Languedoc Roussillion Region between the Mediterranean sea and the Cévennes mountains.
Nîmes is a city famous for its intact Roman vestiges such as the Arènnes (amphitheater), the Maison Carrée (Square House) or the Pont du Gard (Gard Bridge) and more.
To me the word Nîmes means the first place I've ever been without my mother.  When I was eight years old, an older cousin of mine took me to Nîmes to spend a week vacationing with her.  I remember laughing a lot by day and crying a lot by night, because that's when I needed my mom.  I had never been over night anywhere without my mother, and certainly not for a long week.
Nîmes  also evoke a beautiful city with a huge amphitheater in the middle and lots of sun.  If you love history, beautiful weather and beautiful ancient architecture you need to go visit Nîmes .
Les Arènnes (the Amphitheater)
The amphitheater that you see in the picture above dates from the 1st century and is one of the most preserved in the world.  The amphitheater is 133 meters long (about 500 feet) 101 meters wide (about 300 feet) and 21 meters high (about 70 feet).  It is one of the most visited vestige of France.
La Maison Carrée (the Square House)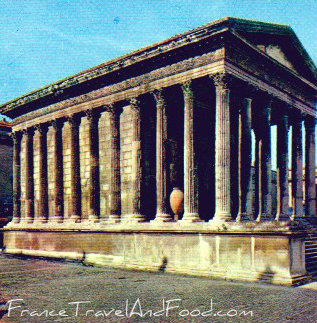 The Square House is a Roman temple that was built between 4 and 5 AC. It has a Greek influence that is rather obvious, though.  This building is in an exceptional state of preservation.
On this picture of mine the stones are blacken by dirt and time, but the building has been cleaned up since.
Le Pont du Gard ( the Bridge of the Gard)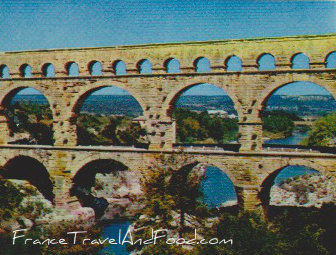 Le Pont du Gard is a Roman aqueduct bridge accross the Gard river. The bridge has 3 levels and while being maintained in good shape it's also in excellent condition.  The bridge has been classified a historic monument and world heritage by UNESCO.
The bridge is 50 km long (31 miles)  and 48 meters high (160 feet).  The bridge was built in the first century AD.
Les Jardins de la Fountaine (the Fountain Gardens)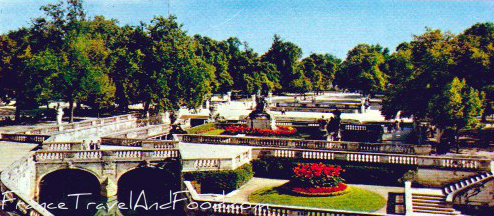 The Fountain Gardens date from the 18th century and was one of the first public gardens in Europe. The style of the garden has English and Italian influences.
Origin of the Denim
Nîmes is the city where the fabic called "denim" in English comes from. From Nîmes (de Nîmes ) in French became denim.  Nîmes was an important textile producer.
Enjoy the video about Nîmes!