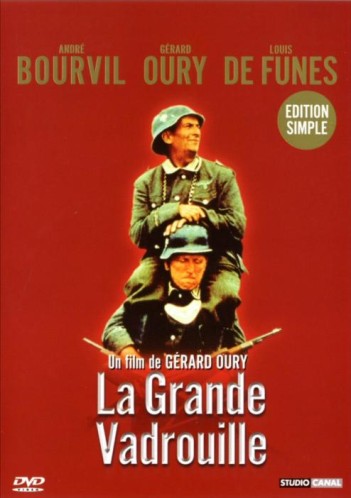 With my last post I started a summer series of fun posts where I'm going to talk about French things that I love.
The last post was about French songs that marked my childhood, but today I wanted to show you clips of my 10 favorite French movies that also marked my childhood and teenage years.
They are in no particular order. I love them all for many different reasons.
As far at it was possible I looked for clips that have English subtitles or English trailers.
Marius
A movie from author and film maker Marcel Pagnol.

Marius is a very old movie for sure.  This movie is from 1931 which makes it not only older than me but older than my parents.  However, it's a classic and it's a movie from my favorite movie maker, Marcel Pagnol.  This movie is actually the first of a trilogy.  The other two are name Fanny and Cesar.
Marius is the story of a small Marseille port area centered on a cafe owner and his son who is in love with a childhood friend, but chooses to leave as a marine to follow his dreams to go see the world on a boat.  At the end of this movie, Marius leaves while his father is totally unaware of it.
Few years later when he realized that his love for Fanny is stronger than the love of the sea, he doesn't know that she was pregnant with his child when he left and married raising the child has the son of her husband.
Why do I love this movie?
This movie (the whole trilogy) has everything. humor, romance, fun, things of life, and everything that touches me.  This is the type of movie that never, ever, ages.
La Gloire de Mon Père (My Father's Glory)
This movie is actually the true story of the childhood of film maker Marcel Pagnol, and it's also a sequal. The movie that followed this was is called "Le Chateau de ma Mère" (My Mother's Castle).
This is the English trailer of La Gloire de mon Père.
Jean de Florette  (John of Florette)
This is another sequal.  Jean de Florette and Manon des Sources (Manon of Springs) also from my favorite story teller, Marcel Pagnol.  A beautiful story of people of the south of France with the southern accent.
This is the English trailer
Stavisky
This movie is from Alain Resnais, starring my favorite actor Jean-Paul Belmondo.
True story of Alexandre Stavisky a Russian/French financier and embezzler who created a political scandal in the early 1930's.
La Grand Vadrouille (The great adventure)
Here I was looking for a specific movie from my favorite comic actor, Louis de Funes, but all embedded codes have been disabled, so here is a compilation that you can enjoy even if you don't understand french. Some of the funniest movies ever made.
This is a thriller from 1985 that was a great movie. It's about two young crooks who
Les Specialistes (The Specialists)
This movie is about two young crooks planning to rob a bank which supposed to be impossible to rob. One of the best French thriller movie from 1985.
588 Rue du Paradis (588 Paradis Street)
This is also a sequal of the real childhood and younger days of film maker Henri Verneuil who was an immigrant from Armenia.  This movie sequal shows what Armenian went through and why they had to leave their country. Many immigrated to France. Some even became famous, such as Charles Aznavour and Henri Verneuil.
Le Professionel (The professional)
This movie really marked my teenage years. It's a thriller from 1981. Here is the trailer in music.
Le Corp de Mon Ennemi (The Body of my Ennemy)
This is the story of a man who went to prison because of a set up and gets revenge. I really love this movie as it keeps you on your toes the whole time. This is the trailer in French.
Peur Sur La Ville (Fear in the City)
This is a very popular French thriller from 1976. Still a classic. Jean-Paul Belmondo ALWAYS did his own stuns which even makes it much more attractive. Great story of Columbo still with action.
.
I hope you enjoyed this. Please, let me know… down below.