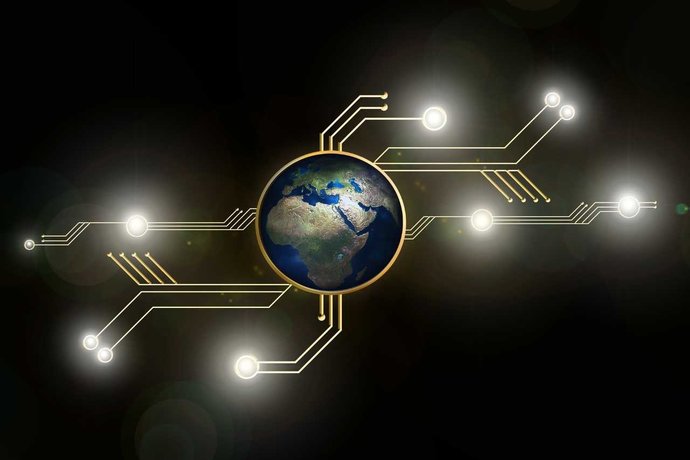 Blockchain technologies have as much potential of revolutionizing our world as the internet had in the early 90s.
They are also just as difficult to understand as they are completely different from anything that we are used to regarding the finances and technology.
However, one thing is for sure, blockchain tech is here to stay and more and more investors are eager to bet their money on the potential of this tech.
If you are interested in these types of investments, but you don't know anything about blockchain and cryptocurrencies, this article will shed some light on your concerns.
Keep on reading to discover how blockchain works and which are the easiest and the safest ways to invest in it.
What really is blockchain
First of all, it is important to understand that blockchain is not an investment fad, nor a quick way to get rich.
It's an efficient technology that is bound to revolutionize the modern world, and despite the fact that it promises big investment returns, it also comes with major risks as its place on the financial market is still rather volatile.
As such, interested investors need to take the time to properly understand this tech in order to accurately predict its evolution and minimize the risks of their investments.
Blockchain is a technology that allows digital information to be distributed, rather than copied. Since everything on the internet could be copied until now, this technology is completely revolutionizing the way the internet works and how it can be used in numerous industries.
While most people associate blockchain with cryptocurrencies, the two terms are not similar. Digital currency is merely a product of the blockchain technology, but there are numerous other ways this tech can be used.
The data stored on a blockchain works as a shared database, which isn't stored in a single location. The database records are public, meaning that they are easily verifiable, and since there isn't a centralized version of this data, there are very few ways in which it can be hacked or corrupted. Since it exists independently from governments or corporations, this data can also not be influenced by world events, nor can it be manipulated by financial giants.
Another way in which blockchain tech can be used is for updating shared documents, with all parties having access to the documents and making real-time modifications. These are but two of the many uses this tech, but given its potential, it has a wide applicability in numerous industries.
Investment strategies
At first, the only way to invest in blockchain tech was to buy digital currencies.
However, as the algorithms of cryptocurrencies became more complex, and as more and more people became interested in acquiring these currencies, it became increasingly difficult and riskier to invest directly in a single currency.
The investors who want to make money in a safe way must invest in companies that are not only using blockchain in the present but which also have a plan for making a profit from this tech in the future.
Hedge funds – Investing in a blockchain hedge fund has both advantages and disadvantages. First of all, there is the matter if paying a fee. Nonetheless, that fee is the price you pay for minimizing the risk of your investment, as you will have the opportunity to benefit from expert advice from experienced investors who use the best risk management tools. Moreover, hedge funds are also a great way to build a diverse portfolio.
Companies that use blockchain – Investing in cryptocurrency, means that you are only investing in one of the blockchain applications. Nowadays, there are numerous companies that use this tech. From the financial industry, all the way to the educational or the healthcare industry, blockchain can be applied in numerous ways. The leading blockchain company is currently IMB, who has over 400 clients that use blockchain. Many of these companies use this tech at a small level so they are not producing a lot of revenue, because the tech itself is still in its early stages of development. However, since blockchain promises to revolutionize all the ways in which we use tech, investing in companies that use this tech will always be a safe bet.
Blockchain consortiums – A consortium is an association of several companies, and it can serve many purposes. Lately, the biggest tech companies in the world are using blockchain, and most of them have found a way to collaborate on their ventures. Nowadays, there are dozens of blockchain consortiums all over the world, and their numbers are expected to grow exponentially. Blockchain associations are formed in all industries, from the financial sector to the energy sector and obviously enough, the tech sector.
ICOs and IPOs – Initial coin offerings continue to be one of the most efficient ways for startups to raise money for new blockchain ventures. The startups sell a portion of the new currencies to the early buyers. IPOs on the other hand, are based on equity. Initial public offerings are used to raise large amounts of money, which is usually used for expansion projects. Obviously enough, IPOS are safer, because you can verify the reputation of the companies that raise the funds. However, ICOs are more attractive to investors, since they promise a higher return on the investments. However, this promise also comes with greater risks, as you can never know if the new currency will deliver the profit that it promises.
As you can see, blockchain is a revolutionizing technology with countless applications, and it is also a great financial opportunity, but only for investors who are willing to take the time to understand this technology.
The learning curve is steep, and while you don't need to fully understand this tech the way that a programmer does, you need to understand it sufficiently to predict how it can be used in the most profitable ways.
Last but not least, the safest investment strategy is to never put all your eggs in the same basket, so try to develop an investment portfolio as diverse as possible.
Contributor Post at SylvianeNuccio.com