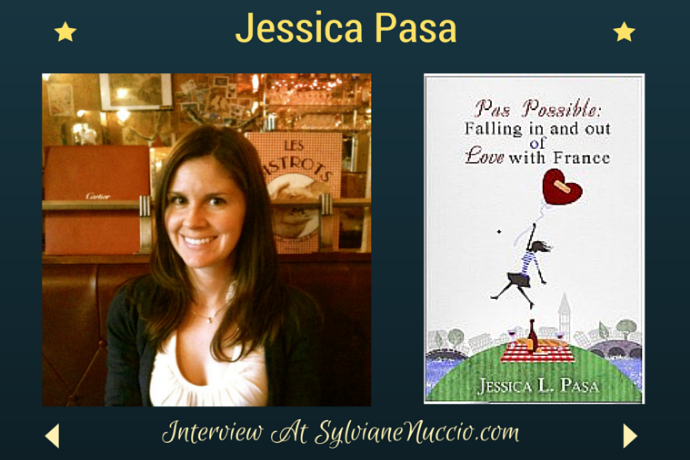 I met Jessica on a Linkedin Group we both belong to. Interview with Jessica Pasa
She got my attention because she wrote a book about her experience living in France.
As a matter fact, here love/hate relationship with France is very similar to mine living in the US.
When we had a conversation over Skype we agreed that once you are going to live in a country the dream-like view that you have about such country will eventually fade away and be replaced by reality.
But it's OK. It's not a bad thing, it a natural phenomenon that is bound to happen, because countries are made of people, and people are people.
So, take a look at the answers that an American smart lady had to say about France while she was living there.
I am sure you will have fun…
When we had our conversation on Skype, you said something interesting that anyone who has actually lived in a foreign country knows, but that people who have never lived in a foreign country might not totally grasp.
You said that there is a difference between the image that someone has of a country and actually living there. I think that's very true for any country in the world.
So that prompted my first question here…
Q: At what point were you made aware of some of those things that didn't necessarily match the picture perfect image that people have of France?
I was able to believe in "picture perfect France" throughout my first experiences as a tourist staying for a few weeks with families. When you are on vacation, you go out to restaurants, you sight-see, and you basically have fun.
The bubble burst for me when I arrived for my year living in Toulouse as a study abroad student. When you live somewhere, you have to deal with real life: how do I find an apartment and set up my cellphone and internet? Where is the nearest grocery store and how am I going to get there? How do I set up a bank account? These processes are stressful, and discovering the administrative nightmares that can happen in France made me realize that practical obligations follow you no matter what country you are living in.
You wrote a book titled 'Pas Possible Falling in and out of Love With France'.
One of the first things you realized as soon as you got off the plane is that there is the "French language in books" and then, there's the French language that people actually speak in day to day life."
I know for a fact that French is notorious for that. So here is my question…
Q: When that taxi driver that you described in your book asked you "Vous ve nez d'ou," How long did it take you to understand that he was asking you "d'ou venez-vous?" (Where are you coming from?)
At this point I had taken French for 6 years and had gotten over the "ohmygod French people speak so fast" phase. I was actually delighted to engage with the taxi driver! However, my first trip to France staying with a host family when I was 17 was my first experience with having to speak "real French" with "real French people" who didn't speak English. I made a lot of mistakes, but my host family just laughed and corrected me, so I learned. You also get good at making gestures, a universal language.
Q: Did that type of situation happen often, and how did you deal with it when it did?
I got used to being corrected by my host family. In the US, we are pretty casual about our language, and as long as a non-native speaker can make themselves understood we usually let errors go. This was not my experience in France. The French language is sacred to the French, and they aren't afraid to correct anyone, native speaker or not. However, this isn't a personal insult. I learned not to take it personally and listened to the feedback I was given so I could improve my language skills.
On the subject of not being able to understand someone, I would just say "Comment?" or "Je n'ai pas compris" but not "quoi?" which can come off as rude if you are talking to someone you aren't familiar with.
Q: The reason you called your book "pas possible…" which means "not possible" is because you've heard this phrase quite a lot in France. Can you give us some examples of when you heard this?
My husband actually helped me come up with the title for the book, so I have to give him some credit here. For me, this expression sums up a large part of French culture.
In my experience, French people love to say "no," and in many different ways. The situation in which I heard "c'est pas possible" most was in administrative offices. If you were missing one document or signature at the bank, for example, the teller would simply shrug and say "c'est pas possible." No, I can't do this for you because you don't have the proper paperwork. However, while we Americans take "no" to mean "no," the French will flirt and finesse the situation until the "pas possible" becomes "peut-être…"(maybe).
Another situation would be an expression of frustration. If someone misses their bus or if their child is throwing a tantrum, they might exclaim: "c'est pas possible!" (I can't believe this!)
Q: What were the culture "things" that were the most difficult to deal with for you in France?
Definitely the administrative processes. There were so many documents signed by so many different people required to do anything (rent an apartment, open a bank account, get a cellphone, etc). In the US by comparison it's much easier. However, I think some degree of accountability is a good thing. For example, in the US it's too easy to get credit cards, and that's why a lot of Americans are in so much debt.
Customer service was also frustrating. Instead of the American "the customer is always right" in France it was that the employee was God (as in has all the power) and the customer had to bend over backwards to please him or her. The hours of stores were also difficult to keep track of and it was frustrating when everything was closed on Sunday. In the US, we are used to convenience and everything being open all the time.
Lastly, it was very hard to make friends with French people. The only way I managed to do it was to make friends with French people who were already friends with my host family or friends with other foreigners already. I found that if you don't have friends or family in France, it's difficult to get people to help you if you have questions. In the US, I was used to being able to ask strangers for help with almost anything. I do find Americans to be more outwardly friendly, but also more superficial. I think that French friends are harder to make, but they're also more loyal. American friends may come and go, but French friends are often for life. In short, it's worth putting in the effort!
Q: As I was browsing some videos on YouTube about France, I heard an American guy say that the hotel rooms were smaller and less comfortable in France. I know personally that this is not so everywhere and statements like these give the wrong idea to foreigners.
For example, the worst hotel I've ever seen was in New York City. So what's your take on that?
I have lived in tiny apartments in both Paris and New York, and I can say that big cities in generally have small living spaces, not just France. In the rest of the US, people are generally used to larger living spaces. Everything in the US is bigger: the country, the people, the buildings, the houses, the cars and the portion sizes! However, France has more public spaces: city centers, parks and pedestrian friendly places to be outside. The US is heavily ruled by cars and needs more pedestrian-friendly areas like France.
Q: When we talked, we also discussed the fact that the French tend to have more culture rules than Americans. Would you want to expand on that?
First of all, mealtimes. In France, everyone is basically on the same clock: around 8am for breakfast, 12 for lunch, 4pm for the goûter (snacks for kids, coffee for parents) and 8pm for dinner. Everyone eats together, no one eats on the bus or at their desk. Eating is a social activity. In the US, eating is an individual activity. People eat what they want whenever they want and often alone. It is not regulated. Hence Burger King's slogan: "Have it your way."
Secondly, child rearing. The entire hexagon seems to be on the same page: how long to nurse a baby, when the mother goes back to work, when the child should be potty-trained, that children should be able to entertain themselves, how they should be dressed, etc. In France, you are training a new member of society and everyone is allowed to participate in each child's rearing. In the US, it's again individualistic: each set of parents does it their own way, kids are sleep trained "when they're ready" potty trained in their own time and they snack pretty much whenever they want. Americans also aren't allowed to correct other people's children. I wish this weren't the case!
Also, social etiquette. When greeting someone, there is a specific protocol to go through in France depending upon whether it's in a store, at the workplace or in someone's home. As an example, my husband brought home a burned baguette from our corner bakery because he didn't say "bonjour" before placing his order! In the US, there's no penalty for getting straight to the point and asking for what you want. In France, always start with "bonjour." You won't be sorry.
Q: What did you really not like about France?
Too much cigarette smoke and dog poo in the streets! It's harder to enjoy the beautiful facades when you have to look down to watch where you're stepping. It's also more difficult to enjoy a delicious meal at a table outside when you have to wave smoke out of your face. Even though smoking is legally banned in restaurants both inside and out, people still smoke on the terraces.
Q: What did you really like about France?
I love the social values of France: great public transportation, universal healthcare, generous vacation, parental leave, fair retirement and an emphasis on family and social bonds. I am a socialist and identify more with French society than the US, which really worships the dollar above all else. I am seriously concerned that our country does not offer universal healthcare, parental leave, better public transportation and retirement plans for all. There is no safety net. Many Americans including myself wonder if they will ever be able to afford to retire. I don't think this is really a concern for the French. Money is so important in the US that working seems to largely take priority over spending time with family and friends, and that's a shame.
Next, the food. I love the emphasis placed on going to outdoor markets to buy fresh fruit and vegetables, spending time cooking and preparing meals to enjoy with loved ones around the table for hours. Going to a restaurant is not only about enjoying the meal but also spending quality time with your eating companion. And of course, I love the bakeries. Nothing beats walking down the street and getting a whiff of freshly baked baguettes that you can walk in and buy to go with your dinner that evening.
Lastly, I really appreciate France's culture of leisure. One of my favorite things to do is go to the market to pick up fresh ingredients, a bottle of wine and a warm baguette to take to the park and have a picnic. Then you can just relax, chat with your friends and enjoy the food and drink as you people watch. Americans don't seem to spend as much leisure time outside as the French, and the pace of life is also much quicker. I think we need to take a hint from the French and stop to smell the flowers! The quality of life is much improved when we spend it on food, leisure, friends and family.
I hope you enjoyed this great conversation I had with Jessica Pasa. If you love France, you can pick up a copy of her book an Amazon titled Pas Possible, Falling In And Out Of Love With France.
Please, leave your comments and questions below and me and Jessica will do our best to get back to you!