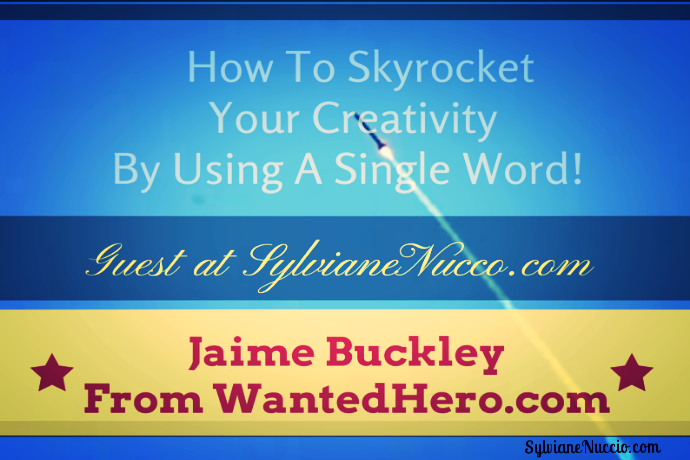 This is my second guest of the year.
I've been blessed to meet some wonderful writers and bloggers during the second part of last year, and I've invited some over to my blog.
Today I 'm very pleased to introduce you to a talented writer with a wonderful personality.  let me tell you that I try to connect with a LOT of bloggers, writers and other entrepreneurs, but few have responded as well as Jaime Buckley!
Jaime is an author. His expertise is Fantasy children's books.  And he's also a game creator.  And YES, he can write!
Here is my quote for my guest today…
Take a talented writer,  a fun and warm personality,  as well as a huge sense of humor, and you get Jaime Buckley!
You have an idea.
It's a brilliant idea.
No really, it's brilliant—forget what other people say.
Trust yourself.
All great stories have a beginning somewhere.
That idea may be a person, it may be a place.
Perhaps it's an event or something valuable, sought after or obtained.
When we create, shift and shape words to make a story/article/report… it can be likened to a long hall with many doors.
You don't always have to worry about what door to open first—just choose one and walk through.
Any door.
The reason why is once you open that first door, you'll soon discover another hall.
It too has many doors.
That's the way it is with so many of us writers.
We have an idea and go with it—but it's linked to another idea…and another. Each a distinct door, leading you to another aspect of your story.
As you open these doors, you will, over time, find yourself back in a room where the adjoining door is already open.
You've been there before.
Everything connects sooner or later—if you let it.
Sound familiar? The process??
It's the workings of a creative mind.
What To Do When Our Creative Mind Doesn't Show Up For Work
The creative mind is both amazing…and a pain in the backside.
As a writer, regardless of your particular field, you rely upon it—to both produce ideas and feed them.
But what happens if your creativity decides to take the day off?
Ever worse, goes on vacation and doesn't tell you?!
I know this feeling all too well as a fiction writer, game maker and popular parenting blogger. My living is made by the use of my mind and how creative I can be…not in spurts, but consistently.
Thing is, I also know what it's like to be under pressure in the professional world of freelance writing.
It's brutal.
Anyone who makes a living as a freelance writer should wear a t-shirt that says, "I Never Get Credit For The Amazing Things I Do."
Isn't it true? You do the work, but someone else takes the credit, leaving you with little to nothing in your portfolio to show for it.
What's worse is if your creativity poops out on you, it's over.
So what do you do to ensure your creative side keeps humming along so you can accomplish the tasks at hand?
You say the magic word.
…and I don't mean "please."
Do YOU know the Magic Word?
What if I could show you how to avoid this dilemma altogether?
Avoid the stress, the strain, the worry that you'll fail in your creative tasks to come up with the information you need or worse…the wrong information.
What if you could write with confidence and security, knowing that you change all the rules by using a single word?
Funny thing is, every two year old kid seems to figure this out before we do.
When you want them to do something…9 out of 10 children will look up at you and simply ask:
"Why?"
Sound simple?
That's because it is.
It is also why the very power and efficiency of the word is misunderstood and underused.
WHY is the process of opening up opportunities to shine a light on your work.
WHY helps you discover the connections between the characters of your stories or the facts of your research.
WHY is the vehicle that uncovers everything under the sun in the world you just created…or the fictional lie you just manufactured.
What's amazing about the word WHY, is you don't have to feel overwhelmed, because you are always in charge of this part of the process.
I Only Had to Ask WHY To Soar To The Top
For two years I worked for a marketing company out of Salt Lake City.
No experience, no references except for the single recommendation by a friend who knew someone on the inside. He pointed to my reputation online and my fantasy books to get me a shot at proving my worth.
It was a freelance writing position, producing articles for national contracts and promoting Fortune 500 Brands online. My words would eventually have popular (and sometimes famous) names attached to them…they just weren't mine.
Let's just say that when I started my trial run, I was nervous.
…like sweating buckets, nervous.
It was the first time I'd dealt with actual deadlines (other than the ones I impose upon myself as an Indie Author) and an editor was assigned to me. She was a professional woman who immediately mapped out the company's ultra strict writing format, submission rules and regulations.
These folks paid top dollar in the industry for each word you submitted, but in return you had to be an Olympic writer. Your ideas had to be fresh, new and near epic on a regular basis. What was worse, should you break any of the rules OR fail to meet company expectations—you'd be thrown to the curb.
*insert gulp here*
Luckily I'd discovered a 'magical word' that helped me in crafting my fantasy novels…and it turned out to work just as well with non-fiction projects.
What this story doesn't describe is the stress level and fear that overshadowed me every day until I started asking WHY.
I struggled (often) to come up with the right ideas, the right pitch, the right research. My work days averaged 12-16 hours of writing, which also included headaches, vomiting, anxiety attacks and landing myself in bed for days at a time.
Heck, if I could have figured out how to plug an I.V. of coffee into my arm to keep going, I probably would have tried it.
All the while my fear of not getting it 'just right' ate at me, along with the reality of losing my job if my creativity failed me.
I'm happy to say, however, that within the first six months of asking WHY, my reputation grew and I snagged the company's number one freelance writer spot, specializing in parenting and youth articles.
One of the natural talents that come with being a father of 12, BTW.
At the end of the first year I was allowed to not only select my own jobs (because of my creativity and consistency), but exceeded the two article per week cap.
In fact, the company let me write as much as I wanted.
During that two year period, I wrote nearly 1000 articles as a freelancer, averaging 700-1200 words on each assignment…roughly 900,000 words during that career. That didn't include the extra 300,000 words in novels I cranked out during the same time period.
When the company changed their policies and lowered their standards (and pay) to the industry norm, I left.
 The WHAT and HOW of WHY
So how does this work?
Are you confused as how this single word applies in your own projects?
REMAIN CALM!
(breathe in…breathe out…)
My dear friend Sylviane is a clever woman. She knew full well that I wouldn't end this article without making sure you understood the applications of WHY.
If your WHY doesn't exist then the stories you're trying to craft won't stand on their own feet.
How many times, when trying to craft a fictional work, have you said "because I said so"?
Why did so-and-so say this? Because I said so.
Why did so-and-so DO that? Because I said so.
The folly is, such laziness won't wash with readers.
They're too smart.
…and I learned it doesn't work with kids, either.
Writers who are forced to crank out volumes of material oftentimes look for shortcuts when no one's looking, but readers are smarter than you think.
A lot smarter.
I don't know if you're a novel writer, a blogger, freelancer or ghost writer, so I'm going to focus on what I know and you apply it to your trade, alright?
(Besides, according to the 2012 Freelance Industry Report, nearly half of all freelancers say writing is their primary skill.)
As a writer, you want fans.
Be it the reader of your novel or the reader of your blog, you want them impressed with what you craft. So here's how to use the word WHY to your immediate benefit:
SET UP: Grab a sheet of paper or find a whiteboard to write on. Try to conserve space, as you'll be using as much space as possible as you go. Make sure you can go through this process without stopping or being interrupted if possible.
Start with the EVENT: Virtually every story has some form of an EVENT. It's the center of a story or article…used as the catalyst to create lesser events. The springboard for your world, so to speak. If you're writing non-fiction, such as a review for a product, the experience of using that product could be labeled the EVENT. For this example, however, we'll use a fictional setting.
Gather the variables of your story and list them. The EVENT, people, places, facts, whatever the attention of the reader will be focused on.
Now ask yourself WHY?: The object here is to drill yourself as if doing an investigative interview. You want to know the hidden details, so you start to experience growing pains. If you ask WHY about some aspect of your writing and it hits a nerve to where you flinch and respond, "What difference does THAT make?" …then you've just discovered a hole.
WHY did the EVENT happen?
WHY were your characters involved in that EVENT?
WHY do people shun magic?
WHY are all the leaders women and not men?
WHY did the two nations decide to go to war one with another?
WHY would a person use this particular product or service and not the closest competitor?
You'll soon start asking who, where, how and when as you go along, but we group them all under the heading of WHY. This is because they are simple, one word questions that peel back the layers of your writing and force us to consider more information.
That small, seemingly insignificant word that causes your brain to solve a problem you've just created for it.
Isn't that what our creative minds do?
Problem solving.
That's the power of WHY.
Play with this process and you'll create twists and turns, lists and refinements all on your own. Just know that many writers will walk away from this just because it sounds too simple.
Choice is yours, but I'll tell you this:
You'll never get the reputation, recognition or financial gain as a writer unless you develop the skill of filling the gaps.
WHY?
Exactly.
I hope you enjoy this guest post. Please, leave you inputs and thoughts below!
Thank you to my top commentor of the week (and many week), 
Donna Merrill
. Donna is awesome, not only she blogs about relationships building for better blogging, but she acts it. Thank you so much Donna!
Thank you to my good Friend Adrienne Smith for making up for 3 week's worth of post on a single Sunday afternoon!  You're priceless my friend!
Thank you to Neamat Tawadrous for saying this about me :  "Sylviane you always touch buttons within me that gets me thinking. I have to say I love your writing style although educating but captivating at the same time."  Thank you so much for such encouraging words, Neamat.
Thank you to Carol Amato for having introduced me to my guest today.  Without you, Carol, that wonderful guest post by Jaime, would not have been.