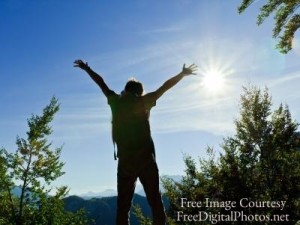 Today's post is by Justin Mazza, a life coach, and blogger.  A few weeks ago Justin accepted to give me an interview on this blog, and now I hope you will enjoy his guest post about emotional health.  So, without further ado, let him tell you about this wonderful subject of emotional health.
Emotions are something every one of you has to deal with on a daily basis. Emotions range from joy to sadness, from rage to ecstasy. Which emotions do you experience on a regular basis?
Emotions are basically an inner guidance system that lets you know when you are allowing yourself to be who you are, and when you are not.
Negative emotions like pessimism and even grief are not really who you are, even though we believe these emotions to be normal reactions to life experiences.
What if I told you that being angry for your spouse leaving you, or that grieving the loss of a loved one are not necessary emotions for you to experience?
I know, we are supposed to cry at weddings and funerals right? Wrong! These responses are nothing more than a pre-programmed reaction that you have in your belief systems.
I know a subject like the death of someone brings up strong feelings in you, and you believe you have a right to feel and express your negative emotions. I completely understand this.
In some cultures around the world, they actually celebrate death as they see it as a form of graduation from this dimension of reality to the next. These cultures believe that physical death is not permanent; it is merely a transition from one form to another.
In reality, conscious energy, which is what we really are, never dies.
So the point here is not to talk about death, but to remind you that you have the conscious choice when it comes to your emotional reactions.
Granted, it's not easy to change course once you become emotional, but what I recommend to my coaching students is that they at least take some time to reflect on their day in the evening, and recall when they reacted to situations negatively.
By doing this they can see what their trigger points are, and they can then make better choices in the future by reprogramming their negative emotional reactions into ones that are at least neutral.
What are Emotions?
Emotions have been described simply as – "Energy in motion," which would be an accurate description, but rather vague too. I think we are all comfortable and familiar with positive emotions, but many of us can become resentful about negative ones like fear and anger.
Negative emotions occur when we first define the perceived experience – such as losing a job – as negative, and then secondly we resist this perceived experience which, therefore creates negative emotion.
It's the resistance to the experience, the resistance to the emotion, and the resistance to the natural self that creates the painful negative emotion. Do you ever see a newborn baby resist crying? No, never, because they do not have any negative beliefs attached to emotion like crying. But we do, don't us?
We learned to suppress our negative emotions and we learned to judge/label them as negative too.
Did you see what she just did? Did you see how he just acted?
We've been taught to suppress too much of ourselves just for the sake of appearing normal and maintaining the status quo.
This is the number one reason why relationships end because someone is not being allowed to be who they really are. Not only does repressing your emotions affect your relationships, but they also affect your health too.
Emotions need to be allowed to flow freely like I said because if not, you get a blockage in your energy system. Too much blockage will create a backup in your energy system known as Chakras, and when any chakra is backed up for too long, you either gradually shut down or you blow up with negative emotion.
Either way, the energy system has got to flow freely, and if you are in any kind of relationship whether it be a job, a romantic one, or even a friendship, you need to be able to express who you really are at all times without any resistance from you or the other person.
Haven't you ever noticed that your favorite job or relationships are with those people or places where you can be yourself fully without any worries of negative feedback?
Granted, this doesn't mean you can become mean, careless or disrespectful to the other person or place. It just means you feel you have a safe place to allow all aspects of yourself to become visible, warts and all.
 I Am an Emotional Person
Yes, yours truly was a very high-strung person for most of his life, and it wasn't until I decided to take control of my energy that my emotional health completely turned around.
Granted, I am not always "cool" like Fonzie from Happy Days, but I am definitely much more in control of my emotional health than ever before.
How I Took Control of my Emotions
I had to make an honest assessment of my emotional goals and decide what changes I could make to improve my emotional health.
1- I became a vegetarian last May of 2012. I also decreased artificial foods in my diet and replaced them with whole, natural, and raw foods. Granted, I may chomp on a Boston Cream doughnut from time to time.
2. Yoga and exercise. Every day I do yoga and light stretching in combination with breathing exercises to keep my emotional health intact. I have to do this daily or else I will slide down the emotional scale to a place I don't want to be.
3. Brainwave entrainment audio program. Last May I was given a free copy of a revolutionary program called the Brain Evolution System. The Brain EV is a program that I use every evening when I am done all my work. I simply sit back in my rocking chair, put on my headphones, and relax, as I listen to the soothing sounds of the music. Brainwave entrainment helps to relax and calm the overactive parts of the brain that contributes to negative emotions.
4. I had to reprogram my mind not to react to unwanted situations in a negative way. Most of life is how we respond to it, and the last thing I want to do is to respond to life in a negative way because I know this will only compound the problem further.
What about you? Do you have systems in place to keep your emotional health intact?